Tour De France Ifit Live Bike (In Stock) FREE SHIPPING FREE MAT & No Tax-Tour De France Bike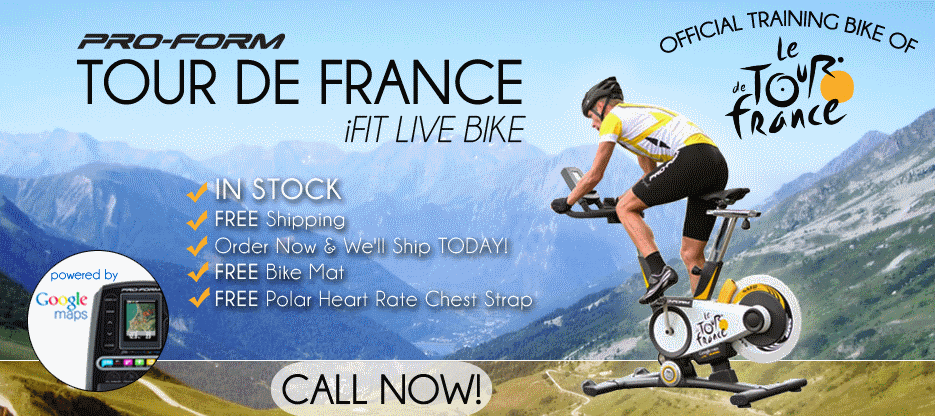 Tour De France Ifit Live Bike - Tour De France Bike - Proform Tour De France Bike
FREE Bike Mat
No Sales Tax & Free Shipping
WE HAVE THEM IN STOCK! You Will Get It Before Christmas! Ships Dec. 8th!
Tour De France Bike Product Description
The Official Training Bike of Le Tour de France
Introducing the ProForm Le Tour De France Bike. Get the experience of riding outside without leaving the comfort of your own home. You draw the route-anywhere in the world-and iFit Live™ Technology Powered by Google Maps™ automatically downloads the map to your console. What you see is exactly what you feel-every hill, every flat and every decline. The Tour De France Indoor Cycle delivers more options for a greater benchmark performance. With 24 Digital Gear Controls you can personalize any workout. Interactive Incline and Decline Controls allow your Tour De France Bike to follow the road. Intelligent Wind Resistance factors in your height and weight for a calculated drive. Train like a Pro with Le Tour de France Indoor Cycle.
Ride Anywhere in the World with Google Maps™ iFit Live™ Technology Built-In on Tour De France Ifit Live Indoor Cycle Bike
With the Tour De France iFit Live Bike Technology Powered by Google Maps™ you can ride anywhere in the world! Choose from 24 pre-mapped courses or create your own. Ride over the Passage du Gois or climb the hills of Mont des Alouettes in
France. Now you can experience these same trails and more on this Proform Tour De France Bike. With iFit Live™ Technology you can ride where the Pro's do. The world is at your fingertips. Map any route and enjoy the ride! Google and Google Maps are registered trademarks of Google, Inc. The Tour De France Bike is a perfect bike for the cyclist! Call FitnessZone to go ove the Tour De France Indoor Bike.