Holiday Specials - Save Big after Christmas with FitnessZone!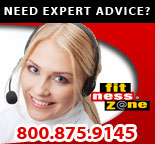 Our friendly staff of experts are ready to answer any questions you may have about fitness equipment. We understand that you want the best value in fitness equipment and we intend to give you just that. If you have found a better price on the web, we want to hear about it. We're serious about fitness equipment and we're serious about offering the best price online. Please call us today and see why, in most cases, we can meet of beat any price.
Our Toll Free Phone Number is: 1-800-875-9145
We're Serious About Fitness - Established in 1996
Save Big during the Holidays!! To see our special offers, click on the product details or call us @ 1-800-875-9145...