Jointec Acquatic Fitness-Aqua Bikes
Revolutionary
Jointec Fitness is used by European athletes for low-impact, highly-effective workouts
Adaptable
Aqua fitness equipment is available for professional and personal purposes.
European Design
Jointec Fitness started in France and is widely used in Europe
Therapeutic
Aquabiking is ideal for rehabilitation centers
Jointec's Aqua Bike and Aqua Elliptical provide a great new way to exercise! Aqua exercise allows you to work out your lower body's major muscles, reinforce cardiovascular capacity, and burn calories without the discomfort and stress on your body caused by working out in the open air.
Why Aqua Fitness?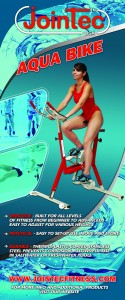 Aqua fitness has many benefits over traditional, open-air exercise. When you exercise in water, your body only weighs 1/5 of its weight in the open air. This weightlessness combined with the hydrodynamic resistance of the water allows for easy, painless pedaling and eliminates unnecessary stress on joints. Hydrostatic pressure from the water increases circulation during exercise, which helps prevent lactic acid build-up in muscles, leading to a reduced sense of fatigue after your workout. Aqua fitness allows you to get in a great workout without the pain and discomfort you get from traditional, open-air workouts.
There are also a number of health benefits associated with Aquafitness. First of all, when you use an aqua bike or aqua elliptical, you can boost your metabolism and burn up to 800 calories in just one hour! Aqua biking can also reduce the appearance of cellulite. By pedaling underwater, your movement creates a constant whirlpool massage along your legs and helps to break down the "orange peel" appearance of cellulite. This underwater massage also stimulates and increases blood flow in the legs. Finally, aqua exercise causes less stress on the body's joints than traditional open-air exercise, resulting in a pain-free workout!
Furthermore, aquabiking has many therapeutic benefits for the mind and body. Our machines are often used in rehabilitation centers and are popular among European athletic facilities.
Products