Kids Climbing Wall

Rockin' It: Why Rock Climbing is Great For Kids
Strength training for kids? You bet! Done properly, strength training offers many bonuses to young athletes. Strength training is even a good idea for kids who simply want to look and feel better. In fact, strength training can put your child on a lifetime path to better health and fitness.
Attention PE Directors!! Call Us at 1-800-875-9145 for HELP!!! Kids Fitness Equipment-Cardio Kids Fitness Equipment-Exercise Equipment For Kids
For kids, light resistance and controlled movements are best — with a special emphasis on proper technique and safety. Your child can do many strength training exercises with his or her own body weight or inexpensive resistance tubing. Free weights and machine weights are other options.
Don't confuse strength training with weightlifting, bodybuilding or powerlifting. These activities are largely driven by competition, with participants vying to lift heavier weights or build bigger muscles than those of other athletes. This can put too much strain on young muscles, tendons and areas of cartilage that haven't yet turned to bone (growth plates) — especially when proper technique is sacrificed in favor of lifting larger amounts of weight.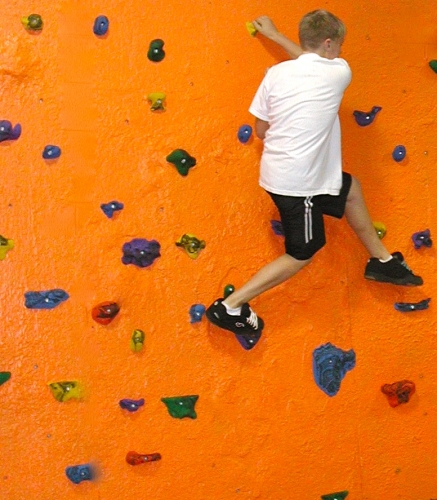 Benefits of Strength Training for Kids
Done properly, strength training can:
Increase your child's muscle strength and endurance

Help protect your child's muscles and joints from injury

Improve your child's performance in nearly any sport, from dancing and figure skating to football and soccer
And strength training isn't only for athletes. Even if your child isn't interested in sports, strength training can:
Strengthen your child's bones

Help promote healthy blood pressure and cholesterol levels

Boost your child's metabolism

Help your child maintain a healthy weight

Improve your child's self-esteem
BENEFITS OF ROCK CLIMBING
Kids tend to be natural climbers. They have a high strength-to-weight ratio — which means they have less body weight to haul up the wall than adults do — and their bodies are more flexible. They're also not fearful (but if they are, that's normal, too), and they have fewer personal limits than adults do. "Adults tend to think they know what their body can and can't do. Kids are less likely to limit themselves this way," says Kevin McCluskey, Program Director and Head Instructor at Seattle's Vertical World climbing gym.
Kids acquire all kinds of positive skills. Because climbing requires a combination of creative thinking and physical output, less athletic kids often shine, surprising even themselves. Kids also learn problem solving. Climbing is a puzzle to unlock, sometimes requiring the ability to back off, look at the route anew, and start again, says Bobby Ferrari, owner of High Xposure Adventures in New Paltz, New York. Additionally, kids learn to focus, concentrate and persevere, essential for getting to the top. Along the way, they gain confidence, competence, strength and body awareness.
FitnessZone® is the premier fitness superstore on the Internet for kids fitness equipment and Cardio Kids. We carry a wide selection of top quality and reliable home or commercial kids exercise equipment. The latest statistics have shown that today's kids are not staying active. We offer kids treadmills, ellipticals, bikes, rowers, gliders, steppers, Cateye Gamebikes, trampolines, and may more kid's fitness accessories for home or your school. Our staff is trained to help your school with grants for kid's fitness equipment. We offer such a huge selection of kids fitness equipment and Cardio Kids Equipment at the best prices so you don't have to waste time searching for a lower price. Adding a Kids Fitness Program to your School? Call FitnessZone's Commercial Staff at 1-800-875-9145 or email us at Sales@FitnessZone.com so we can help you with design and budget quotes!
FitnessZone® will be able to custom fit you on a kids fitness equipment that will help you obtain your fitness goals while meeting your budget or space requirements. We carry such brands as: Cardio Kids, Cateye Gamebike, and many more. We have service technicians on call 7 days a week throughout the World for our customer's service needs. Order your kids fitness equipment at FitnessZone.com and exercise your child to better Health.
Products