Proform Boston Marathon Treadmills
Products
Proform Boston Marathon Treadmills! - The Official Boston Marathon Treadmill from FitnessZone.com
FitnessZone® is the premier fitness superstore on the Internet for treadmills. We carry a wide selection of top quality and reliable home treadmills or commercial treadmills. The FitnessZone® superstore offers the largest selection of folding treadmills and non-folding treadmills for your home or office and the all new Boston Marathon Treadmill by Pro-Form. Whether you are a marathon runner or casual walker our large selection of treadmills will provide a great workout and the ultimate fitness experience that will take you to a new level of workout motivation. Our treadmills may have several different features like heart rate control monitoring, LCD TV built in, or custom programs. We offer such a huge selection of treadmills at the best prices so you don't have to waste time searching for a lower price.
The All New Boston Marathon Treadmill! Featuring the latest technology along with a true runner's platform, the Boston Marathon Treadmill is a marathon training treadmill like no other. Powered by a by a 10" Full Color Capacitive Touch Screen Display and Google Android Browser this interface offers amazing feedback and interaction via iFit Live. Our industry-leading iFit® technology takes you around the world when you draw a route on the console's Android-powered browser. Tapping into Google Maps™, this exclusive ProForm® treadmill automatically simulates every hill and dip. Plus, you can train with America's Toughest Trainer Jillian Michaels, run a scenic coastline via HD video, track your progress automatically, compete with friends, and customize your workout to match your goals. *iFit® wireless module included. Google Maps™ is a trademark of Google, Inc.
The Boston Marathon Treadmill is protected with a Lifetime Frame and Motor Warranty, 6-Year Parts and Electronics Warranty and a 3-Year Labor Warranty. Core Cooling Fans Keep cool and refreshed during your run with two 8" fans built right into the treadmill. These oversized fans are uniquely positioned on the uprights to cool your body's core.
ZipSpeed™ and ZipIncline™ With the swipe of a finger, adjust your speed and incline/decline right on the touch screen. Ideal for interval training and Fartleks, the ZipSpeed™ and ZipIncline™ bars make big speed/incline changes from 1 to 15 MPH and -6% decline to 20% incline without breaking your stride.
In the Fitness Industry, treadmills are still the most popular piece of cardiovascular equipment in the home. From walkers to runners, FitnessZone® will be able to custom fit you on a treadmill that will help you obtain your fitness goals and meet your budget! We carry such brands as: FreeMotion Treadmills, FreeMotion Incline Trainers, Body Solid Treadmills, Endurance Treadmills, Spirit Treadmills, Life Fitness Treadmills, Xterra Treadmills, Esprit treadmill, Horizon treadmill and many more. We have service technicians on call 7 days a week throughout the World for our customer's service needs. Order your treadmill today at FitnessZone®. Com and walk or run yourself to better Health!!
| | | | |
| --- | --- | --- | --- |
| Speed Ring | HD Marathon Workouts | Cadence Training and Stride | Powerful Drive System |
SpeedRing & Heart Rate Compatible on Model PFTL40012
The SpeedRing is conveniently worn on your finger and adjusts speed in one-tenth of a MPH increments using Bluetooth 4.0, the newest, advanced wireless communications technology. Effortlessly adjust the speed up to 15 MPH. Because the Speed Ring adjusts speed in one-tenth MPH increments, it's the perfect training tool for gradually increasing the intensity of your run.
Wireless Chest Strap Included on Model PFTL40012
Maximize your training with the included wireless chest strap. Your heart rate reading is continuously displayed on the touch screen during your entire run. Perfect for heart rate training or a quick progress check up, this innovative system will help you train at your best.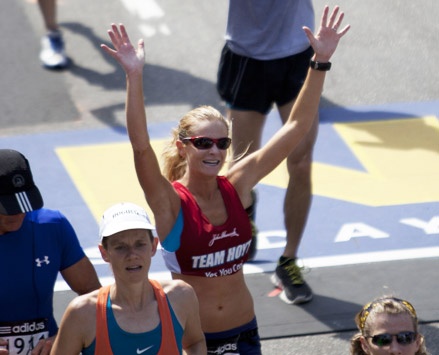 Boston HD Video Workouts
The best way to train, Boston HD Video Workouts simulate race conditions both in video and with automatic incline and decline. Video of the historic race is displayed on the treadmill's 10" full-color touch screen. Every hill is simulated with inclines up to 20% and declines down to -6%. HD video is exclusive to the ProForm treadmill and will be shot on location on Race Day 2012.

Onboard Marathon Training
Choose from two marathon training programs, 16 weeks or 20 weeks, built right into the treadmill. These built-in programs get progressively harder so you can be prepared for your next race. Nutrition and other activity tracking options are also available for a complete training program. Plus, you can share your progress with your friends on Facebook!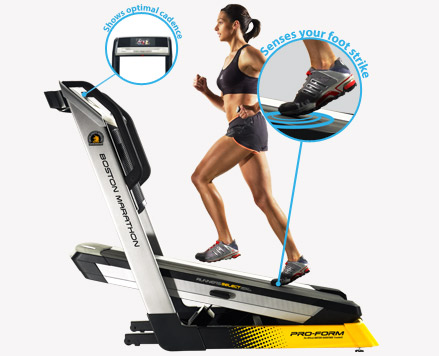 Cadence Training and Stride Rate Sensor
Set your target cadence on the console display and the Boston Marathon Treadmill's Cadence Coach emits an audible tone, like a metronome, to keep you on track. Use it throughout the run or for a short interval. The Stride Rate Sensor detects and counts each step and displays it on the touch screen as a steps-per-minute readout.
Running Efficiency Gauge
A built-in sensor reads the consistency of your steps and stride throughout every run. The data is displayed on the console in a Running Efficiency Gauge, similar to the RPM gauge in a car.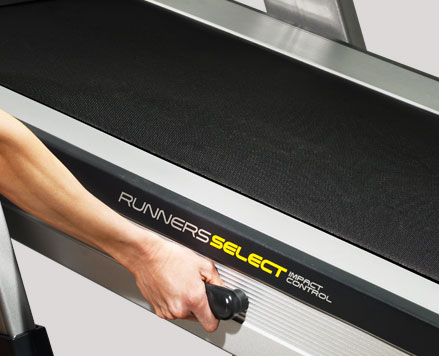 Decline and Incline Training
Training for the Boston Marathon demands both incline and decline running techniques. With an incline up to 20% and a revolutionary decline down to -6%, the Boston Marathon Treadmill delivers variety and realistic training to your program. Integrated with HD Video of the Boston Marathon and workouts Powered by Google Maps™, the marathon and other trails around the world are simulated on the treadmill, every incline and decline.
ZipSpeed and ZipIncline
With the swipe of a finger, adjust your speed and incline/decline right on the touch screen. Ideal for interval training and Fartleks, the ZipSpeed™ and ZipIncline™ bars make big speed/incline changes from 1 to 15 MPH and -6% decline to 20% incline without breaking your stride.
Runners Select Impact Control
Exclusive to the Pro-Form Boston Marathon Treadmill, Runner's Select Impact Control offers runners complete cushioning control. Select on and the full-length suspension reduces impact on your joints. Choose off for a road-like simulation. This impact system caters to the feel and needs of every performance runner. Personalize your training for the best result
CONFUSED?
Let the FitnessZone® sales staff help you navigate through the various models of treadmills. Our expertly trained staff can assist you in selecting the treadmill that will custom fit your needs as well as your budget! Call us ANYTIME at 1-800-875-9145.