Spirit Ellipticals
Spirit Ellipticals
Why choose to invest in an elliptical, instead of a treadmill or a semi-recumbent bike? The elliptical can be considered a middle ground product when comparing it to other forms of cardiovascular exercise. A reason to choose this over a treadmill would be the lack of impact on the joints. Another advantage is that along with strengthening your heart, you can also focus on strengthening all lower body muscles by increasing the resistance necessary to complete the ellipse pattern. The advantage over a semi-recumbent bike is that this form of exercise is full weight bearing. This means that along with strengthening your muscles, you will maintain or increase the bone density in your lower body.

The first step is to decide what features you desire. The XE series ranges from a basic unit with limited programming to units with sophisticated programming, adjustability, and incline features.
Spirit Fit App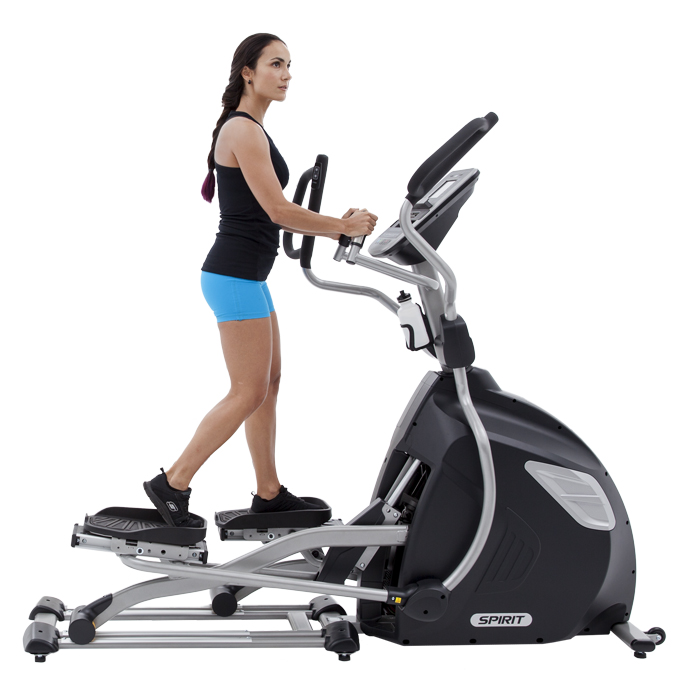 The New SPIRITFIT APP is designed to monitor and record your workout data through an integrated Bluetooth 4.0 module that is compatible with most iOS and Android mobile devices.

Simply download the SPIRITFIT APP, set up the account, pair with your SPIRIT FITNESS equipment, then you're ready to track your workout schedule, design your workout plan, and set your workout program.

All of your personal profile and exercise data will be stored in your mobile device. During your workout you can watch a movie, catch up on news, and check your email while the SPIRITFIT APP continues to record your exercise data in the background.

The SPIRITFIT APP also communicates with Fitbit, iHealth, RECORD, MapMyFitness, MyFitnessPal and other open source training apps so you can continue using the fitness apps that you are familiar with and keep all your workout history in one safe place.
The Spirit of Innovation
As with any product, a major key is the user interface. Whether it is your cell phone, car, or fitness equipment, you want to quickly be able to use it and get the information that is important to you. We focused on this simple principle in the development of our new consoles.

A quick press of a button and you are off on a walk or a run, or one of the many specialized workouts. Some models even allow you to develop your own programs. Our large, easy-to-read consoles give you constant feedback from calories to distance to time. There are even separate displays for heart rate and muscle activation.
Products