StairMaster Upright Bikes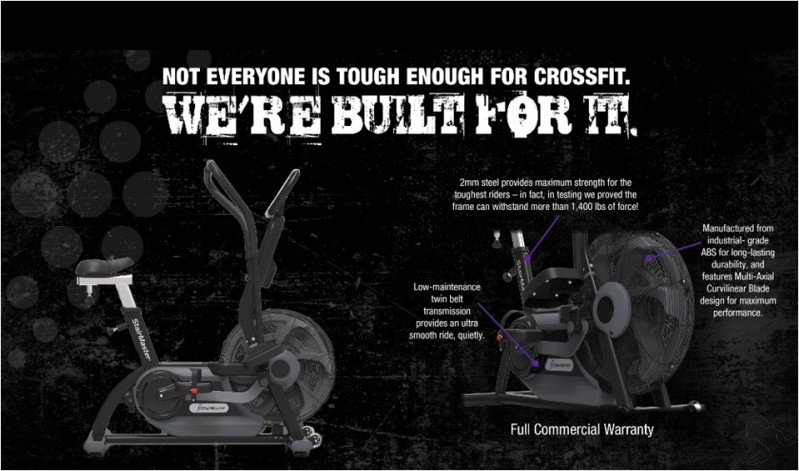 The Next Generation in Cross Training
The next generation in cross training dual action air resistance bikes are here, introducing the all new StairMaster AirFit Bike! Building on 30 years of experience and proven performance, the StairMaster AirFit Bike offers a robust full commercial design and features dual action wind resistance that provides a total body cardio workout. Resistance in the AirFit is determined by how hard the user works; the harder the bike is pedaled, the higher the resistance becomes, allowing for a wide range of users. This resistance is generated by an innovative fan design that displaces air effectively providing customizable workouts for anyone at any fitness level. From beginners to seasoned athletes, the AirBike fits all fitness environments. The dual action AirBike combines both cardio and strength thanks to dual action wind resistance. This provides an upper and lower body workout as well as cardio workout. The result is a true total body workout. Technology transfers from Schwinn bikes have been employed to provide a new, large seat cushion, improved for added comfort and support and a belt drive system that provides for continuous pedaling like a bicycle. The AirFit Console features a new bright user-friendly LED display with key metrics such as Time, Speed, Distance, Heart Rate and Calories. Beginning with the first stepping machine in 1983, StairMaster has been a legendary name in the gym. Today the tradition continues with the StairMaster AirFit Bike.
When you're starting an exercise program, the key is finding something you enjoy and that's easy to do. That's what makes the stationary bike a great choice, particularly for the novice exerciser or someone with back, knee, or joint problems that make running or walking more difficult. A stationary bike is very easy on the joints. Further, if you're a fair-weather exerciser who lets heat, cold, or rain inhibit your workout, the stationary bike gives you fewer excuses not to exercise. Because it's indoors, you don't have to worry about inclement weather.
In the Fitness Industry, upright bikes have become a very useful part of person's home fitness center. FitnessZone® will be able to custom fit you on an upright bike that will help you obtain your fitness goals while meeting your budget or space requirements. We carry such brands as: Diamondback upright bikes, Endurance upright bikes, Life Fitness upright bikes, FreeMotion upright bikes, Kettler upright bikes, Xterra upright bikes, Body Solid upright bikes, Monark upright bikes, SportsArt upright bikes, Spirit upright bikes, Stamina upright bikes and many more. We also offer a full line of commercial upright bikes. We have service technicians on call 7 days a week throughout the World for our customer's service needs. Order your upright bike today at FitnessZone®. Com and pedal yourself to better Health!
Products