Ab Coaster PS500

Need Expert Advice? Our friendly and knowledgeable staff is ready to help you. Call us now @1-800-875-9145!
Ab Coaster PS500
Formerly known as the Ab Coaster Pro, the PS500 is the base model for the Personal Series home market.
The Ab Coaster PS500 is the top of the line Ab Coaster in the Personal Series for residential use. The Ab Coaster PS500 model features ultra smooth Stainless Steel rails, and includes an exercise mat and weights.
The Ab Coaster PS500 is a revolutionary exercise device that is taking abdominal training in a whole new direction. Unlike traditional crunches, which work your abs from the "top down," the Ab Coaster PS500 works your abs from the "bottom up," while limiting stress to your neck, back and shoulders.
Gymnasts and bodybuilders have known this secret for years: to get a strong, lean core necessary for competition, they work their abs from the bottom up.
Call 1-800-875-9145 to talk with one of our FitnessZone agents with any questions you may have about the Ab Coaster PS500. To significally lose weight and inches order your Ab Coaster PS500 from FitnessZone.com today!

| | |
| --- | --- |
| | |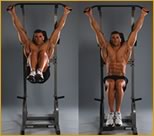 The Most Difficult Ab Exercise Made Easy
The Hanging Leg Raise is a "bottom up" exercise that is highly effective for developing great abs. But it is a very difficult exercise to perform. Here's why. The exercise requires not only tremendous upper body strength to hang from a bar, but it also requires you to perform a lower abdominal contraction while lifting the entire weight of your lower body. This exercise sounds hard because it is hard. In fact, for the average person, this exercise is nearly impossible.

The Ab Coaster PS500 makes this difficult exercise possible for anyone to perform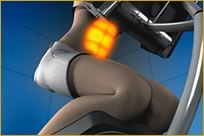 It's Weight-bearing design eliminates the need to hang from a bar and places the user in a comfortable kneeling position off the floor. The Ab Coaster's curved track guides you through a perfect lower abdominal lift while eliminating strain to your neck, back and shoulders. The Ab Coaster engages your abs from start-to-finish, giving you a constant core contraction with every repetition. The free-style motion seat moves in all directions so you can target your obliques at every angle for a complete abdominal workout.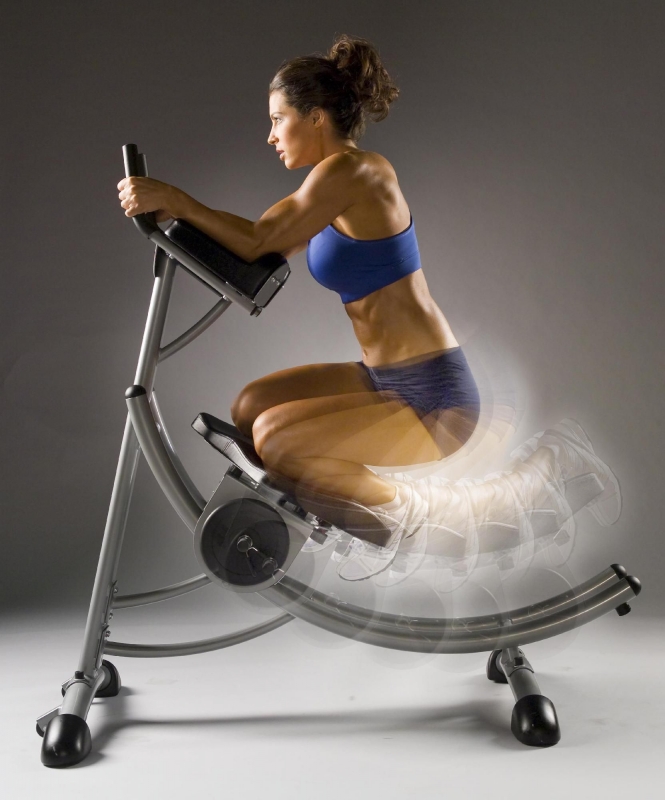 The Ab Coaster's unique design helps you work your abs—from the "bottom up."
The basic Forward Lift motion requires you to lift your knees and legs while contracting your abs.
The Free-Style motion seat allows you to target your right or left obliques.
---
Ab Definition for Everyone
The Ab Coaster PS500 has a patented design, combined with its plate-loading resistance system, allows anyone— from beginner to advanced—to achieve great abs in the most effective way possible.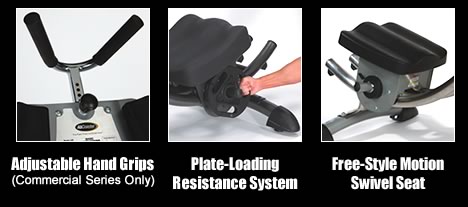 Ab Coaster PS500 Features
DIMENSIONS & WEIGHT:
L 51" W 25" H 50" Weight: 70 lb.
• All Steel Construction
• 1.5" Steel Rails
• Nylon Rollers
• Steel Bearings
• Vinyl Covered Molded Foam Arm Pads
• Free-Style Motion Seat
• 300 lb. Weight Capacity
• 20 lb. Weight Plate Capacity
• Easy-Move Casters
• Powder-Coat Finish
• Digital Workout Counter
Ab Coaster PS500 Warranty

Limited Warranty
Order your Ab Coaster from FitnessZone.com today!