Vision S70 Suspension Elliptical
Code:
Vision-S70-Suspension-Elliptical

Need Expert Advice? Our friendly and knowledgeable staff is ready to help you. Call us now @1-800-875-9145!
Vision S70 Suspension Elliptical
The Vision S70 Suspension Elliptical™ Trainer offers our exclusive PerfectStride™ technology to the commercial market for years of user comfort. Combining an ideal stride motion, ergonomically correct foot positioning, and optimal incline and stride length adjustments, PerfectStride allows users to change the emphasis on the muscles being targeted during their workout. The unique suspension design provides an exceptionally smooth feel, utmost comfort, and unmatched accessibility.
The Vision S70 Suspension Elliptical™ Trainer machine is just what you need if you're ready to take your cardio workout to the next level and get your body in shape. The elliptical is becoming one of the most popular cardio machines because it's less stressful on your knees, hips, and back and generally works out your entire body through upper body handles.
The Vision S70 Suspension Elliptical™ Trainer has a maximum stride length of 20 - 23 Inches and can handle up to 400 pounds, which is far more than the average for all Ellipticals. Along with its sleek design and easy to use display, S70 Suspension offers Contact sensors and Wireless receiver, Oversized Pedals and Self-Powered as well.
If your looking to rev-up your fitness program the Vision S70 Suspension Elliptical™ Trainer is just the ticket. For further information about the Vision S70 Suspension Elliptical™ Trainer call 1-800-875-9145 to talk with one of our friendly agents at FitnessZone with any questions you may have. Order your Vision S70 Suspension Elliptical™ Trainer from FitnessZone.com today and take your workouts to a higher level.
Vision S70 Suspension Elliptical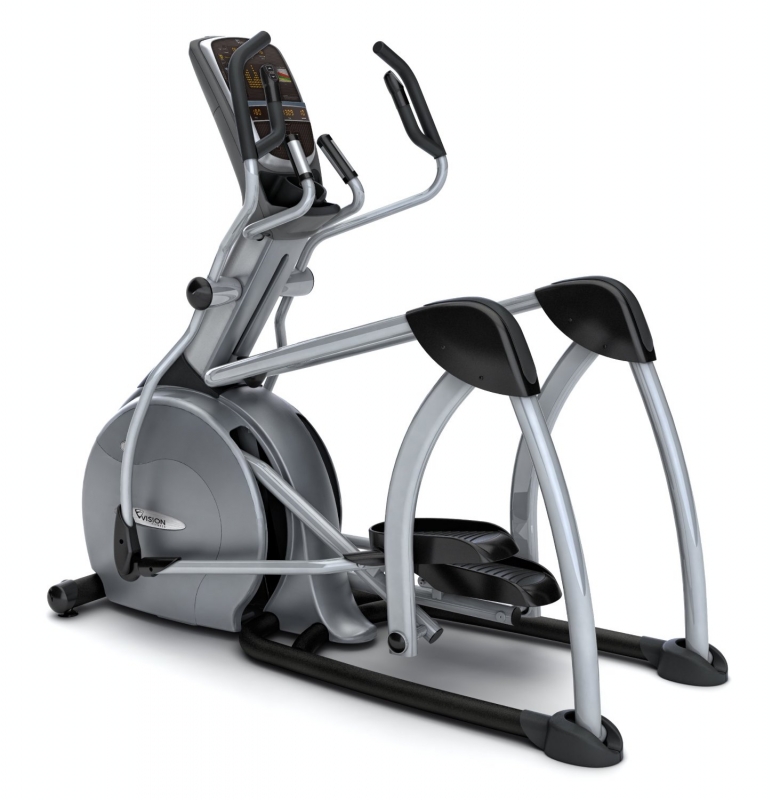 Unique Suspension Frame Design

Vision Fitness Suspension Elliptical™ trainers offer an exceptionally smooth, stable and comfortable workout due to their unique suspension design and heavy gauge steel frames. The S70 is virtually silent and maintenance-free, due to the absence of friction created by a lower wheel track on other elliptical designs.

Wireless Heart Rate Monitoring

The wireless Polar® receiver provides workout-friendly heart rate monitoring that is more convenient and accurate than traditional analog heart rate grips. This feature is ideal for those who need to track their pulse for target heart rate training.
Vision S70 Suspension Elliptical Features
Multi-position Dual-action Arms

Our multi-position handgrips fit any user, allow different muscle emphasis, and add variety to your workout.

Premium Program Options

Customize your feedback view with this easy-to-read LED console featuring 22 programs, including five custom program options. Choose a preset program or make changes on the fly using the remote control handlebar grips. Easy-to-read feedback is available at a glance, including distance, speed, heart rate, watts, METs, RPM, calories, time and resistance.
Vision S70 Accessory Tray

The conveniently-located accessory tray will ensure that users have room to store anything they need during their workout.
PerfectStride™ Technology

The Vision S70 PerfectStride™ technology combines an unique ergonomic elliptical foot path, pivoting footplates, incline variances and a variable stride length to help you experience the perfect stride motion.
Sprint 8®: The Perfect Fitness Solution

The exclusive 20-minute Sprint 8® workout program has been medically proven to boost energy, reduce body fat and promote lean muscle mass through a natural release of exercise-induced growth hormone.



Two-stage Self-powered Generator

Our two-stage electromagnetic generator system produces power and allows for freedom of placement anywhere in the room.



Vision S70 Suspension Elliptical Specifications
| | |
| --- | --- |
| Model | S70 |
| Price | $4,699.00 |
| Frame Type | Suspension Elliptical™ frame |
| Variable Stride Length | 50.8 - 58.42 cm / 20"- 23" |
| Step-on Height | 21.6 cm / 8.5" |
| Incline Range | 15 - 37% |
| Resistance System | 2-stage self-generating power |
| Resistance Range | 1 - 20 |
| Pedal Spacing | 5.1 cm / 2" |
| Pedal Type | Oversized pedals with cushioned footpad |
| Handle Bar Type | Multi-position with rubberized grip |
| Display | LED w/Scrolling Alphanumeric Feedback, Customizable Upper Display, Oversized Dot-Matrix |
| Workout Feedback | Distance, Speed, Heart Rate, % Max HeartRate, Watts, METs, RPM,Calories, Time, and Resistance |
| Programs | SPRINT 8®, Manual, Interval, Fat Burn, Random, Target HRT, HRT Weight Loss, HRT Interval, HRT Hill, Trail 2K, Trail 8K, Glute Burn, Summit Hike, Mountain Trek, Stair Climb, Fitness Test, S Custom - 21 Total |
| Heart Rate | Contact grips and Polar® wireless receiver |
| Accessories | Water bottle holder and reading rack |
| Electrical Requirements | Self Powered |
| Assembled Weight | 160 kg / 352 lbs. |
| Assembled Dimensions | 190.5 x 88.9 x 172.7 cm / 75" x 35" x 68" |
| Max User Weight | 182 kg / 400 lbs. |
Vision S70 Suspension Elliptical Commerical & Home Warranty

Order your Vision S70 Suspension Elliptical from FitnessZone.com today!