Ab Coaster CS3000
Add To Cart for Instant Discount
Price:
$1499.00

Need Expert Advice? Our friendly and knowledgeable staff is ready to help you. Call us now @1-800-875-9145!
Ab Coaster CS3000
Ab Coaster CS3000 is the full commercial YMCA MODEL. Ab Coaster CS3000 Features heavy-duty components perfect for high-volume commercial fitness centers & athletic training facilities. The flagship product of the Ab Coaster Commercial Series product line has been re-designed. The Ab Coaser CS3000 has new features which include stainless steel rails for an ultra-smooth ride, adjustable hand grips, and a free-style motion seat. Ab Coaster CS3000
The full commercial Ab Coaster CS3000 features heavy-duty components and a 450lb. user capacity, perfect for high-volume commercial fitness centers, athletic training facilities and those who just want the best!
The Fast Track to Great Abs
The Ab Coaster CS3000 combines the simplicity of the ab crunch with the effectiveness of the hanging leg raise. The curved track mimics natural spinal flexion, allowing anyone to perform an abdominal lift in perfect form, regardless of fitness level.
Core Stabilization
The Ab Coaster CS3000 promotes core stabilization while exercising the abdominals through a full range of motion. The ergonomic carriage places you in a comfortable kneeling position, isolating the abdominal region and virtually eliminating any hip flexor involvement.
Call 1-800-875-9145 to talk with one of our FitnessZone agents with any questions you may have about the Ab Coaster CS3000. To significally lose weight and inches order your Ab Coaster CS3000 from FitnessZone.com today!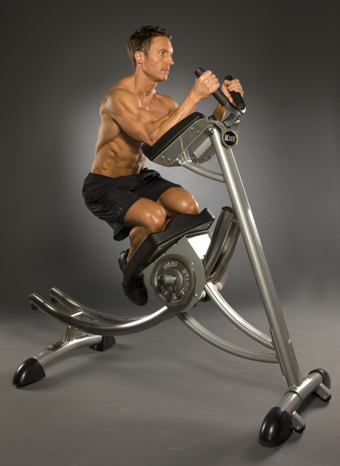 The Most Difficult Ab Exercise Made Easy
| | |
| --- | --- |
| The Hanging Leg Raise is a "bottom up" exercise that is highly effective for developing great abs. But it is a very difficult exercise to perform. Here's why. The exercise requires not only tremendous upper body strength to hang from a bar, but it also requires you to perform a lower abdominal contraction while lifting the entire weight of your lower body. This exercise sounds hard because it is hard. In fact, for the average person, this exercise is nearly impossible. | |
| The Ab Coaster CS3000 makes this difficult exercise possible for anyone to perform. Its weight-bearing design eliminates the need to hang from a bar and places the user in a comfortable kneeling position off the floor. The Ab Coaster's curved track guides you through a perfect lower abdominal lift while eliminating strain to your neck, back and shoulders. The Ab Coaster engages your abs from start-to-finish, giving you a constant core contraction with every repetition. The free-style motion seat moves in all directions so you can target your obliques at every angle for a complete abdominal workout. | |
---
The Ab Coaster's unique design helps you work your abs—from the "bottom up."
The basic Forward Lift motion requires you to lift your knees and legs while contracting your abs.
The Free-Style motion seat allows you to target your right or left obliques.
---
Ab Definition for Everyone
The Ab Coaster CS3000 has a patented design, combined with its plate-loading resistance system, allows anyone— from beginner to advanced—to achieve great abs in the most effective way possible.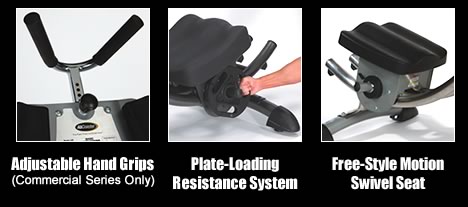 Ab Coaster CS3000 Features
Heavy-Duty Steel Construction
Stainless Steel Rails
Ultra-Glide Nylon Rollers
Sealed Steel Bearings
Urethane Molded Foam Arm Pads
Adjustable Hand Grips
Free-style Motion Seat
450 lb. User Weight Capacity
40 lb. Olympic Weight Capacity
Easy-Move Casters
Ab Coaster CS3000 Specifications


Product Details
Dimensions
61" L x 33 " W x 58 " High
Shipping Weight
150 lbs
Max User Weight
450 lbs
Frame
Heavy-Duty Steel Construction
Rails
2.5" Stainless Steel
Rollers
Ultra Glide Nylon
Bearnings
Heavy Duty Steel
Weight Plate Capability
40 lb. Olympic Style
Seat Pad
3-Position Adjustable
Easy Move Casters
Yes
Finish
High-Gloss Powder Coat
Urethane Molded Foam Pads
Yes
Ab Coaster CS3000 Warranty
Frame: 5 Years


Roller Bearings: 1 Year


All parts and components (including paint): 90 Days
Order your Ab Coaster CS3000 from FitnessZone.com today!