One New Left At This Great Deal!
CycleOps 300 Pro Indoor Cycle
Code:
cycleops-300-pro-indoor-cycle

Need Expert Advice? Our friendly and knowledgeable staff is ready to help you. Call us now @1-800-875-9145!
CycleOps 300 Pro Indoor Cycle
The CycleOps 300 Pro Indoor Cycle is the Perfect Fit.
If a bike isn't comfortable, you won't spend much time on it. And if it's hard to set–up or frustrating to operate, your workout could leave you feeling less than motivated to get back in the saddle. That's why the CycleOps 300 Pro is designed to mimic the fit and feel of your outside bike in your own home.
Easily put your own saddle on the bike and dial–in the adjustable handlebars and seat position for the perfect fit. It rides like a real bike because it's inspired by a real bike. Not to mention—tested, approved and used by professional cyclists and athletes who demand professional results.
Quickly adjust all geometries necessary for creating the perfect fit.
The Pro Series frame offers freewheel gearing along with stiffness and stability that is second to none.
Joule™ Plus Powertap Equals the Total Training Tool.
Get the formidable combination of Joule™ and PowerTap Technology delivered on a dedicated indoor set up so you never miss a workout again. PowerTap Technology provides the most precise power measurement available, taking the guesswork out of your workouts. Together, Joule™ and PowerTap give you all the performance data you need with dashboard, reports and activities at your fingertips.
The Pro Series frame offers freewheel gearing and allows you to quickly adjust all geometries necessary for creating the perfect fit.
All the Bells and Whistles.
Equipped with our revolutionary PowerTap Technology, the CycleOps 300 Pro Indoor Cycle allows you to actually measure and record your power output while riding.
And because it uses proprietary wireless technology, there are no wires to get in the way of your workout. Data travels from the flywheel to the cycling computer with no additional sensors.
Combine this with a computer that manages performance data with dashboard functions, ride reports, history, and workouts; and you're poised for the most effective and informative indoor training possible.
Because the PowerAgent software comes with the bike, you truly have all the tools you need to track and adapt your training goals, whether they're related to peak power, heart rate or weight loss.
The data transfers easily to your Mac or PC through a simple USB connection. In fact, you might get so much out of your workouts on the 300 Pro that you find yourself making excuses to ride inside.
Call 1-800-875-9145 to speak with one of our fitness advisors with any questions you may have about the CycleOps 300 Pro Indoor Cycle. Don't Hestitate! Go to FitnessZone.com and order your CycleOps 300 Pro Indoor Cycle today!

What's Included in Package
I300 indoor cycle
Joule 2.0 computer
Heart strap monitor
Instruction manual
VirtualTraining 2 week free trial
CycleOps 300 Pro Indoor Cycle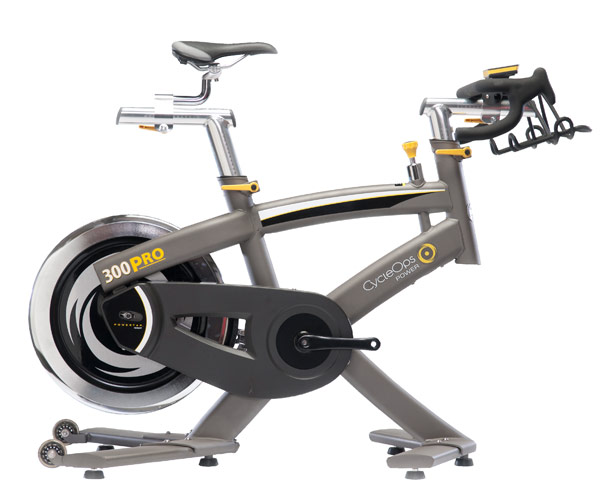 Optional Road Style Handlebars


Road style handle bars for 2010 and new I series indoor cycles
Replicate the feel of your road bike indoors.
If your Indoor Cycle has the resistance adjustment on the handle bar this accessory will not work with your bike
CycleOps 300 Pro Indoor Cycle Specifications
PowerTap technology provides +/-1.5% accurate power feedback to take the guess work out of riding.

Precise resistance control lets you dial up the difficulty level for whatever intensity you can dish out.

Four points of adjustment to duplicate the fit of your outdoor bike.

Freewheeling hub lets you stop pedaling and coast whenever your pace dictates to recover between efforts.

Stable platform for sprinting workouts or hill climbs.

Dual capacity water bottle holder to keep you hydrated for the long haul.

48-pound flywheel

CycleOps saddle included

Saddle and pedals can be swapped out for a more customized ride

Road-style handlebars to recreate the feel of your road bike

Wireless data transfer

Does not come with pedals


Wireless
Compatible with
ANT+ CycleOps
products
Compatible with
3rd party ANT+
products
Plus-Series PowerTap
X
X
X
PowerBeam Pro Trainer
X
X


300 Pro/400 Pro Indoor Cycle
X
X*


CycleOps ANT+ Accessories
X
X
X
PowerCal
X
X
X
*doesn't work with CycleOps Cervo or Joule 1.0
CycleOps 300 Pro Indoor Cycle Warranty

Lifetime Warranty
When we say "We bring the power of cycling to life, we mean it". Talk's cheap. That's why you'll see lifetime warranties on our CycleOps indoor cycles, trainers and rollers. Not three years, not five, but for as long as the original buyer owns it. Because we firmly believe that cycling is a lifetime sport. So why settle for anything less from the equipment that helps you enjoy it.
Order your CycleOps 300 Pro Indoor Cycle from FitnessZone.com today!