FREE-Polar Bluetooth HR Chest Strap ($95 Value) Limited Supply!
FREE-Protective Floor Mat ($50 Value) & FREE Media Holder ($20 Value)
FREE-Gel Seat Overlay ($35 Value)
Fast Same Day Shipping!
Keiser M3i Indoor Cycle with Bluetooth Wireless Computer
Code:
keiser-m3i-indoor-cycle

Need Expert Advice? Our friendly and knowledgeable staff is ready to help you. Call us now @1-800-875-9145!
Keiser M3i Indoor Cycle with Bluetooth Wireless Computer
Keiser M3i Indoor Cycle - Our newest model - The indoor cycling revolution begins now…the result of over a decade of Keiser cycle development. The guaranteed assurance of the Keiser M3i Indoor Cycle is its durability. The Keiser M3i Indoor Cycle is made of corrosive resistant materials, has a resistance system that doesn't wear, and is virtually maintenance free; requiring less work from your facility to keep it running. All of this, plus it is backed by one of the best warranties in the industry. With its near silent belt drive, massive flywheel, motivational console and top-down resistance braking system, the M3i indoor cycle from Keiser provides a gym-quality workout at home. The racing-style handlebars and anatomically designed saddle will make you feel like you're in a true competition, while the adjustable seat offers custom comfort. Transport wheels ensure it's simple to move the Keiser M3i wherever you want.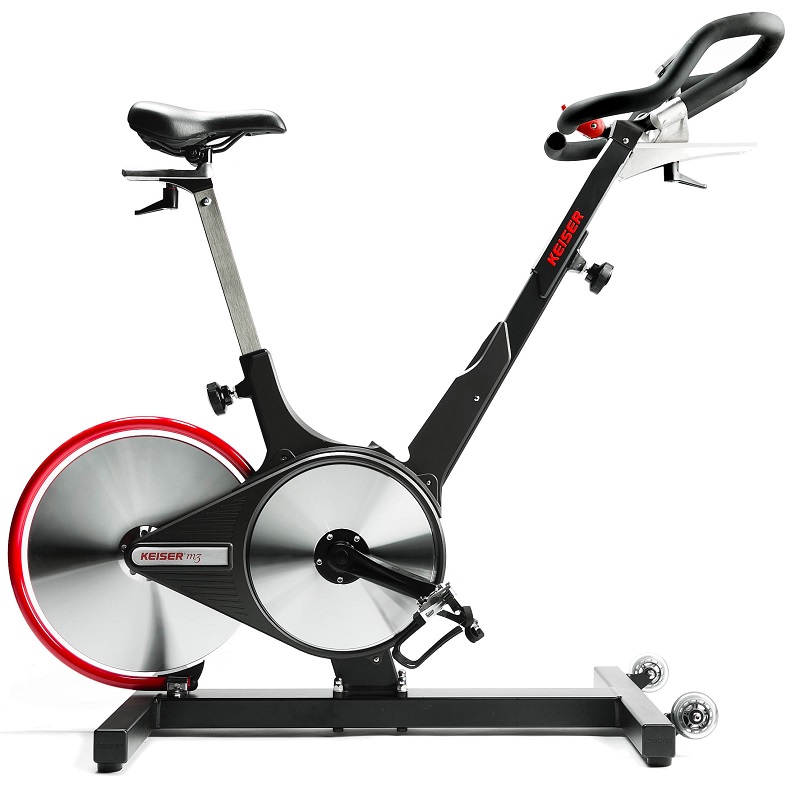 FREE Items: $160 Value-Limited Supply!
Polar H7 Bluetooth Heart Rate Chest Strap
Protective Floor Mat
Gel Seat Overlay!
Keiser has been the first to employ magnetic resistance, introduce power, and now the first to receive accuracy certification. Keiser is the undisputed number one leader of Indoor cycles.
| | |
| --- | --- |
| Shipping Now With New Pedal Upgrade | |
M3i Indoor Cycle - Keiser introduces intelligent cycling and the most technologically advanced indoor group cycle ever, the Keiser M3i featuring Bluetooth wireless display. The new Keiser Bluetooth wireless computer is certain to become popular with both riders and group exercise instructors. The computer can transmit to a receiver for projection onto a screen and can also partner up with a wireless phone or tablet. At first glance the Keiser M3i catches the eye with a stunning new black color scheme that also features a red flywheel guard. The M3i is a highly innovative indoor cycle and is one of the most recommended spin bikes on the market, and for good reason. With its exceptional, club-quality features, this particular product has been designed to last for life. Best of all, this machine delivers exactly what it promises and several users have claimed to have lost a staggering amount of weight after using this bike for just a few months. More importantly, though, this item is surprisingly easy to use, even for beginners.
The new M3i gives consistency and accuracy that will give both Instructors and riders the confidence they need to really use power as a training tool in classes, but the indoor cycling pros at Keiser are raising the bar. Keiser announced in March that they achieved the prestigious EN-ISO 20957-1 rating for the accuracy of its power display on the newly released Keiser M3i indoor cycle. The new certification means that Keiser M3i's are the most accurate in the market when it comes to measuring the power (in watts) output by riders.
The Keiser M3i can now connect to your phone and sync the data from your workout, which acts as a more accurate way to measure your progress between multiple workouts.
If you're already familiar with the earlier Keiser M3 model, you'll notice that the new M3i has an added area of adjustment.
Keiser M3i has 4 main grip handlebar positions: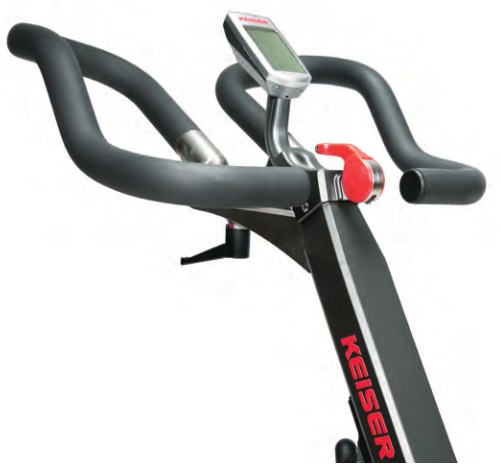 Overhand front grip (either side of display console)
Extended grip (furthest point from the seat, horizontal)
Time trialling (close together, either side of console)
Hook or Middle grip (further apart, at a slight incline)
M3i options creates a wider range of heights and personal preferences, but also provides greater support if you want to switch from low intensity to high intensity cycling.
Now with the Keiser M3i you can alter the distance that the handlebars are from the seat, as well as their angle and height, you can also adjust the position of the seat, both horizontally and vertically.

It's also important to notice the ease with which you can adjust the height of the seat and handlebars, with Keiser M3i opting for a pull-pin style system, rather than a screw-in hand wheel. This helps cut down the time it takes to make minor height adjustments.
Enhance the quality and enjoyment of your workouts with the New Keiser M3i Indoor Cycle. Check out the New Keiser M3i Indoor Cycle and take a look at the future of mainstream conditioning. Don't wait to step-up your cardio workout call 1-800-875-9145 to talk with one of our fitness advisors about the new M3i. Get motivated order your Keiser M3i Indoor Cycle from FitnessZone.com today!
Keiser M3i Indoor Cycle Feature Summary:
Intelligent cycling and the most technologically advanced indoor group cycle ever
Featuring Bluetooth wireless
Partners up with a wireless phone or tablet
The computer can transmit to a receiver for projection onto a screen
One final feature worth mentioning is the transport wheels attached to the front base stabilizer.
Keiser also unveiled new Bluetooth capabilities with the M3i. To compliment their new Bluetooth technology, Keiser will now offer a new group exercise projection system, the Keiser GX (see video below). The new Bluetooth wireless display computer can transmit to a receiver for projection onto a screen and can also partner up with a wireless phone or tablet. Doing away with the conventional rider-worn monitor, rider data will be transmitted wirelessly via Bluetooth to reflect the performance of the rider, making the M3i the most technologically advanced indoor cycle ever.
M3i EDDY CURRENT SYSTEM

An eddy current is an electric current in a conducting material that results from induction by a moving or varying magnetic field. On M Series equipment this is generated by two opposing magnets passing over the flywheel. The flywheel (a conductor) passes through the magnetic field generated by the two powerful magnets. By varying how much of the flywheel comes into contact with the magnetic field you can increase or decrease the amount of resistance for the rider. As no parts in the resistance system ever touch there is no wear on the system.

When the flywheel is turned in proximity of the magnetic field the eddy current is created. The flywheel acts like a conductor with closed circuits. The energy generated by turning the flywheel has nowhere to go, so as it resists it becomes more difficult for the rider to pedal. If the flywheel is in less contact with the magnetic field it's easier to ride. The more of the flywheel that comes in contact with the magnetic field (the higher the energy that is being generated with each turn) the more difficult it becomes to ride.

Fig. 1. At full resistance the flywheel is in most contact with the magnetic field. When you reduce the amount of contact to the field (move the magnets away) the resistance then decreases.

The unique M Series cardio line features Keiser's innovative magnetic resistance system. Designed, engineered and manufactured in the U.S. to strict quality standards and test procedures, which guarantees an extremely durable and effective machine. You can also outfit Keiser M Series equipment with our intuitive M Series computer. Motivate and empower by accurately tracking and measuring: Workload (watts), Heart Rate (Polar™ compatible), Time, Distance and Cadence.
Keiser M3i Indoor Cycle with Bluetooth Wireless Computer Features
FEATURES
Resistance System: Eddy Current Magnetic Resistance System
Seat Adjustment: Four-Way Adjustable Seat
Transport: Wheels on base of frame for easy transport
Water Bottle Holder: Yes
COMPUTER
Display: Backlit
Displays: RPM, Power Output in Watts (currently generating), Heart Rate (Polar Compatible), Pedaling Time, Gear (1-24 Gears), Odometer, Trip Distance
Wireless Technology: Bluetooth Wireless Technology
Keiser M3i Indoor Cycle with Bluetooth Wireless Computer Specifications




Height 45'' (1143mm)
Width 26'' (660mm)
Lenght 49'' (1245mm)
Weight 85lbs (38.56kg)
Keiser M3i Indoor Cycle with Bluetooth Wireless Computer Warranty

Keiser M3i Indoor Cycle Warranty:
All Inclusive - 3 Years (Excluding labor and wearable parts)
· Wearable Parts - 6 Months (Wearable parts include: "T" Handles, Pedal Cage, Pedal Strap, & Saddle Upholstery
Order your Keiser M3i Indoor Cycle with Bluetooth Wireless Computer from FitnessZone.com today!

Average Customer Review:
9 Reviews
Write an online review and share your thoughts with others.
Keiser M3i Indoor Cycle from FitnessZone, 8.14.2017
Reviewer: Laura Toporowski ( Butler, NJ)

Good Evening Kyle, We are soo happy to have received the incredible new bike from you. We absolutely loved our first rides.
---
Top Quality Bike!, 3.15.2017
Reviewer: Dawn Price (Los Angeles , CA)

I purchased my new Keiser M3i Indoor Bike from Mike at FitnessZone. I wanted one that would simulate an outdoor ride. I would say that this bike is great! Quiet and Smooth. I received the indoor cycle at my house in 2 days. FitnessZone emailed me the tracking # that night. Thanks Mike For Your Help! Dawn
---
Again, thank you for the excellent service., 7.20.2016
Reviewer: Gary Gray ( , )

Fitness Zone, Thank you for the excellent job with the order of the Keiser M3i Indoor Cycle. Everything showed up perfectly and I was able to put it together with no problem. Again, thank you for the excellent service. With Thanks, Gary Dr. Gary Gray, PT, FAFS
---
Great Bike!, 7.19.2016
Reviewer: Sona (Houston , TX)

The bike was assembled by Anthony. He fitted it to match my son's height and said The bike was well made. He just left and even offered to removed cardboard. The bike looks sharp and smart. We will get on it at 7 am!! Thank you!! Sona
---
Great Indoor Spinner & Excellent Dealer to Buy from, 5.10.2016
Reviewer: Kim (Afton, VA)

The Keiser M3I is a wonderful indoor cycle. Tried the Schwinn which is a nice ride also , but the Keiser was a much smoother and comfortable ride for us. For those folks who may have questions about the Bluetooth/GoInd app, the new release works great, non of the connectivity problems of the old release. We are running it on a IPad Air 2. The app is actually a good training tool. Now to the meat of the matter. The staff of the Fitness Zone are just wonderful to work with. Per Fed X we lived too far in the woods for their standard semi delivery. The Fitness Zone arranged for for pickup from the Fed Ex Depot and assembly in the basement of our home, that was flawless (yes, it was a few extra bucks , but worth every penny) Bottom line 6 days after ordering the M3I it was in our home, assembled and we were riding on it.
---