Proform Thinline Desk Treadmill
Code:
proform-thinline-desk-treadmill

Need Expert Advice? Our friendly and knowledgeable staff is ready to help you. Call us now @1-800-875-9145!
Proform Thinline Desk Treadmill
SKU #PFTL12014
With the ProForm® Thinline Desk Treadmill, you can train with the latest technology at your fingertips. From the integrated tablet holder to our adjustable desktop console—your workout incorporates the best of fitness and convenience. Book your ticket to anywhere in the world when you tap into our iFit® Enabled interactive technology with Google Maps™ routes. At 12 mph top speed, 12 percent incline, 3 percent decline, and power adjustable uprights, this treadmill is exactly what you've been looking for. Fold it to a revolutionary 12 inches at its thinnest to keep your space open and free.
Console Folds to Desktop

Integrated Tablet

Power Adjustable Uprights

Thinline SpaceSaver

iFit® Enabled
Don't wait to get started with a great workout experience call 1-800-875-9145 to speak with one of our fitness advisors with any questions you may have about the Proform Thinline Desk Treadmill. Go to FitnessZone.com today to order your Proform Thinline Desk Treadmill!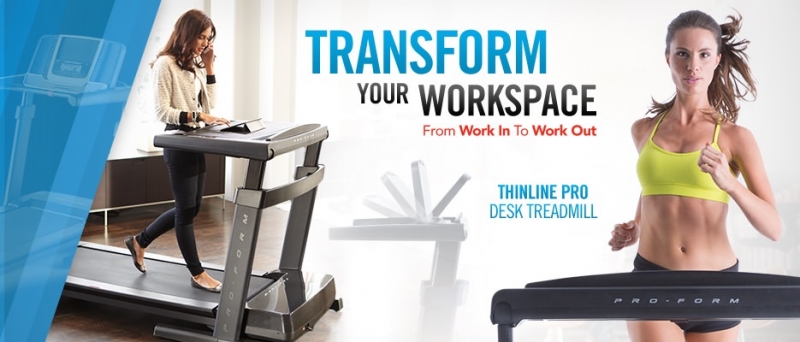 Proform Thinline Desk Treadmill
SKU #PFTL12014
The ProForm Thinline Desk Treadmill can flatten to a desk for walking or swi
tch to a real treadmill for running.
Proform Thinline Desk Treadmill Features
Console to Desktop in Seconds

Console Folds to Desktop

With the Proform Thinline Desk Treadmill exciting adjustable desktop, you can lower the console and utilize the flat space as your very own desktop. Leave the console facing you for your typical treadmill experience.

Desktop Mode

Console Mode
Control the Treadmill from Your Tablet

Integrated Tablet Holder

Slide your trusty tablet into the console slot—and Voilà!—the treadmill syncs with your tablet wirelessly for total speed, incline, and decline control.

Treadmill Companion App Available

Total Tech Control
Keeping Your Options Infinite

iFit® Enabled*

Have you ever wondered what it's like to run in Barcelona? Just press start. Download a Google Maps™ route or create your own. This iFit® enabled* treadmill automatically adjusts the incline and decline to recreate trails, from Mongolia to Ecuador.

With the Proform Thinline Desk Treadmill you can customize your training with unlimited workouts designed by certified personal trainers. This ever-growing workout library offers programs that progress with you from beginner to marathoner.

*iFit® wireless technology built in—no module required. Access your iFit® account from your Enabled exercise equipment, computer, tablet, or smart phone. Annual membership fee required, sold separately. Google Maps™ is a trademark of Google, Inc.

Global Google Maps™ Routes

Extensive Fitness Tracking

Unlimited Workout Library
Take Back Your Fitness Space

ThinLine SpaceSaver® Design

The Proform Thinline Desk Treadmill has a super thin SpaceSaver® design folds your treadmill vertically—with a 12-inch width at its thinnest. Now you can keep your space open and free when your workout is complete. Effortless storage. Endless innovation.
Proform Thinline Desk Treadmill Specifications
SKU #PFTL12014

2.75 CHP Mach Z™ Commercial Plus Motor

Choose the motor that will run with you, from Chicago to Cape Town. Smooth. Powerful. Durable. Proven. This large-frame Commercial Plus motor stays cool through the toughest workouts; creates high levels of inertia for a smooth, powerful feel; and promises a quiet in-home experience. Great for heavy use, this motor is built with high-grade components proven with our lifetime motor warranty.

7" Backlit Display

We know when you've made up your mind about getting fit, you mean business. So we made sure your workout stats are right in front of you as you work out. That means you can watch your mileage, speed, calorie burn, heart rate, and time add up. It feels good to know you're getting stronger each day.

12% Incline, -3% Decline

We consider incline training the treadmill game changer—you can literally prepare your body for any hill, any valley. Incline training adds resistance to your everyday workout, burns more calories, and increases muscle tone. The Thinline Desk Treadmill offers powered, automatic incline and decline adjustability. For the complete real-world experience, take your grade into the negative for the full range of training.

22" x 60" Tread Belt

Because your in-home workout experience should be a comfortable one, ProForm designed a roomy deck so you won't feel confined as you walk, jog, and run. The 60-inch length gives your legs plenty of room to stretch out your stride. And the 22-inch width allows your upper body extra elbow room. To ensure our treadmills are top quality, we test each belt for one million cycles at double the user weight before release.

0-12 MPH QuickSpeed®

Not everybody runs at 12 miles per hour. But it's nice to know this treadmill can totally handle it. Thanks to a bigger motor size and faster flywheel gear ratio, the Thinline Desk Treadmill rocks a top speed of 12 mph. Our in-home efficiency booster means you can run every day without using excessive amounts of electricity. And the convenient QuickSpeed® buttons let you adjust your intensity instantly, so you can stay focused through every step of your workout.

40 Workout Apps

After years of hard work and innovation, we figured out how to make your fitness experience convenient and simple. When you step on the deck of a ProForm treadmill, you get instant access to professional training programs fully loaded and ready to go. Now you can enjoy a challenging workout focused in on your goals. Just press "Start" and you're off.

EKG™ Heart Rate Monitor

Grab hold of in-the-moment heart rate monitoring. These two hand-grip sensors are conveniently built in to the handlebars. In a couple seconds, you'll be able to see your heart rate at any point in your training.

CoolAire™ Workout Fan

Our built-in CoolAire™ fan keeps your workout comfortable from the moment you step onto the deck to the moment you step off. Choose from two speed settings for instant control—because one of the joys of indoor workouts is climate control. Even if it's raining outside, foggy, blazing hot, or bad air quality—it's no big deal.

300 Lb. Weight Capacity

Built with the whole family in mind, the Thinline Desk Treadmill accommodates up to 300 pounds per user.

Warranty

We want to help you protect your investment. That's why we try to go above and beyond with our product warranties. The Thinline Desk Treadmill is protected with a Lifetime Frame & Motor Warranty, 5-Year Parts Warranty, and 2-Year Labor Warranty.

-3% Quick Decline™ Control

It's the newest revolution to the treadmill workout: decline training. Activate different muscle groups for faster results by walking at a decline, burn more calories than walking on a flat surface, and stimulate more muscle for faster results.

1.9" Balanced Rollers

We know that a quality product is all about the details. That's why we've built the Thinline Desk Treadmill with 1.9-inch precision-machined, balanced, non-flex rollers. These medium-sized rollers decrease tension, which keeps wear and tear to a minimum. You'll also notice less noise and better grip. So, just in case you were wondering, we care about the little things, too.

In-Handle Quick Controls

When you boost your speed, incline, or decline it's like turning up the intensity. We figured having those controls within easy reach would be appreciated. Now conveniently located on the handlebars, it's easy to adjust your workout intensity.

Cushioned Deck

Our No. 1 goal is to provide a comfortable run—and a comfortable walk. Every treadmill we release is equipped with cushioning throughout the deck area. So as you walk, jog, or run, your joints will be thanking you. With less stress on your feet, ankles, knees, and hips, you'll be able to enjoy a longer workout and faster recovery time. It's one reason why people love their treadmills.

Out-of-Box Easy Assembly

Unboxing your brand new ProForm Desk Treadmill is an exciting moment. We wouldn't want to kill the joy with hours of complicated assembly. So we engineered the Thinline to arrive fully assembled out of the box. Intense, right?

Now you can assemble your treadmill in minutes and get started on your workout. With just a few simple set-up steps, your Thinline Desk Treadmill is out of the box and ready to use in minutes.

California Prop 65 Warning

WARNING: This product contains one or more chemicals known to the state of California to cause cancer, birth defects or other reproductive harm.

Footprint

54.9 x 80.6 x 35
Proform Thinline Desk Treadmill Warranty
Lifetime Frame & Motor Warranty,
5-Year Parts Warranty, and
2-Year Labor Warranty.
Order your Proform Thinline Desk Treadmill from FitnessZone.com today!