StairMaster 8 FreeClimber
Code:
stairmaster-8-freeclimber

Need Expert Advice? Our friendly and knowledgeable staff is ready to help you. Call us now @1-800-875-9145!
StairMaster 8 FreeClimber
The StairMaster 8 FreeClimber is a commercial-rated step machine with independent step motion used to increase heart rate and endurance and burn body fat during cardio exercise. The StairMaster 8 FreeClimber featues a wide range of programming options in a small footprint, the StairMaster 8 FreeClimber is a powerful addition to your workout when used both as part of your circuit training programs or alone. Speed control buttons allow you to increase or decrease the intensity of stepping action at any time during your workout. And with a space-saving design you can place this step machine in any room in your home. The smooth stepping action comes from the electronically controlled alternator with chain drive that precisely controls the pedal descent allowing a wide range of users to exercise smoothly within their comfort zones. The step range of the 8 freeclimber is 26 to 174 steps per minute and will strengthen your legs, boost your cardio, and challenge even the fittest of users. Independent pedal geometry with four-bar linkage keeps pedals level ensuring a safe, biomechanically correct movement. 10 programmed workouts include Quick Start, Manual, Fat Burner, Calorie Burner, Intervals, Bell-Shaped, Build, Mystery Challenge, Steady, and Heart Rate Zone Trainer. The console also offers a nationally recognized multi-stage fitness test that gauges your individual progress, along with a custom firefighter test (CPAT) that measures your cardiopulmonary endurance and muscular strength. Easy-to-read LCD console displays time, interval timer, level (1-20), heart rate, calories, floors climbed, floors per minute, watts, METs and workout profile. Console features: reading rack, dual water bottle holders, accessory tray, integrated service light, and personal fan.
LCD Console. Connectivity: Bluetooth, ANT+, USB Port. 10 programmed workouts plus Fitness Tests.

Step rate 26 to 174 steps per minute. Step range 1" to 14". Independent pedal step motion.

Input Voltage 100-240 VAC 50/60 Hz 100 VA. Electronically controlled alternator with chain drive.

20 training levels. Contact heart rate and telemetry HR monitoring (chest strap not included).

Assembled dimensions: 43" L x 27" W x 68" H. Unit weight: 155 lbs. Max User Weight Capacity 350 lbs.

Call 1-800-875-9145 to speak with one of our fitness advisors with any quesitons you may have about the StairMaster 8 FreeClimber.
StairMaster 8 FreeClimber

StairMaster 8 FreeClimber

Burn body fat, enhance your lean muscle mass, and amplify your endurance! with the StairMaster 8 FreeClimber

Building on 30 years of experience and proven performance, the StairMaster 8 FreeClimber provides a superior combination of cardio and strength training in our most comfortable design ever. The machine features a deeper, wider step surface with durable, rust-free polypropylene construction and is now available with all three smart, affordable, flexible, OpenHub™ console options. Its combination of quality and innovation delivers a workout that's head and shoulders above anything else in the gym.
Broad oval handrails that provide more comfortable hand support.
Dual over-sized water bottle holders near console that allow easy access without interfering with workout space.

Deeper step surface (9") with durable and rust free polypropylene construction.
Ergo-bar hand grip that provide alternative hand positions.
Injection-molded plastic shrouding with lighter, modern color scheme.
Step-up assist allowing easier access to mount or dismount the machine.
TV Option: Optional PVS for 10" & LCD (for LCD Console ONLY):
The 8-Series LCD Display is pre-wired to accept an add-on 10" HD Personal Viewing Screen from MYE Entertainment. The PVS mounts seamlessly to the product, and an integrated control keypad inserts into the front of the cardio display for easy control. With the 8-Series, the PVS includes an HDMI port to support streaming from user's personal device to screen.
At the heart of the new StairMaster 8 FreeClimber are three new console options. The top of the line console option has an intuitive and attractive 10" touch screen display, integrated TV tuner, iPod video playback, charging and audio controls, as well as the Landmark Challenge that allows users to climb famous landmarks from around the world. The new unit also boasts numerous ergonomic upgrades including improved handrails, step-up assist, and the Ergo-bar hand grip to provide alternative, more comfortable hand positions. Unchanged are StairMaster's 30 years of proven performance with tough and reliable core mechanics, telemetry HR, and CPAT/WFI StepMill Fitness Tests.
THE FUTURE OF CLUB CONNECTIVITY IS HERE
The Future is the New OpenHub Consoles


What is OpenHub?
OpenHub™ is a smart, affordable, configurable solution available on Star Trac® and StairMaster® cardio equipment. The best part is, you add (and pay for) only what you want, when you want. The future of club connectivity is here. The future is OpenHub™. The OpenHub provide a flexible platform that connects expert partners to provide solutions for every customer for today and into the future. Introducing the new OpenHub™ family of Cardio Consoles.

There are Three Great Options To Fit Your Personal Needs: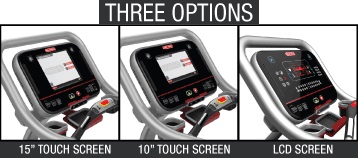 Hub Cap

This optional tablet holder can be added to the top of any LCD or 10" OpenHub™ console. Able to hold tablets up to 10.1" diagonal screen size, the tablet holder puts the user's personal entertainment in the ideal position for viewing, while holding it secure.
ENTERTAINMENT

Users can now browse the web or stream music and video directly to the OpenHub™ consoles from their own phone or tablet. You can also watch television on the oversized 15" embedded screen or by adding the optional personal viewing screen to the 10" and LCD models.

---




Asset Management

OpenHub™ can utilize various 3rd party asset management systems that allow facility operators to track equipment use and stay on top of maintenance. If your facility already utilizes an asset management solution, chances are OpenHub™ can communicate with it too.

---



Competition & Games

Group Display functions can be used for a variety of competition and games. Bluetooth and Ant+ signals support data collection and display by 3rd party partner products.

---



Workout Data Tracking
Personal fitness data tracking is available via Bluetooth connection. OpenHub™ consoles can push data to personal smart devices, connecting users with a world class data ecosystem.
---
Beyond the incredible new design of the StairMaster products, Stairclimbing has a number of important benefits:
Stairclimbing burns more calories at slower speeds and lower impact rates than almost any other activity on the planet. Each gentle step burns more calories than walking. In fact, stairclimbing at only 1 mph burns as many calories as running on a treadmill at 7 mph! Slower speeds, minimal impact and high calorie burn – what more could you ask for in a cardio activity?
Because you must lift your body weight with each step, stairclimbing is highly metabolic and burns a lot of calories in a short amount of time, when compared to other equipment. You can turn 45 minutes into 30 minutes, 30 minutes into 20 minutes and 20 minutes into 10 minutes! Quicker workouts means less time for you and your clients to reach your goals, and more time to get other things done!
Stairclimbing is a natural movement – it improves your functional mobility, strengthens your core and makes everyday tasks easier to do. Take longer hikes, climb taller monuments on vacation, last longer on dog walks with your family. Stairclimbing is celebrated by athletes, trainers and physical therapists because it can not only improve your body, but it can also improve your life.
StairMaster 8 FreeClimber Strengths Benefits

The StairMaster 8 FreeClimber has adjustable speed and resistance. Using it requires simple balance, but significant strength. Calves, hamstrings, quadriceps and gluteal muscles are trained by lots of repetitions, which is known for building lean muscle and burning fat. Additionally, increasing the resistance of each stepping motion adds challenge. Core muscles are engaged by keeping your balance, which is more challenging on the Stepmill than other similar equipment.
StairMaster 8 FreeClimber Cardiovascular Benefits
The StairMaster 8 FreeClimber is great for cardiovascular exercise due to its ability to raise your heart rate almost immediately. The level you set dictates workout intensity, but even at the lowest levels the heart is definitely getting a workout. Oneshot Fitness, a commercial fitness equipment provider, calls StairMasters "one of the toughest cardiovascular machines on the globe."
StairMaster 8 FreeClimber Physiologic Benefits
The StairMaster 8 FreeClimber makes the user work hard without being hard on the user. The stepping motion incurs less impact than a treadmill, but with higher cardiovascular results. The thoughtfully designed handrails provide a safe grip should a misstep occur, but don't allow you to cheat by leaning on them. The actual stepping motion forces the foot to remain mostly flat while climbing, versus the pedal format, which does not require the foot to leave the pedal. The stepping motion uses nearly every leg muscle.
StairMaster 8 FreeClimber Advance Options
Though the concept of stair climbing itself is basic to most of us, the StairMaster FreeClimber offers significantly more advanced options. The user can reap additional balance benefits by performing climbing backwards or laterally. Elite athletes have been known to add further challenge by stepping with weights strapped to their backs. Endurance is improved by consistently increasing the levels of speed and resistance on the new 8 Series FreeClimber.
The StairMaster 8 FreeClimber and StairMaster Stepper are legendary products that keep getting better over time. The latest product designs – from the look, to the feel to the amazing, new touch screen display – are easily the best in the company's history, and these features truly make stairclimbing more interesting, more measureable and more motivating!
StairMaster 8 FreeClimber Specifications

| | |
| --- | --- |
| Product Dimensions | 68" H x 43" L x 27" W (173cm H x 110cm L x 69cm W) |
| Product Weight | 155 lbs (70 kg) |
| Max User Weight | 350 lbs (159 kg) |
| Power Requirements | Input Voltage 100-240 VAC 50/60 Hz 100 VA |
| Display | OpenHub™ 15" embedded touch screen, 10" touch screen, and LCD screen |
| TV Option | Optional PVS for 10" & LCD |
| Workouts | 10 programs - Quick Start, Manual, Fat Burner, Calorie Burner, Speed Intervals, Custom Intervals, Random Intervals, Heart Rate Intervals, Calorie Goal, Heart Rate Zone Trainer |
| Fitness Tests | Multi-stage Fit Test & CPAT Fire Fit Test |
| Drive System | Electronically controlled alternator with chain drive precisely controls the pedal descent allowing a wide range of users to exercise smoothly within their comfort zones |
| Step Action | Patented, independent pedal geometry with four-bar linkage keeps pedals level ensuring a safe, biomechanically correct movement |
| Step Range | 1" to 14" (2.5cm to 36cm) |
| Step Rate | 26 to 174 steps/minute |
| Heart Rate Monitoring | Polar® compatible wireless; contact sensors |
StairMaster 8 FreeClimber Warranty
Residential and Light-Commercial Application.
15 years Frame
3 Years Parts
1 Year Labor and Wear Items.
Order your StairMaster 8 FreeClimber from FitnessZone.com today!