Star Trac E-CTe Cross Trainer
Code:
star-trac-e-cte-cross-trainer-screen

Need Expert Advice? Our friendly and knowledgeable staff is ready to help you. Call us now @1-800-875-9145!
Star Trac E-CTe Cross Trainer with Embedded Screen
The Star Trac E-CTe provides users with the ultimate training experience with shock-absorbing Soft Trac® pedals, 8 user-specific workout programs, multiple cup and accessory holders and adjustable personal fans. The 15" embedded HD touch screen displays personal content through integrated iPod® connectivity while allowing users to charge media devices.
The Star Trac E-CTe Cross Trainer has a stable platform and a minimal step up height compared to other elliptical brands, you can easily mount this machine from any angle, while ensuring you stay ergonomically sound and reduce stress and strain on any joints. This is especially important for those with limited mobility and prior muscle injuries. The cushioning system built into the pedals of the Star Trac E-CTe truly absorbs the most shock out of other cross trainers on the market today, bringing both comfort and protection to the ankles, knees and more.
With the Star Trac E-CTe Cross Trainer you will experience an exceptional ride with a one-of-a-kind rear open-step up design that allows you to mount the cross trainer safely. You can also count on some serious bio-mechanical research within your pedals and the entire frame of the machine, noticing the difference right away as you enjoy a smooth, comfortable ride without a lot of strain or soreness.
The Star Trac E-CTe is an improvement upon prior models with 16 total workout programs and 20 different levels of resistance. Add in a 15-inch full-color touch screen console with media connectivity and a USB charging station, and you can multitask while also getting your workout in.
Call 1-800-875-9145 to speak with one of our fitness advisors with any questions you may have about the Star Trac E-CTe Cross Trainer.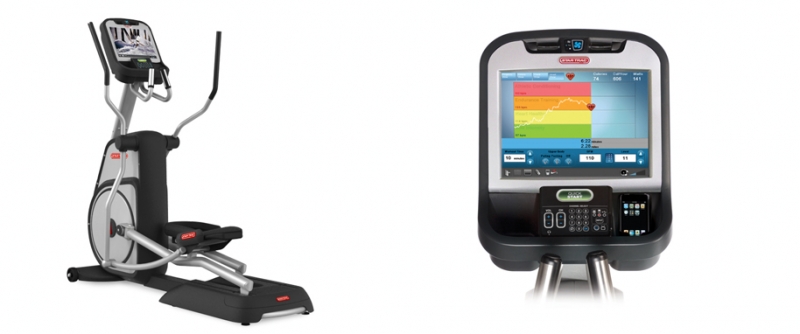 Some of our favorite parts of the Star Trac E-CTe elliptical machine:
15-inch HD personal viewing screen
USB port
iPod compatibility to watch TV, listen to music, etc.
Low seven-inch entry height
Cushioned, triple cell pedals
Adjustable cooling fans
16 workout programs including Quick Start and Heart Rate Control
20 different levels of resistance
Polar wireless chest strap or stationary handlebar sensors
Personal content storage for multiple users
350 lb weight capacity
Easy-to-use touchscreen
Storage tray, cupholder
15" embedded HD touch screen aligns each user's workout with their entry goals and intuitive programs.

Integrated iPod® connectivity with music, video and USB charging station allows users to display personal content while charging media devices.

Soft Trac® pedals provide ultimate shock-absorbing comfort throughout the entire workout.

Efficient footprint and approachable, stable platform with minimal step-up height for easy access from all angles.

Star Trac's popular adjustable personal fans create a more rewarding workout.
Dimensions: 76in L x 30in W x 71.5in H/ Weight: 456 lbs/ Step-Up Height: 7in/ Pedal Size: 17.5in L x 8in W (Open Ended)/ Distance Between Pedals: 2.25in

Resistance: 20 Levels of Intensity/ HR Monitoring: Polar Telemetry and Contact Heart Rate System

Display: 15in Embedded Touch Screen With High Definition TV and Four Workout Views, Including Progress View, Track View, Heart Rate View, and Simple View/ Readouts: Dedicated: Time, RPM, Heart Rate, Course Profile, Resistance Level, 1/4 Mile Motivational Track, Calories, Calories/Hour, Watts, Distance, and Speed / Programs: 16 Programs Including Quick Start, Dynamic Heart Rate Control, Constant Heart Rate Control, and Three Custom Workouts

Features Personal Cooling Fans/ Soft Trac Pedals Provide Ultimate Shock-Absorbing Comfort Throughout Entire Workout

Entertainment: E Series Touch Screen Entertainment System Which Includes 15in High Definition LCD with Touch Screen Technology/ NTSC/ATSC/QAM Digital Tuner or PAL/SECAM/DVB-T Tuner/ Integrated iPod Connector/ USB Power Port/ Coaxial Cable Connector at Base
Star Trac E-CTe Cross Trainer Warranty:
Limited 10 year warranty on structural frame not including coatings, all other
components warranted for 2 years parts and 1 year labor
Order your Star Trac E-CTe Cross Trainer from FitnessZone.com today!