Star Trac E-TRXI Treadmill
Code:
star-trac-e-trxi-treadmill-pvs

Need Expert Advice? Our friendly and knowledgeable staff is ready to help you. Call us now @1-800-875-9145!
Star Trac E-TRXI Treadmill with PVS
When designing the Star Trac E-TRXI Treadmill, Star Trac used 20 years of treadmill superiority to create the ultimate marriage of user experience, benefits, desires and features. Industry leading features include: 15" integrated HD PVS, iPod® connectivity, easily accessible Hot Bar® controls and Soft Trac® triple cell cushioning system for maximum shock absorption.
Integrated 15.6" (39.6 cm) HD Personal Viewing Screen with dedicated intuitively-placed channel and volume controls provides a personalized viewing experience.
Integrated iPod® connectivity with music and video allows users to display personal content.
Easily accessible Hot Bar® is located closer to the user with one-finger speed and elevation controls, integrated stop button and contact heart rate grips.
Soft Trac® triple cell cushioning system provides maximum shock absorption.
Centered dual-adjustable personal fans create a more rewarding workout.
5 HP AC motor.
The E-TRXI doesn't require lubrication or bolt tightening. The entire E-TRxi treadmill is virtually maintenance free and is meant for the unsupervised workout facility. For superior longevity it has a reversible deck and 3.5" track rollers.
The E-TRXI e track is extra roomy and impact-absorbent, the Neoprene track is a hit! By seriously absorbing the shock of impact, it helps people train for more time and reduces the likelihood of injury. The tread belt is 60" long and 21.5" wide. Most commercial treadmill tracks are a bit narrower, measuring 60″ x 20″ wide.
The E-TRxi makes a terrific addition to a fitness club. Members will undoubtedly compete for machine time! The 15″ high-def TV perches above a spongy inclined track. A wonderfully ergonomic frame, a dozen engaging programs, and lots of other features conspire to make this treadmill a winner.
This machine will stay put under intense workouts. It weighs 477 pounds and has a 500-pound user weight capacity.
Overall, this unit brings the latest in personal entertainment to an industry-leading treadmill brand.
Call 1-800-875-9145 to speak with one of our fitness advisors with any questions you may have about the Star Trac E-TRXI Treadmill.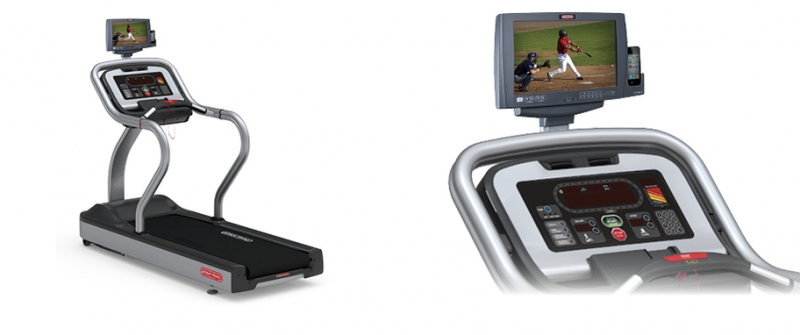 GET READY FOR YOUR NEXT MARATHON WITH THE Star Trac E-TRXI TREADMILL
The Star Trac E-TRXI Treadmill is a state of the art treadmill that comes with an easy accessible hot bar with controls that gives you workout settings to get you in marathon shape. The running surface is made from shock absorbing triple cell neoprene to ease stress on knees and ankles. Your workout data and settings are all displayed by an easy to read 20-character message window with both dedicated and scrolling displays. The Star Trac E-TRXI Treadmill comes with your personal entertainment center on the 15in high definition LCD screen with channels and volume controls - it features integrated iPod connectivity for both music and video, a USB charging station, headphone jack, and a coaxial cable connector. To keep workouts fresh and challenging, the Star Trac E-TRXI Treadmill comes with 12 workout programs, including the Dynamic Heart Rate Control program which adjusts the workout intensity based on your heart rate for interval training. A dozen fitness tests are pre-loaded to the console. Some examples are Constant Heart Control, Dynamic Heart Control, ARMY Protocol and NAVY Protocol. Running has never been easier with the Star Trac E-TRxi Treadmill.
Dimensions: 85in L x 36in W x 78.5in H / Running Surface: 60in L x 21.5in W / Step Up Height: 10in / Weight: 490 lbs. / Max User Weight: 500 lbs.

Features Custom Aluminum Uniframe Construction / Color: Star Trac Silver Frame with Slate Gray Shrouds and Black Accents / Deck System: Reversible 1in Composite Fiberboard (Waxing Not Required)

Motor Drive: 5 HP AC / Electrical: 110 Volt Dedicated NEMA 5-20 Cord / Suspension: Soft Trac Triple Cell Neoprene Rubber Provides Maximum Shock Absorption / Rollers: 3.5in Sealed Bearings

Standard Features: Hot Bar Controls, Personal Entertainment System, Personal Cooling Fans, Wrap-Around Aero Bar, Dedicated Heart Rate Display, Safety Lockout Control / FitLinxx Certified

Includes Integrated 15in HD Personal Viewing Screen with Dedicated Intuitively Placed Channel and Volume Controls / Dashboard Readouts: 20-Character Message Window: Dedicated: Speed and Incline, Time Elapsed, Calories, Distance, Course Profile and Heart Rate / Scrolling: Time Remaining, Vertical Distance Traveled, Laps Completed, Pace, Calories per Hour, and a 1/4 Mile Motivational Track / Integrated iPod Connector, Headphone Jack, USB Power Port and Coaxial Cable Connector
Star Trac E-TRXI Treadmill Features and Specifications:
| | | | | |
| --- | --- | --- | --- | --- |
| Overall Weight | Running Surface | Width | Length | Height |
| 490 lbs (222 kg) | 60 ̋ x 21.5 ̋ (152 x 54.6 cm) | 36 ̋ (91 cm) | 85 ̋ ( 215 cm) | 79 ̋ (200 cm) |
STEP-UP HEIGHT: 10" (25.5 cm)

FRAME: Custom aluminum uniframe

MOTOR DRIVE: 5 HP AC

ELECTRICAL: 110 volt, dedicated NEMA 5-20 cord (20 amp); 220 volt, dedicated NEMA 6-15 cord (15 amp) (optional)

CERTIFICATION: UL/CSA, CE, FCC, or CISPR

SUSPENSION: Soft Trac triple cell neoprene rubber, Deck System: Reversible 1" (2.5 cm) composite fiberboard, waxing not required

ROLLERS: 3.5" (9 cm) sealed bearings

COLORS: Frame: Star Trac Silver, Shrouds: Slate Gray, Accents: Black

INCLINE RANGE: 0 to 20% in 0.5% increments

SPEED RANGE: 0.5 to 15 mph (0.8 to 24 km/h) in 0.1 mph (0.1 km/h) increments

HR MONITORING: Polar Telemetry and Contact Heart Rate System

DISPLAY: Intuitive, tactile response keypad with LED technology

READOUTS: 20-character message window; Dedicated: Speed and incline, time elapsed, calories, distance, course profile, heart rate; Scrolling: Time remaining, vertical distance traveled, laps completed, pace (min/mile or km), calories/hour, 1/4-mile motivational track

PROGRAMS: 12 programs including Dynamic Heart Rate Control , Constant Heart

Control, Fitness Test (Modified Balke Ware), Firefighter Test (Modified Gerkin

Protocol), ARMY Protocol, USMC Protocol, USAF Protocol and NAVY Protocol

STANDARD FEATURES: Hot Bar controls, personal entertainment system, personal cooling fans, CSAFE data port, dedicated heart rate display, safety lockout control, FitLinxx certified

ENTERTAINMENT: E Series PVS entertainment system which includes 15.6" (39.6 cm) high definition LCD screen, NTSC/ATSC/QAM digital tuner or PAL/SECAM tuner, integrated 30-pin iPod connector, coaxial cable connector at base
Warranties for the Star Trac E-TRxi are:
Stru
ctural frame welds 10 years, motor and MCB 5 years parts and labor, all other components warranted for 2 years parts and 1 year labor, wearitems 1 year parts and labor
Order your Star Trac E-TRXI Treadmill from FitnessZone.com today!