Star Trac E-UB Upright Bike
Code:
star-trac-e-ub-upright-bike

Need Expert Advice? Our friendly and knowledgeable staff is ready to help you. Call us now @1-800-875-9145!
Star Trac E-UB Upright Bike
The Star Trac E-UB is breaking the gym standards of bikes. From its patented pedal and bottom bracket assembly to the eye catching modern design, it is clear this bike is anything but ordinary. The wide cushioned seat and user friendly display make the E-UB an enjoyable ride for users.
The new Star Trac E-UB upright bike has a distinctive design and user-preferred features, for example the popular adjustable personal cooling fans, easy-up seat adjust and intuitive pedal straps. Star Trac E-UB Upright Bike personal programs are specially developed for bike riders to give you the best upright bike designed with users in mind. The E-BU also comes pre-wired for the Star Trac E Series entertainment solution including a 15 inch personal viewing screen and entertainment controls integrated into the display. (Display not included) Features - Star Trac E-BU bike Popular Personal Fan creates a more rewarding workout, the Dynamic Heart Rate Control adjusts intensity level based on the users heart rate for interval training, User-Friendly Console features cup and accessory holder, reading rack, Inline Skate-Style Pedal Straps allow for easier customized adjustment and a more secure hold All Aluminum Frame is an approachable design that is corrosion-resistant, and Easy-Up Seat Adjust for comfortable positioning.
Pre-wired for E Series PVS entertainment system.
Dual platform pedals with inline skate-style straps provide user with option for secure hold or strap-free platform workout.
Dynamic Heart Rate Control® adjusts intensity level based on the user's heart rate for interval training.
Easy-up seat adjust for simple seat position changes.
Star Trac's popular adjustable personal fans create a more rewarding workout.
Aluminum frame for maximum corrosion protection.
3 piece patent pending bottom bracket and pedal system.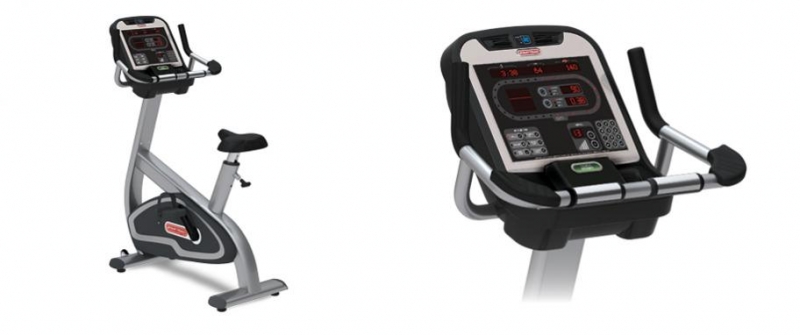 Star Trac E-UB Upright Bike Features and Specifications:
| | | | |
| --- | --- | --- | --- |
| OVERALL WEIGHT | WIDTH | LENGTH | HEIGHT |
| 143 lbs (65 kg) | 25 ̋ (63.5 cm) | 51 ̋ (129.54 cm) | 58 ̋ (147 cm) |
FRAME: Custom aluminum frame
PEDALS/CRANK: Morse Taper bottom bracket, dual-sided pedal, extra long 14" pedal straps with inline skate-style clip
ELECTRICAL: Self-contained power supply for base unit. External power supply provided for entertainment system
CERTIFICATION: UL/CSA, CE, FCC, or CISPR
COLORS: Frame: Star Trac Silver, Shrouds: Slate Gray, Accents: Black
RESISTANCE: 20 levels of intensity
HR MONITORING: Polar Telemetry and Contact Heart Rate System
DISPLAY: Intuitive, tactile response keypad with LED technology
READOUTS: 16-character message window; Dedicated: Time, strides per minute, heart rate, course profile, resistance level, 1/4-mile motivational track; Scrolling: Calories, calories/hour, watts, distance, speed, METs
PROGRAMS: 10 programs including Dynamic Heart Rate Control and constant heart
rate control, Auto Pilot , Warm Up, two watts control programs and Fitness Test
(Modified Astrand-Rhyming Test)
STANDARD FEATURES: Personal cooling fans, easy ratchet seat adjust, rubber comfort racing position, FitLinxx certified and CSAFE data port
ENTERTAINMENT: Pre-wired for E Series PVS entertainment system or 900 MHz wireless audio receiver
Star Trac E-UB Upright Bike Warranty:
Limited 10 year warranty on structural frame not including coatings, all other
components warranted for 2 years parts and 1 year labor
Order your Star Trac E-UB Upright Bike from FitnessZone.com today!