Stamina Inversion
---
---

Inversion tables are actually a form of traction that uses your body weight in combination with gravity to decompress weight-bearing joints. While the body is rotated and suspended, gravity's force applies traction, resulting in a customized stretch that elongates the spine, increasing the space between the vertebrae, which relieves the pressure on discs and nerve roots. Using Inversion Tables: Less pressure means less back pain. Inversion tables are designed to help lower the pressure that gravity puts on the spine. Since every nerve root leaves the spine through a space between the vertebrae, discs that are plump and contained in their ligament "wrappers" are necessary to keep the nerve roots free of pressure and your body free from pain. Inversion tables will offer a system of stretching and exercise that helps to slow or reverse the harmful compression of the body by gravity. Inversion Tables will also help strech out your muscles and may your body more flexible. FitnessZone has a trained staff to disuss all the different types of inversion tables we sell. Some of our inversion tables will fold up and store away! Our inversion tables are made of quality material which will be safe and easy to use. Call us at 1-800-875-9145 if you have any questions regarding inversion tables!
Unlike surgery, mechanical traction, and other invasive forms of treatment, using an inversion table is a gentle, passive way to target pain at the source and care for all weight-bearing joints. This progressive form of traction allows each joint to be decompressed by the same weight that compresses it while upright. Reverse loading stimulates fluid and nutrition to the soft tissue of the joints, enhancing shock absorption and lubrication. Inverted movement encourages realignment and improves flexibility. To put it simply, inverted decompression creates an ideal stretch that targets back pain by helping to 1) rehydrate discs, 2) reduce nerve pressure, 3) realign the spine and 4) relax tense muscles.
Stamina 55-1541A Seated Inversion Therapy System




The Stamina Seated Inversion Therapy System provides padded handlebar assists for easier inversion and easier return, leg lock features for extra security while inverted, a heavy steel construction frame, and skid resistant rubber floor protectors for maximum stability and security. The quick-adjust footrest puts you into the correct position to invert, then keeps you stable while mounting and dismounting. The adjustable tether strap prevents inversion past your chosen angle.





Stamina® InLine Inversion System

The Stamina® InLine Inversion System looks like a padded, upholstered chair but converts to a flat table as you invert so getting on is as easy as sitting in a chair. Once you are seated and have secured your ankles, you lean back and invert to the angle of your choice. As you invert, the chair converts to a table so you are inverted at a prone position to best stretch and strengthen your back.

The padded handlebar assists provide for easier inversion and easier return. Rolled foam pads fasten snugly against your ankles to keep you in place while inverted. The heavy steel construction frame and skid resistant rubber floor protectors add maximum stability and security.

The Stamina InLine Inversion System adjusts to fit most heights with a height adjustment beam. Inversion uses your body weight and gravity to stretch and strengthen the back.
Stamina® InLine Back Stretch Bench

Like inversion therapy, the Stamina® InLine Back Stretch Bench is a non-invasive traction that not only stretches and strengthens your back, but also the shoulders, hips, knees, and ankles--weight bearing joints. Decompression encourages your back and joints to realign and reduces pressure on nerve endings. This simple, portable bench can be used at home or at the office. Studies show that this type of therapy has numerous positive effects on the body.

The Stamina InLine Back Stretch Traction Bench is a simple and easy to use pain relief device designed to provide non-invasive traction that stretches and decompresses the spine and other joints. This simple tool relieves joint and back pain while gently strengthening the spinal column. Similar to inversion therapy, the Traction Bench helps the back and joints to properly align, alleviating pressure on sensitive nerves.
Stamina InLine Flex Station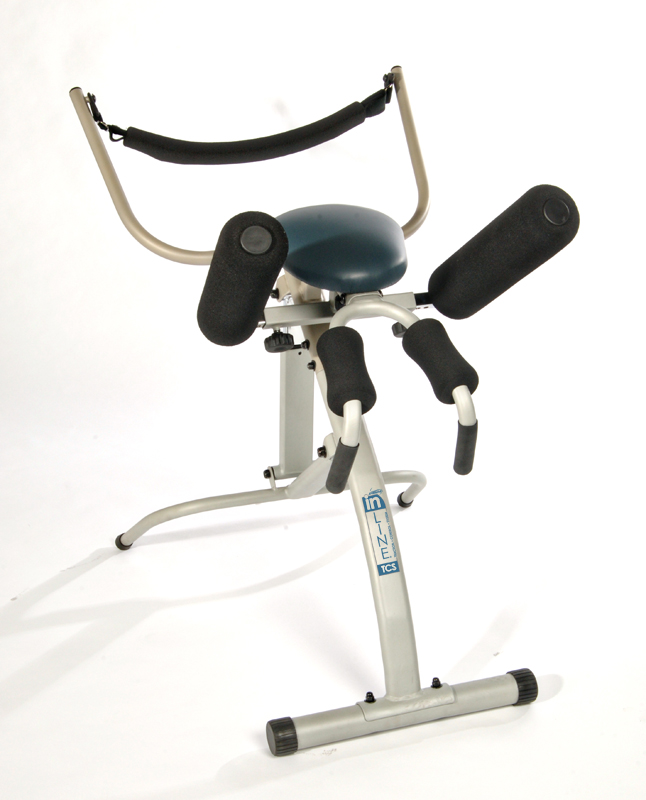 The Stamina InLine Flex Station is a great way to get relief from back pain. Just stand behind the Stamina InLine Flex Station with your legs against the padded support strap and with your elbows behind the arm rolls, then lean forward to feel a gentle traction from your neck, along your back, and down the backs of your legs. The further you lean forward, the stronger the traction will become. The chest pad and handles support you so you don't stretch any further than is comfortable. Use regularly to maintain mobility, and for relief from some forms of back pain.
In the Fitness Industry, inversion tables have become a very useful part of person's home fitness center. Here at FitnessZone®, we will be able to custom fit you on an inversion table that will help you obtain your fitness goals while meeting your budget or space requirements. We carry such brands as: Health Mark Inversion Tables, Stamina Inversion Tables, Teeter Hang Ups Inversion Tables and many more. We have service technicians on call 7 days a week throughout the U.S. for our customer's service needs. Order your inversion table today at FitnessZone®. Com and invert your way to better Health!
Confused?

Let Us Help You Select The Right Inversion Table!
Let the FitnessZone® sales staff help you navigate through the various models of inversion tables. Our expertly trained staff can assist you in selecting the inversion table that will custom fit your needs as well as your budget! Call us ANYTIME at 1-800-875-9145 to go over the different types of inversion tables that we offer. We ship all inversion tables for FREE!!