Cybex Treadmills
---
---

For 45 years, Cybex have been fiercely committed to real results and meaningful innovations – the proud products of true scientific insight and the tireless pursuit of fitness perfection.
FitnessZone® is the premier fitness superstore on the Internet for treadmills. We carry a wide selection of top quality and reliable home treadmills or commercial treadmills. The FitnessZone® superstore offers the largest selection of folding treadmills and non-folding treadmills for your home or office. Folding treadmills will provide a great workout and folds up easily for storage in half the space. Our treadmills may have several different features like heart rate control monitoring, LCD TV built in, or custom programs. We offer such a huge selection of treadmills at the best prices so you don't have to waste time searching for a lower price.
| | | |
| --- | --- | --- |
| | OUR NAME STANDS FOR QUALITY AND SERVICE | |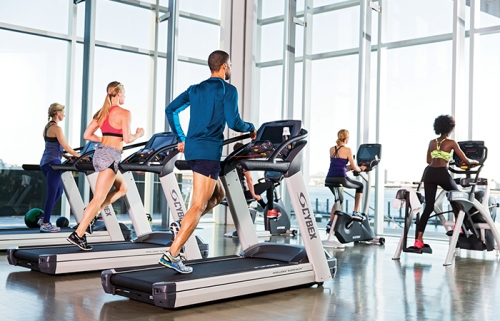 Cybex 790T Treadmill

With the enhanced speed of 15.6 miles per hour (25 kph) and increased Maximum incline of 20%, the Cybex 790T Treadmill enables users to train at a greater variety of paces ideal for a mile to marathon length run, sprint training or increased fat burn.

Top speed of 15.6 miles per hour (25 kph) and maximum incline of 20%, the 790T is great for walkers and runners who want an additional challenge

Optional embedded HD entertainment and media platform with Cybex Go and E3 Cardio HDTV
IS3 Intelligent Suspension System designed after the best running shoe to cushion shock on every step
Cybex 770T Treadmill

The 770T is a breakthrough machine designed to encourage serious and casual fitness athletes alike to rediscover the simple joys of running, jogging, and walking.

The Cybex 770T Treadmill is not your run-of-the-mill treadmill. This is a breakthrough design to encourage serious and casual fitness athletes alike to rediscover the simple joys of running, jogging, and walking. The Cybex 770T offers better stability, greater comfort, and more cardio entertainment options than any treadmill in our history. Enjoy the ride.

Optional embedded HD entertainment and media platform with Cybex GO and E3 View HDTV

CardioTouch™ touchscreen displa

y

allows treadmill users to easily set up a cardio workout
IS3 Intelligent Suspension System designed after the best running shoe to cushion shock on every step
Cybex 625T Treadmill with iPod

The Cybex 625T is an enticing club-quality treadmill that's available with commercial, light commercial and residential warranties. Thie Cybex 625T Treadmill with iPod is a durable cardio trainer that is built from steel and high-end parts in the USA. Trainees benefit from the 625T premium basics and can get extra luxury with its optional upgrades: a 15.6″ monitor for entertainment and workouts, and a receiver for digital radio. This treadmill is ideal for walkers and runners alike.

The Cybex 625T Treadmill with iPod has a spacious 60″ x 22″ track, an IS3 Intelligent Suspension System, a quiet 5.0 HP motor, a top speed of 12.4 mph and a power ramp with up to 15% tilt. The console provides a good amount of feedback, including a color-coded indicator of heart rate zone, and trainees can use the free Cybex FIT app to get advanced metrics. This app can also be used to set up programs directly from a smartphone or tablet computer. For workouts trainees can choose from Quick Start (manual mode), nine standard treadmill workouts with 10 challenge levels each, Gerkin Protocol and a one-mile fitness test. Heart rate controlled workouts can be used with contact and wireless monitoring. Order your Cybex 625T Treadmill with iPod from fitnesszone.com.
The Cybex 525T Treadmill combines advanced engineering and reliable performance you expect from Cybex in a treadmill designed for hotels, corporate gyms, and residential fitness centers. Built from premium U.S. steel to the highest manufacturing standards, it offers exceptional stability, durability, and value.

Cybex FIT

, an innovative iPad app that interacts directly with your equipment
IS3 Intelligent Suspension System uses an advanced elastomer to cushion shock on every step
Optional

E3 View HD monitor

offers three viewing modes on a 15.6" embedded display
Quick Start (Manual mode), four weight loss, four cardio, and heart rate control. Programs have 10 levels and control both incline and resistance.
Muscle Map: For targeted Arc Trainer workouts

This innovative display gives users the power to visually target individual muscle groups and take full advantage of the near limitless settings offered by the Arc Trainer. Using an algorithm derived from EMG data that looks at resistance, incline, and stride rate, the colors transition from yellow (low intensity) to orange to red to flashing red (high intensity).

CardioTouch display offers a touch screen command so users can easily set up a workout.

Innovative Muscle Map displays the intensity of the exercise for individual muscle groups based on the users selection of stride rate, resistance and incline to aid them in precisely targeted results.





Touch Screen: Command Center: CardioTouch

New CardioTouch display offers a single command center for every exercise program. Members can easily set up a workout and start exercising.
T arget Bar: Pace motivator

The Arc Trainer's built-in workouts automatically adjust resistance and incline to achieve a fitness goal. However, the pace is left up to the user. Because people tend to naturally slow their pace when the difficulty increases, the simple visual cue guides users to maintain their pace during the workout.
Wireless Audio Receivers:

A solution for customers who have TV screens mounted on the wall. The wireless audio receiver that Cybex has developed is an entertainment option that is integrated into all cardio products. The wireless audio receiver works with new and existing 800 & 900Mhz transmitters, including CardioTheater, CardioVision, Broadcast Vision/ BVE, Enercise, and Audeon. The Cybex / MYE® Wireless Entertainment System transforms your cardio area into an extraordinary entertainment environment. Your members simply plug their headphones into the headphone jack on the Cybex equipment console and select the audio of any wall-mounted TV.

Integrated TV Channel Select, Volume Control and Headphone Jack on Cybex Equipment Console.

Backwards compatible with all major TV Transmitter brands including MYE®, Cardio Theater® and others.

3 Year Warranty
iPod/iPhone Integration: Optional technology features include iPod/IPhone connectivity (30 pin connector) on 500 Cardio Series only.

Connecting through the 30 pin connector allows for video from your device to be displayed on an E3 video console, embedded Up/Down controls to change tracks, and connectivity to the CybexFit application running on your iPhone or iPad.
ARC TRAINER E3 MONITOR
CYBEX GO

ENTERTAIN. TRAIN. MAINTAIN.

Deliver the ultimate workout experience to your members. From virtual workout environments to live HD TV, on-demand content, and music videos – Cybex GO has features everyone will enjoy and an intuitive, easy-to-use touchscreen they'll appreciate.

Available in North America

A personalized entertainment and exercise-tracking platform

Intuitive, easy-to-use dual touchscreen display

Available on the 700 Cardio Series

Built-in web browser with social media access

E3 View Monitor provides users selectable display of exercise data, TV or video, both or none.

Cybex GO offers:

Live broadcast HD TV

On-demand TV shows

Preselected web videos (YouTube channel, Buzzfeed channel, and more)

Movie trailers

On-demand music videos with playlist customization

Virtual Active (no machine control)

Cardio workout tracking

Custom screen branding for the facility

Integration with the Netpulse One platform

Access to Netpulse mobile app* (does not connect directly to the cardio product)

*Extra monthly fee.

With hundreds of the latest and classic TV shows, movie trailers, music videos, sports and video game trailers on demand, your members will sail through their workouts with a smile on their face. Plus, to keep them entertained, they can use the touchscreen to quickly and easily create a playlist personalized with their favorite music videos.

Built-in Web Browser

All current Cybex GO customers in North America will receive an automatic update to their Cybex GO system at the beginning of 2016, free of charge. If you have any questions, please contact your Cybex sales representative.

Social Media Channels

A web browser button provides access to leading social media channels (YouTube, Facebook, Pinterest, Instagram, and Twitter) as well as the ability to surf the internet.

TRAIN IN THE SWISS ALPS WITHOUT LEAVING TOWN.

Give your members the ability to train on iconic trails within pristine national parks, jog in some of the country's most beautiful cities or ride through the exotic landscapes of the Swiss Alps, Australia or Italy. Cybex GO's cinema-quality, first person videos will transport your members and transform their workout.

And while Virtual Active™ videos will appeal to their sense of imagination, our workout tracking feature is all about the numbers. Members can easily choose workout goals based on calories burned, duration, or distance covered using the CardioTouch™ display, which offers a single command center for exercise workout selection and equipment control.

ENTERTAINMENT AT YOUR FINGERTIPS

TRAIN IN THE SWISS ALPS WITHOUT LEAVING TOWN.

BUILT-IN WEB BROWSER

SOCIAL MEDIA CHANNELS
E3 CARDIO HDTV

Exercise. Entertainment. Escape.

Everyone approaches exercise differently. Some want every detail of their workout, some would like to add entertainment, and others simply want to escape. The Cybex E3 View embedded monitor with three distinct viewing modes delivers the precise content that you want on a 15.6" high definition screen.

15.6" high definition screen with three viewing modes.

Integrates with the CardioTouch (700 Series) command center eliminating the fumble for typical on-screen controls and allows the user to focus on their workout.

Available on 500, 600, and 700 Series Arc Trainers, treadmills, and exercise bikes.
CYBEX CARE

Asset Management System

Reduce downtime. Manage equipment usage. Cybex Care, our new web-based asset management system, offers maintenance guidance, task tracking, insight into cardio machine usage, and a method for submitting and monitoring service cases.

Monitor and manage equipment across facilities.
Training tools and videos for maintenance.
Rotate, relocate, maintain, and clean your treadmills with the unique Service Wheel.



CONTACT US AT 1-800-875-9145
| | | |
| --- | --- | --- |
| | YOUR SUPERSTORE FOR CYBEX TREADMILLS | |