Jointec Aqua Bikes and Accessories
Jointec Aqua Bikes and Accessories
---
---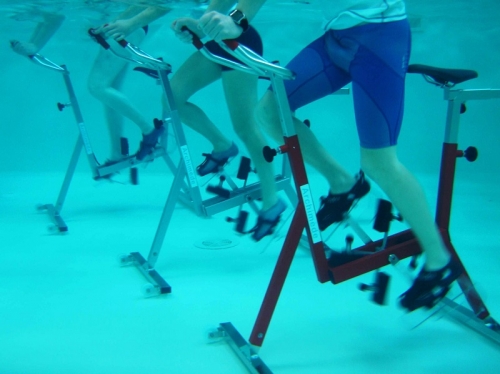 The Leader in Aqua Fitness - (AquaFit, Handicap Access and Rehab in Water)
BENEFITS OF SWIMMING POOL EXERCISE
Exercising in the swimming pool burns a high number of calories during and after a workout.

Renews your energy level as it releases your stress and tension.

The water environment offers privacy. If you hate the idea of jumping around a room full of people in tight gym clothes, exercising under water is a great alternative.

Exercising in water requires you to support only 20% to 50% of your body weight, making exercises easier to perform.

Our specialized treadmill and bike provide increased variety, level of fitness and compliance.

The water's buoyancy lowers the risks of stress-related injuries especially in joints and allows muscles to work their full range of motion. Land exercises definitely do not have that advantage.

The water's resistance against your movements results in a higher workout intensity compared to land exercises, working pairs of muscles.

A massaging effect is created when your muscles are surrounded by water.

With indoor pools, it's a great year-round activity; although in the hotter months it's one of the best ways to get a total body workout without overheating.

You'll come out of the water looking fresher and smelling nicer than many other exercise classes: no sweat, and no wet hair!
The selection of Archimede products
AQUAFIT
BIKES

Slopes to Lower Bikes into Water




ELLIPTICALS




TRAMPOLINES

TREADMILLS

| | |
| --- | --- |
| | Optional Lateral Hand Bars |
HANDICAP ACCESS
Pool and Home Lifts

BEACH ACCESS AND ALL ROADS ROLLING CHAIR
We are able to offer home or commercial aqua rehab equipment for the patient that wants to exercise at home or in a facility. We offer such a huge selection of Jointec products at the best prices so you don't have to waste time searching for a lower price.
FitnessZone® will be able to custom fit you with the piece of aqua fitness equipment that will help you obtain your physical goals while meeting your budget or space requirements. We have service technicians on call 7 days a week throughout the World for our customer's service needs. Order your Jointec at FitnessZone®. Com and exercise yourself to better Health.