Schiek Leather Dipping Belt - Model L5008
Schiek Leather Dipping Belt - Model L5008
Product Code: 5008
Price:
$54.95
Need Expert Advice? Our friendly and knowledgeable staff is ready to help you. Call us now at 1-800-875-9145!
Schiek Leather Dipping Belt
Model L5008-One Size Fits Most!
The Schiek Leather Dipping Belt is equipped with a chain allowing the user to add weight plates. While traditionally designed to add resistance to exercises that depend on one's body weight for resistance, such as a chinup or dip, they may be used in several other types of workouts as well.
With the Schiek Leather Dipping Belt you can add unlimited weights which will challenge your exercise program. Since you are able to continually add pounds to your dip strength you will rapidly build upper body mass.
Safety First
Make sure you do not overload your dipping belt to minimize your risk of injury. Warm up before your workout by performing a few minutes of light cardio and dynamic stretches for the muscles you are about to work and increase your weights slowly over a period of weeks to further avoid injury. If you have been sedentary or ill recently or are new to exercise, check with your doctor before starting a new exercise routine.
Schiek Leather Dipping Belt - Model L5008 Features: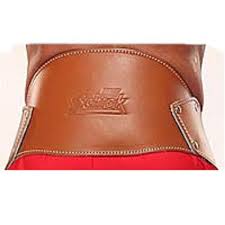 Schiek Leather Dipping Belt - Model L5008


High quality construction


7" wide padded back


Incorporate Schiek patented taper on the sides


Heavy gauge steel chain and carabineer
Order your Schiek Leather Dipping Belt - Model L5008 from FitnessZone.com today!
Customer Ratings & Reviews
Be the first to rate this item!