AquaBells AW2 Ankle Weights by AquaBells
AquaBells AW2 Ankle Weights by AquaBells
Product Code: AQUAANKLEWGTS
Price:
$29.95
Need Expert Advice? Our friendly and knowledgeable staff is ready to help you. Call us now at 1-800-875-9145!
AquaBells AW2 Ankle Weights by AquaBells
With AquaBells AW2 Travel Weights you can maintain your weight training while you travel without overweight luggage!
The totally portable and collapsible fitness solution for people on the go. At last, a portable gym that fits into your briefcase! Carrying traditional weights through airports are impractical. With AquaBells you can continue your workout program without adding extra weight or luggage for your trip.
AquaBells AW2 Ankle Weights
With AquaBells AW2 Ankle Weights you can also maintain your lower body workout regimen while on the road! These fully collapsible Ankle Weights, unfilled weigh less than 8 ounces, and are small enough to fit into a fanny pack. Filled with water they provide up to 8 lbs. of resistance per pair. Simply fill to the 2 ankle weights to your desired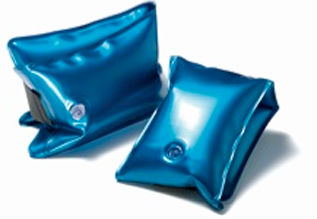 weight resistance and attach with the comfortable Velcro straps. Great for physical therapy, and also can be used for water resistance programs when in swimming pools, too!
AquaBells AW2 Ankle Weights Features
• Includes Two Ankle Weights, adjustable up to 8 lbs.
• Just fill with water to the desired weight.
• Deflates in seconds, when traveling it is compact enough to fit into a fanny pac.
• Soft cushioned vinyl that conforms to your ankles for comfort.
• The set weighs only 8 oz. when collapsed.
AquaBells AW2 Ankle Weights Benefits
• Men and Women can stay fit with this water inflatable workout system while traveling,
at home or in the office.
• Designed specifically for people on the go.
• A very portable workout system for strength training and great for physical therapy.
• Workout in the convenience of your hotel room, home, or office. You can take your
weight training with you to avoid extra weight in your travel bag
• Made of soft vinyl and Velcro straps, which is gentle on the skin.
Order your AquaBells AW2 Ankle Weights by AquaBells from FitnessZone.com today!
Customer Ratings & Reviews
Be the first to rate this item!
Related Products