AquaBells AB2 Dumbbells by Aquabell
AquaBells AB2 Dumbbells by Aquabell
Product Code: AQUADBS
Price:
$59.95
Need Expert Advice? Our friendly and knowledgeable staff is ready to help you. Call us now at 1-800-875-9145!
AquaBells AB2 Dumbbells by Aquabell
Includes two AquaBells AB2 Dumbbells, with eight water chambers, four per dumbbell. AquaBells AB2 Dumbbells weigh only 24 ounces when collapsed. When the AquaBells are inflated they provide up to 32 pounds of weight training resistance!


Simply fill theA quaBells AB2 Dumbbells water chambers with water to achieve the desired resistance. Then attach them to the comfortable soft cushioned grips and in minutes they're ready to use.
With all four weights filled and attached to the handgrip bar each dumbbell weighs 16 pounds. When you are ready to go just deflate your AquaBells and they are ready to travel again!

AquaBells AB2 Dumbbells have many other advantages: they are quiet and will not disturb roommates, or cowork ers. In addition AquaBells are soft so there is no danger of damaging floors or furniture. AquaBells are constructed of high tech polymers, so you will enjoy years of service.

When inflated with air only, AquaBells also function as a great water resistance exercise program when used in swimming pools.
Get a Full Body Workout - Anywhere and Anytime!
The original and amazing Weight Training & Physical Therapy solution for staying fit on the ROAD, at HOME, and in the OFFICE.
AquaBells AB2 Dumbbells by Aquabell Travel Weights
Maintain your weight training while traveling without overweight luggage! The totally portable and collapsible fitness solution for people on the go. At last, a portable gym that fits into your briefcase! Carrying traditional weights through airports are impractical. With AquaBells you can continue your workout program without adding extra weight in your luggage or carry-on bag.
AquaBells AB2 Dumbbells by Aquabell
The set of AquaBells AB2 Dumbbells weigh less than 26 ounces and are so compact that they can fit into your briefcase. It's easy to fill with water at your destination, and these innovative weights can provide up to 16 lbs. of resistance per dumbbell. Fill the weights to your desired weight resistance and secure them on the cushioned bars. When it's time to pack AquaBells, they empty in seconds. Work out in the privacy of your hotel room, home, or office. Guaranteed not to leak. Great for physical therapy, and also can be used for water resistance programs when in swimming pools, too!
The set includes two 13" long bars, with soft cushioned grip handles, with eight fillable weights.
AquaBells AB2 Dumbbells by Aquabell Features
• Includes Two Dumbbells, adjustable up to 16 lbs. each, with eight water chambers.
• Just fill with water to the desired weight.
• Deflates in minutes.
• Soft cushioned grips for comfort.
• Weighs only 24 oz. when collapsed.
• Compact enough to fit into a briefcase or carry-on
AquaBells AB2 Dumbbells by Aquabell Benefits

• Men and Women can stay fit with this water inflatable workout system while traveling,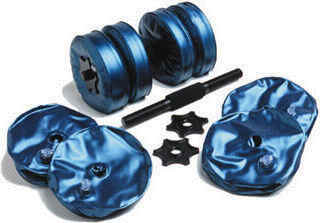 at home or in office.
• Designed specifically for people on the go.
• A very portable workout system for strength training and great for physical therapy.
• Workout in the convenience of your hotel room, home, or office.
• Avoid extra weight in your travel bag or car.
• Made of soft vinyl and injected-molded polystyrene and gentle on the skin,
Order your AquaBells AB2 Dumbbells by Aquabell from FitnessZone.com today!

Customer Ratings & Reviews
Be the first to rate this item!
Related Products