Apple 1 Fitness learning Kiosk w667 System
Apple 1 Fitness learning Kiosk w667 System
Product Code: Apple-1-Kiosk-w667
Price:
$3,995.00

Need Expert Advice? Our friendly and knowledgeable staff is ready to help you. Call us now at 1-800-875-9145!
Apple 1 Fitness learning Kiosk System
The Apple Kiosks incorporate Learning and Fitness. Research has shown that when the brain is stimulated during physical activity it is in an optimal state for learning and retaining information. This fact along with the increasing numbers of ADHD in kids, low standardized test scores and declining reading levels, Kidsfit thought it was time to change these statistics. By using lesson plans based on the curriculum educators are using, students can pedal, bike, run, jump and swivel their way into academic success while being prompted by questions, facts, and numbers, on the learning kiosk screen. The Kiosks can be used for a gym class, after school tutoring, a learning lab, an academic class, even educators can use this system for their very own workout after school! The possibilities are endless! Kids will look forward to going to the Action Based Learning Class and teachers will see the positive change in their students; from both an education and physical standpoint.
Call 1-800-875-9145 to speak with one of our fitness advisors with any questions you may have. Go to FitnessZone.com today to order your Apple 1 Fitness learning Kiosk w667 System!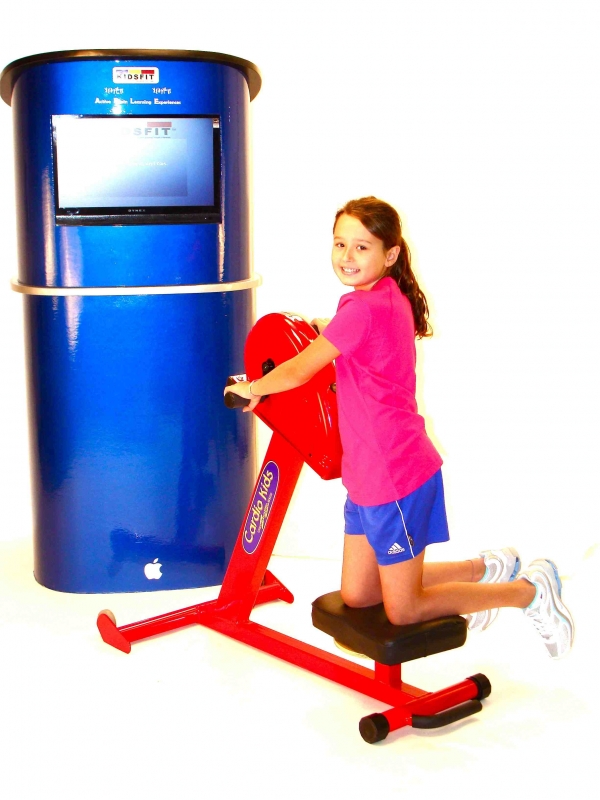 Apple 1 Fitness learning Kiosk w667 Kinesthetic Learning System Includes:
Teachers Resource Pack:
Brain Body Book Series
Brain Body DVD Series
15 Standard Learning Presentations
1 Year Subscription of up to 12 Custom Presentations
Custom Free Standing Locking Cabinet System with: Dual Shelves and 2nd locking compartment Apple Computer, 22" Computer / TV Screen / Keyboard / Mouse Computer/DVD Hook up/B Ray hook up/etc. HDMI Connection PC Input Connection Coaxial Input - for cable TV RCA Connections for older dvd ,VCR connections All Required input/output cables -Includes 5 speaker Sound system with sub - woofer Mounting Brackets Corner Cable Brackets Surge Protection Vibration Dampening shelf Subwoofer mount.
Order your Apple 1 Fitness learning Kiosk w667 System from FitnessZone.com

Customer Ratings & Reviews
Be the first to rate this item!