Body-Solid GPR378 Pro Power Rack
Call 1-800-875-9145 or Chat for Special Discounts!
In Stock!
Body-Solid GPR378 Pro Power Rack
Product Code: GPR378
Price:
$645.00

Need Expert Advice? Our friendly and knowledgeable staff is ready to help you. Call us now at 1-800-875-9145!
Body-Solid GPR378 Pro Power Rack
In Stock Today!
Freedom of movement combined with adjustable racking and safety positions make the Body-Solid GPR378 Pro Power Rack a must-have for those who want to strength train without compromise. The Body-Solid GPR378 Pro Power Rack is designed to work with all types of benches and engineered for extreme workouts. Heavy-duty 11-gauge high tensile strength steel frames feature all-4-side welded construction and oversized industrial strength hardware.

The Body-Solid GPR378 Pro Power Rack has electrostatically applied powder coat finish which will resist chipping and scratching through the most brutal routines. If you want to get bigger and stronger fast, a Body-Solid Pro Power Rack is what you need.
Call 1-800-875-9145 to chat with one of our fitness advisors with any questions you may have about the Body-Solid GPR378 Pro Power Rack. The Body-Solid GPR378 Pro Power Rack will allow you to strengthened every part of your body and help you to achieve you fitness goals. Order your Body-Solid GPR378 Pro Power Rack from FitnessZone.com today!
Picture shows base Pro Power Rack. Alternate images show options Lat Attachment #GLA378, 200 Lb. Weight Stack #SP200, Bench #GFID71
Body-Solid GPR378 Pro Power Rack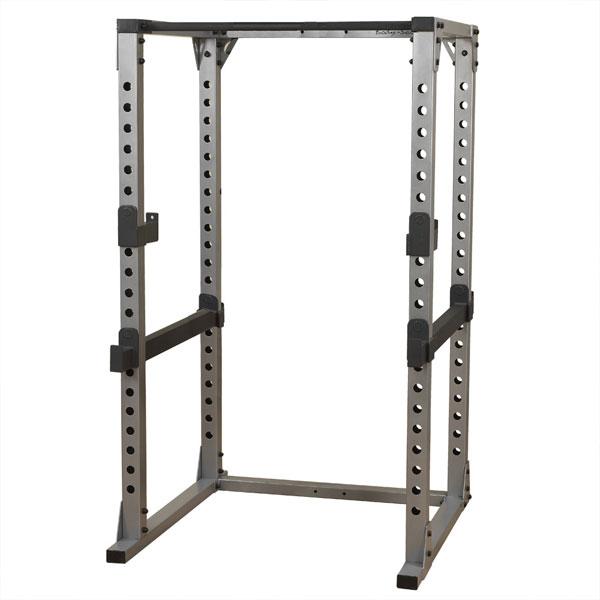 Optional Lat Attachment for Body-Solid GPR378 Pro Power Rack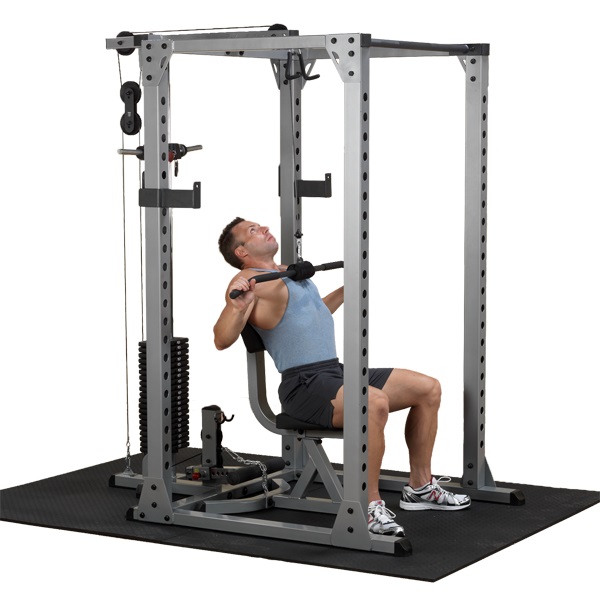 Transform your Body-Solid Pro Power Rack into a multi-workout machine. This Lat Attachment will help you build a wider, beefier Back and/or stronger and bigger Biceps and Triceps. Features nylon coated, aircraft quality (2200 Lb. test) cables. The Plate-Load carriage on this Lat Attachment features 1" diameter weight posts that will accommodate Standard or Olympic Weight Plates. Includes Lat Bar and Low Row Bar. 84"H when attached.
Optional Heavy Duty Flat Incline Decline Bench for Body-Solid GPR378 Pro Power Rack
Without a doubt, the cornerstone of all strength training equipment is the Flat/Incline/Decline Bench and nothing comes close to the WFID71! The heavy-duty 2" x 3" steel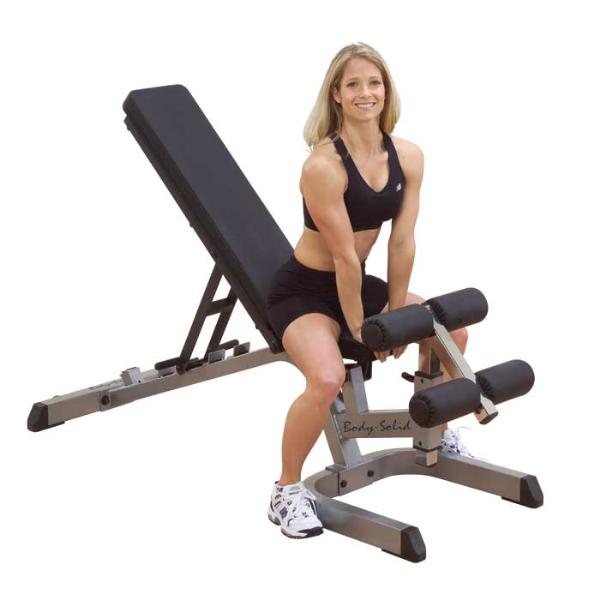 frame can easily handle a load capacity of 1,000 Lbs. The back and seat pads lock into eight positions to align your body for perfect posture in all your exercises while the ultra-thick DuraFirm upholstery supports you comfortably through the most intense workouts. Lock your legs in the T-Bar Leg Hold Down featuring oversize rollers for extra comfort and stability while you perform upper and lower abdominal exercises as well as incline and decline strength training. Convenient casters let you move the WFID70 effortlessly in and out of any rack for the ultimate in versatility. Full Commercial Warranty.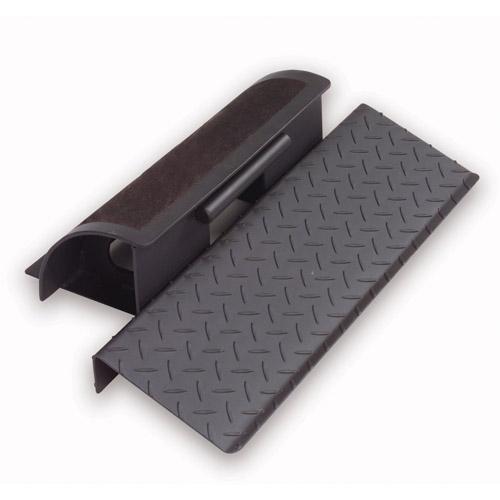 It's a combination squat platform for stabilizing the user during squat exercises and calf block for the most intense calf raise exercises with full range of motion, and complete comfort. Full 18" long x 6-1/2" high calf block allows greater stretch and contraction of all calf muscles. Full 26" long squat platform allows user to elevate heels for better balance and concentration. Solid steel, 2 bolt assembly, includes welded carrying handle and textured, no-slip surfaces. 2000 lb. capacity.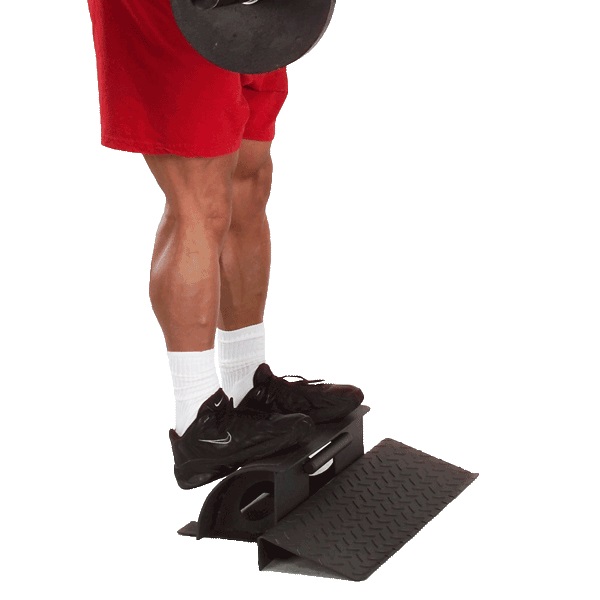 Body-Solid GPR378 Pro Power Rack Features & Specifications
Wide 'walk-in' design
20 adjustment levels
3"x 3" vertical support columns
41" wide knurled chinning bar
Heat tempered Lift-Offs and saber-style safety rods keep your workouts simple, safe, and effective
Ideal for home and commercial use
79"H x 49"L x 46"W
Shown with OPTIONAL Plate Load
Attachment #GLA378
Includes Lat Bar and Straight Bar
Add on plate posts
lockouts 3" on center
Optional 210 lb. weight stack (#SP200)
Dip Attachment (for GPR378 Power Rack)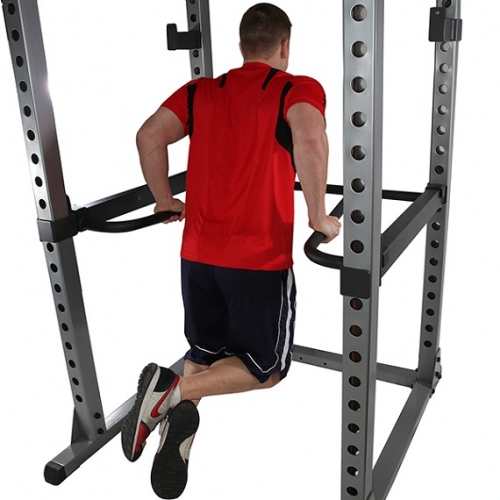 The dip exercise is one of the most popular exercises for developing strong shoulders and arms. The DR378 optional dip attachment lets you transform your GPR378
Body Solid power rack into an amazing dip station. Unlike the competition, the DR378 spans both safeties of the GPR378 providing unsurpassed stability. The large 1.5" grips are more comfortable than the smaller handles typically used for dip attachments. The handles taper to ensure any size user has a proper fit and starting position. Take your Body Solid GPR378 to the next level with the optional DR378 Dip Attachment....
Body-Solid GPR378 Pro Power Rack In-Home Warranty
Lifetime Warranty on Everything Forever - Period.
Order your Body-Solid GPR378 Pro Power Rack from FitnessZone.com today!
Customer Ratings & Reviews
Be the first to rate this item!
Related Products