Health Mark Pro Inversion Table
Health Mark Pro Inversion Table
Product Code: HMPRO
Price:
$299.00
Financing Solutions from

Once Approved Call Us To Place The Order!
Need Expert Advice? Our friendly and knowledgeable staff is ready to help you. Call us now at 1-800-875-9145!
Health Mark Pro Inversion Table
Model #IVO18660
When your back relaxes, life becomes more enjoyable! The Health Mark Pro Inversion Table provides the most support and comfort of any table in its class. With a transition bed constructed of 840 nylon denim, you can trust that your back will be fully supported in the correct alignment as you transition from horizontal to any chosen angle. Inversion Therapy has been proven to help decompress the spine, allowing for increased circulation along the spinal column and a reduction of muscle stress, fatigue and lower back pain; or utilize rhythmic traction to achieve total relaxation and increased mental alertness. Inversion Therapy is also useful in the temporary relief of varicose veins and lymphatic fluid accumulation in the lower extremities.
Health Mark Pro Inversion Table Uses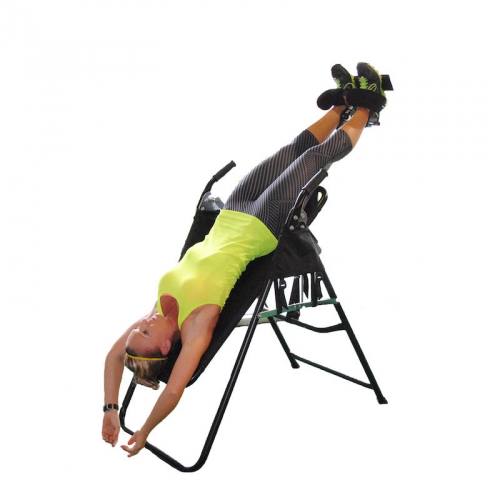 Spinal Decompression

Relieve Muscle Tension and Spasms

Reduce Muscle Fatigue

Help Alleviate Acute Lower Back Pain

Temporary Relief of Varicose and Spider Veins

Aid in Removal of Lymphatic Fluid Build-Up from Lower Extremities

Increase Mental Alertness

Use Slow Arm Movements to Perform Controlled Rhythmic Traction

Hang Freely with the Table Fully Inverted for Complete Spinal Decompression (Perform Using 2 People for Safety)

Hang Freely with the Table Fully Inverted and use the Frame to Perform Trunk Rotations (Perform Using 2 People for Safety)
Health Mark Pro Inversion Table Features
Instructional Manual

Angle Adjustment Belt for Pre-setting the Angle of Inversion

3 Position Pivot Arms for Maximum Control Over the Tables Sensitivity to Movement

Tubular Steel Construction

Durable Powder Coated Finish

Firm Comfortable 840 Denim Nylon Bed

Side Pinch Guards to Prevent Placing Fingers or Objects in Small Openings

Split Leg Design for Maximum Stability

Easy to Grab Curved Handlebars Designed for Effortless Transitions without Strain to the Back

Weight Capacity 300 lbs

Locks Out For Full Inversion

Curved Design Dual Rolled Foam Ankle Supports for Additional Comfort

Set-Up Dimensions: 80 x 26 x 73

Net Weight: 50 lbs.

Accommodates 4' 10" to 6' 8"
Order your Health Mark Pro Inversion Table from FitnessZone.com today!
Customer Ratings & Reviews
Be the first to rate this item!