Life Fitness G7 Home Gym
Product Code: LifefitnessG7HomeGym
Price:
$2,999.00

Need Expert Advice? Our friendly and knowledgeable staff is ready to help you. Call us now at 1-800-875-9145!
Life Fitness G7 Home Gym
Inspired by our popular health club model, the Life Fitness G7 Home Gym dual adjustable pulley home gym offers you the ultimate in exercise options and customization. The G7 offers exclusive features that allow you to build your own training workouts, track your progress and follow-along with our own certified personal trainer while she guides you through 2 training routines. With these personalized features, it's easy for any level of user to get started and stay motivated. Bring the health club experience home with the smartly designed G7.
The Life Fitness G7 Home Cable Motion Gym with Bench is a beautifully crafted machine that is sleek, stylish, durable and user-friendly. This gym is for the one who is serious about getting in shape, the G7 has everything you need for a fun, engaging total body workout.
The G7 has dual weight stacks of 160 lbs. (73 kg) that provides intensity and challenge as well as allowing you to effectively and efficiently work both sides of the body at the same time. Incorporating the very latest in CableMotion™ Technology you can enjoy the benefits of smooth, unrestricted, user-defined paths of motion. Designed to move the way your body moves the G7 allows for an endless array of exercise options making this the perfect gym system for the new fitness enthusiasts and seasoned pros alike.

Remain in control of your exercise regime at all times. Structure your routine around the types of movements used for sport-specific training or task and work related activities. Engage your muscles on a regular basis to improve muscle definition, strength, co-ordination, range of motion, balance and mobility.
Call 1-800-875-9145 to speak with one of our fitness advisors with any quesions you may have. Go to FitnessZone.com today to order your Life Fitness G7 Home Gym!!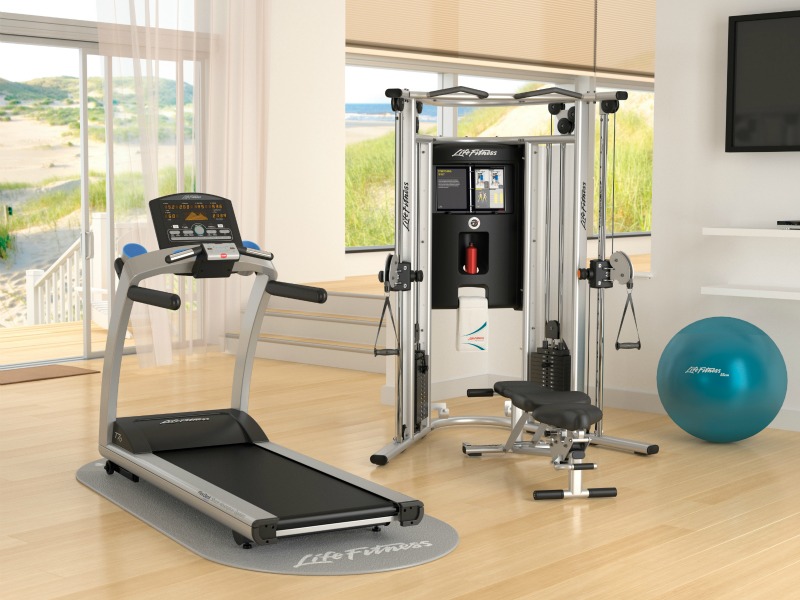 OPTIONAL BENCH
Life Fitness G7 Home Gym Features
Dual Adjustable Swivel Pulleys with 20 adjustments per column.

20 ultra-smooth pulley adjustments per column enable users to perform a virtually endless number of exercises.

Quick Lock cable end attachments make switching out attachments quick and easy.

Mounted Exercise Book shows you how to perform over 60 exercises, allows you to build your own workouts and track your progress.

Space-efficient design ideal for small places in your home.

Accessories: Two 160 lb. Weight Stacks, Foot Strap, Thigh Strap, Straight Bar, One Pair of Medium Soft Ergonomic Handles, Wall Chart, Instructional DVD, Weight Stack Shrouds, Training DVD, Exercise Book, Water Bottle, Exercise/Stability Ball.

Adjustability: Pulley columns allow for 20 different height positions, and the dual weight stacks let you perform isolateral movements or enable two users to workout at the same time.
Two dual weight stacks allow you to exercise one side of the body at a time or both sides at the same time.

Quick Connect cable end attachments make switching out attachments quick and easy.

Chin-up/pull-up bars are correctly angled for biomechanically-correct upper-body and core exercises.

"G7 Training Center" houses a water bottle and G7 Exercise Book featuring 60 exercises.

Training DVD allows you to follow along with a certified personal trainer as she guides you through 2 workout routines.

Space-efficient design fits nicely in a corner.
Life Fitness G7 Optional Bench
The Life Fitness Multi-position bench is made with double-stitched vinyl upholstered pads. The frame undergoes a state-of-the-art, robotic welding process to ensure a safe, strong structure that's gauranteed for life. From there, each component is attached with precision and care for a finished product that stands up to years of use.
Compatible with the Life Fitness G7 Functional Trainer.

Seat pivots up and down for correct positioning.

Adjusts from flat to incline for diverse training.

Wheels and handle for ease of mobility.

Stores upright in G7 to conserve space.

Can be used with or without Life Fitness gyms.

Dimensions: 52.5" L x 21" W x 18" H (Flat) or 42" H (Fully Upright).

Lifetime on frame, welds, pulleys and parts; 3-year on upholstered pads and cables (Warranty outside the US may vary)
Order your Life Fitness G7 Gym from FitnessZone.com today!
Customer Ratings & Reviews
Be the first to rate this item!
Related Products