Open Source Computerized Ergometer LC7
Open Source Computerized Ergometer LC7
Product Code: Open-Source-Computerized-Ergometer-LC7
Price:
$19,999.00
Need Expert Advice? Our friendly and knowledgeable staff is ready to help you. Call us now at 1-800-875-9145!
Open Source Computerized Ergometer LC7
Perfect Fit for a cyclist is when the position is right, power in the legs and the mind is set for a great preformance. Monark LC7 Open Source Ergometer has stepless adjustability in all directions for a perfect position without affecting the rigidity of the frame. Monark's classic bike feeling is even improved with LC7, new Q-factor and updated resistance system makes the feeling complete. Now it is up to the rider.
Open Source is used within the software industry for an available program Monark LC7 is also available and adaptable. Standard components for easy exchange and upgrades of parts like crank systems. Channels and plates prepared for measurement equipment and software accessible for external devices. The Monark LC7 Open Source Ergometer is a great bike as it is, but now also easy to adapt for your specific needs.
Modern Force shall not be mixed with the fact that measurement still belongs to the old physical laws. Calibration still has to be done, on Monark LC7 Open Source Ergometer the procedure is improved for better safety and accuracy. With the updated braking system of LC7 old force is speed independent, quickly adjusted but still controllable during use. Monark has always been known for accuracy, now it is even improved.
Vo2 max test

Vo2 submax test

EKG (worktest)

Training/Test protocols (custom)

HRC

Vo2 controlled

External control via RS232
User settings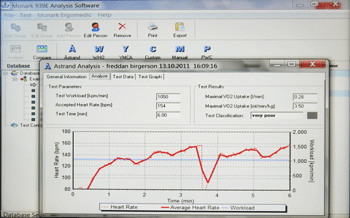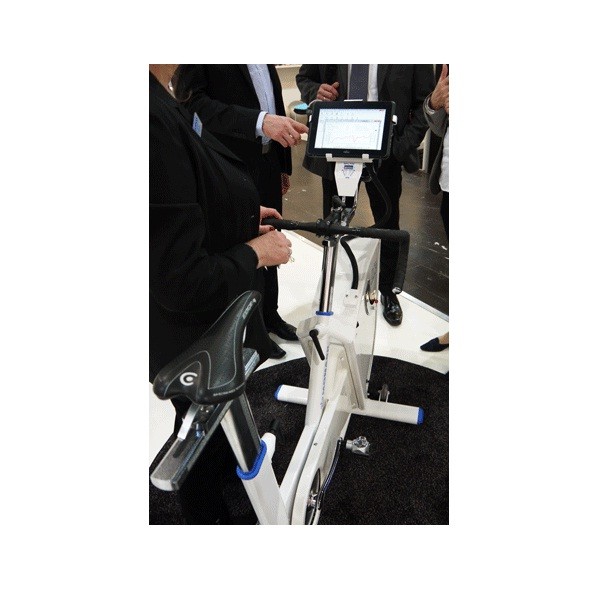 Crank Steel, 170 mm standard, 172.5 mm optinal

Pedals 9/16" LOOK/SPD compatible

Seat Racing seat

Seatpost

Vertical 545-890 mm (21,8-35,6 inch)

Horizontal 350 mm (14 inch)

Handlebar All handlebars

Vertical 465-765 mm (18,6-30,6 inch)

Horizontal 200 mm (8 inch)

Distance seat - handlebar 170-815 mm (6,8-32,6 inch)
Control unit Fujitsu Stylistic Q550
Windows 7, 32 bit, Intel processor

Interface Digital RS232, USB Included

Power source Power adaptor PC-software

Type of unit Touchscreen Calibration weight

Polar Chestbelt

Electronic display 10.1", 1280 x 800 pixel, touchscreen
Readouts
Workload

Force

RPM

HR

Time

Distance

% of max HR

Target HR

Calories
Open Source Computerized Ergometer LC7 Specifications
Power output

Continuous (50-100rpm) 4-700W LxWxH in mm 1405 x 640 x 1240 mm

Peak (at rpm) 1400W (200rpm) LxWxH in inch 56.2 x 25.6 x 49.6 inch

Smallest increment 1W BB-shell 68*40 mm (2.72*1.6 inch)

BB 116 mm (4.64 inch)

Workload Control Monark Aerobic Test Software Q-factor 146 mm (5.84 inch)

Linear Yes Weight 77 kg (170 lb)

Fixed torque Yes Flywheel weight 20 kg (44 lb)

Heart rate controlled Yes Max user weight 125 kg (275 lb)

Constant power (rpm range) Yes (30-200rpm) Painting Industrial Powder Coating

Rust protection Double layer

Breaking system Computerized pendulum

Calibration Static Standard and Safety norm CE 93/42/EEC MDD class IIa
Open Source Computerized Ergometer LC7 Warranty
1 Year
Order your Open Source Computerized Ergometer LC7 from FitnessZone.com today!
Customer Ratings & Reviews
Be the first to rate this item!