Quad Lift Back Support 212 Elem
Quad Lift Back Support 212 Elem
Product Code: Quad-Lift-Back-Support-212-Elem
Price:
$1,795.00
Need Expert Advice? Our friendly and knowledgeable staff is ready to help you. Call us now at 1-800-875-9145!
Quad Lift Back Support 212 Elementary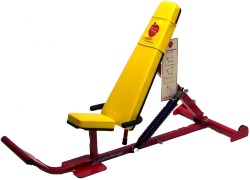 212/312 Quad Lift (Back Support) This quadriceps press movement effectively works the leg muscles while supporting the lower back. Foot plates in the front of the unit allow children to position themselves comfortably on the unit. . Protective covering on cylinders ensures the safety of all users. Elementary model is powder coated in Fire Red while the junior sized model is powder coated in a deep brilliant purple. Portable wheel system makes it easy for instructors to store units and/or reconfigure fitness circuits
The Elementary Quad Lift is sized for children in grades 2-5.

Proper strength training can increase muscular strength and endurance, help with rehabilitation, and prevent future injuries.
Dimensions: 24" wide x 60"L x 36"H Elementary Model 212: Grades 2-5 Junior Model 312: Grades 5-8
Order your Quad Lift Back Support 212 Elem from FitnessZone.com today!

Customer Ratings & Reviews
Be the first to rate this item!