Ab Coasters TireFlip 180
Product Code: ab-coasters-tireflip-180
Price:
$1,799.00

Need Expert Advice? Our friendly and knowledgeable staff is ready to help you. Call us now at 1-800-875-9145!
Ab Coasters TireFlip 180
The TireFlip 180 is an innovative new functional training device that gives you all the benefits of tire training in a safe, space saving design. Do all of the things you would do with a traditional tire in one compact space saving piece of equipment. With a starting resistance of 100 lbs it's perfect for beginners. The TireFlip 180 also allows you to add up to 40 pounds (up to 4 -5 lb plates per weight post) of additional free weight resistance so users of all abilities are sure to get a great workout. Its' dual battle rope anchor points turns this into a perfect group training device as well. Floor mounts ensure that the TireFlip 180 will always be secure in your workout area. Saving you space, money and appearance, your members will be sure to 'flip' for the TireFlip 180!
Call 1-800-875-9145 to speak with one of our fitness advisors with any questions you may have about the Ab Coasters TireFlip 180.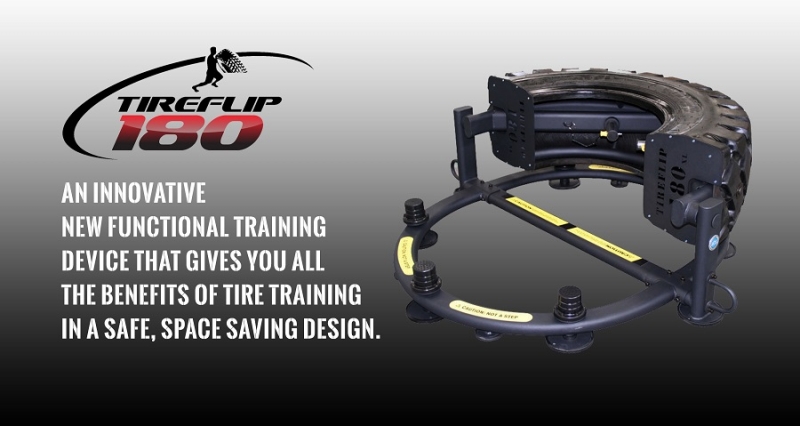 Ab Coasters TireFlip 180 Features
TireFlip 180
2 Battle Rope Anchor Points
4 Floor Levelers
4 Sound Reducing Bumpers
8 Floor Mounting Points
Extended Warranty
Plate loading ability up to 40 additional pounds
Starting resistance of 100 lbs
Training range is 100-140 lbs
Up to 4 - 5lb plates per weight post
Ab Coasters TireFlip 180 Specifications
Shipping dimensions: 59" L x 33" W x 32" H
Shipping weight (carton on pallet): 407 lbs. (TireFlip 180)
Shipping weight (carton only): 320 lbs. (TireFlip 180)
WARRANTY:
Parts: 3years
Tire and Bumpers: 1 year
Order your Ab Coasters TireFlip 180 from FitnessZone.com today!
Customer Ratings & Reviews
Be the first to rate this item!
Related Products