FREE Bike Mat!
Assault AirBike
Product Code: assault-airbike
Price:
$999.00
Need Expert Advice? Our friendly and knowledgeable staff is ready to help you. Call us now at 1-800-875-9145!
Assault AirBike
The Assault AirBike the KING OF CARDIO!

The all NEW Assault Air Bike is a modernly designed take on a very old traditional air resistance bike. Fixing everything that was wrong and implementing new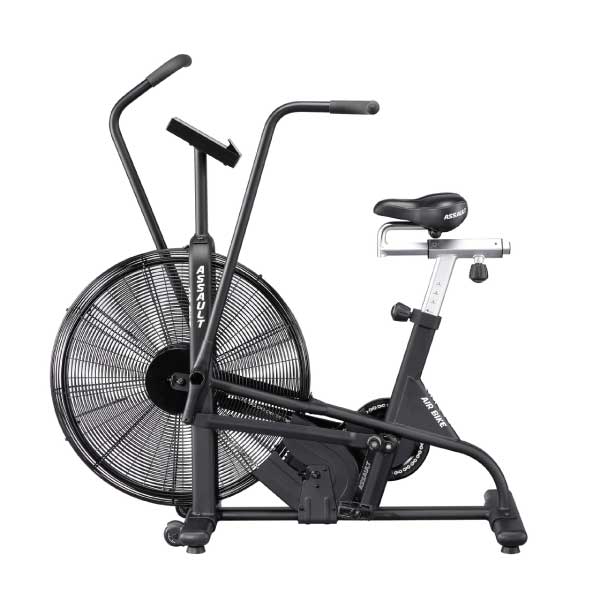 technology. Strengthening all pivot points and upgrading them with bearings instead of bushings to provide a powerfully smooth operation. Work out with no limits due to the unlimited resistance provided by air. Power your legs and arms faster or slower to determine your resistance. Monitor time, distance, calories, watts, RPMs, speed with the on board smart computer console. Includes Motivating programs, like Tabata Intervals, which help build up strength and stamina or choose the Heart Rate monitoring program to monitor your pulse and build up your aerobic base. All this is wrapped up in a frame that can take the abuse and dish it out too.
The Assault AirBike engineers understand that no two athletes are the same and the challenge of personalizing a piece of equipment to match an individual's ability and strength is nearly impossible. But the Assault AirBike steps up to the plate to meet this challenge by ramping up resistance automatically as you push, pull and pedal with greater speed and force to provide a virtually unlimited workout. Keep it smooth and level to target a heart rate range, or jump into a high-intensity interval session that reduces you to a quivering heap of sweat. The Assault AirBike offers individualized and infinite adjustments for an unlimited workout. Let the Assault AirBike be the primary tool to rev-up your calorie-burning tool kit.
The Assault AirBike will be a nice addition to your home. If you dislike having messy cords and cables around your home, then this self-generating fan-propelled power makes this bike an easy buy. Besides its sleek cosmetics, the Assault AirBike has the same structural integrity that you'll find in most upright exercise bikes in the gym and you can expect to get many years of consistent usage from this bike.

Don't expect other fan bikes to be as capable as this Assault new-age air bike.This bike designed to withstand more wear and tear than its competiton, this indoor cycle can handle people up to 300 pounds and 6'4" tall. Reliability is paramount and you can absolutely count on the Assault AirBike to sustain its quality. Constructed with thick-gauge chro-molly steel, sealed cartridge bearings, this bike will remain sturdy through intense usage.
Designed by a dedicated team of fitness engineers with a consistent stream of feedback from enthusiasts, club owners, trainers and physical therapists, the Assault is truly the best-in-class fan bike available today. Built from the ground up, Assault Bikestarted with a frame manufactured from full high-tensile steel that is sealed with a layer of industrial powder coating paint. To ensure durability and long periods of maintenance free use, all moving parts employ sealed cartridge bearings.
Assault AirBike Features:
Twenty Sealed Ball Bearings throughout the frame and pivot points to provide a smooth and durable feel

Unlimited Resistance for upper and lower body extremities based on Air Resistance; Get a complete Cross-Fit Workout

Computer features motivational programs providing many programs (Tabata, Intervals, Watts, Heart Rate) to accomplish your fitness goals

Twenty Five inch diameter steel fan delivers maximum resistance, with six way adjustable seat fore and aft, up and down and tilt

Set a calorie, distance, or time target goal with the advanced computer display
WHO USES ASSAULT AIRBIKE
Military

Our men and women of the armed forces need to stay in great condition for the high demands of their jobs. Working in a little Assault Airbike can do the trick.

Kids, Adults, and the Elderly

It starts at a young age, you form habits that can last your entire life. This is why the Assault Airbike is so great and versatile, because it can challenge you in your younger years and in your older years as well.

Athletic Competitions

Athletes are constantly pushing themselves to the limit and are always looking for the next great challenge. The Assault Airbike provides enough challenge for even the fittest and most athletic people in the world.
The Assault AirBike console offers a crisp LCD screen that is packed with features for all users. On-board programming allows you to jump into a workout with minimal fuss, or fully customize your session on the bike. Choose from high intensity intervals, or set a target distance or Watt goals. Integrated messaging to help inspire you keeps the workout fresh and motivating, while heart rate monitoring can pro.
Call 1-800-875-9145 or Go to FitnessZone.com to order the amazing Assault AirBike today!
Just 30 minutes cycling can burn between 207-345 calories for women, or 252-420 calories for men, depending on the intensity of the cycling.
The All-New Assault AirBike.
Fan bikes have been around for decades. The wind resistance bike concept is great, but no one had sought to improve upon this design. Assualt's team set out to create the highest quality, most durable air bike on the market….. Let us introduce the Beast, The Assault Air Bike.
Workout Without Limits.
Programmed to Push.
The Assault Airbike console is either a friend who gently motivates, or a drill sergeant who kicks your butt. Match your mood to your workout with one of the seven on-board programs. Choose a challenging Tabata interval session, set a calorie, distance or time target, or build your aerobic base with a heart rate program. More choices means more motivation.
Assault AirBike
Built to Punish. Built to Take Punishment.
Assault set out to design a machine that can take what it dishes out. Thick-gauge chro-moly steel, sealed cartridge bearings and oversized pivots ensure the Assault holds up hundreds of thousands of maintenance-free hours of use on the military base, on campus, in the gym, physical therapy or at home. Built for the commercial environment and will prove to hold up to the most demanding abuse.
Built-In Durability – A 20-Bearing Salute.
When they set out to design the Assault AirBike, they knew that integration of sealed cartridge bearings in every pivot and moving part was an absolute necessity and were more than a little shocked when the count totaled twenty. That's a bearing or two in every pivot, be it pedals, bottom bracket, flywheels or linkage arms. Twenty sealed-bearings in all…tucked and hidden neatly away under machined and formed steel.You can say that it's the things that you can't see that make the biggest difference.
The Computer, Watts Up.
Assault's console.LCD technology offers a versatile array of display images. Large buttons and quick keys to offer faster access to the on-board programs, while the screen is packed full of useful data feedback.Simultaneously monitor heart rate, speed, RPM, time, Watts and calories..All this functionality in a sleek, compact heads-up display. Since Watts were important to to our development team, we knew we had to get this right…and we did. Our first task was to connect the Assault's drivetrain to 20 horsepower electric motor, enabling us to deliver a constant RPM. We then coupled a calibrated torque measurement meter to the drivetrain and recorded output at each RPM increment from 5 to 150 RPMs. With a simple math conversion, the Assault was armed with actual Watt output values. The result…what you see is accurate.
Assault AirBike Limited Warranty
Frame Parts – Five Year Limited Warranty
Other Parts – Two Year Limited Warranty
Order your Assault AirBike from FitnessZone.com today!
Customer Ratings & Reviews
Be the first to rate this item!