Body-Solid Interlocking Rubber Flooring RF4PMG
Body-Solid Interlocking Rubber Flooring RF4PMG
Product Code: body-solid-interlocking-rubber-flooring-rf4pmg
Price:
$75.00
Need Expert Advice? Our friendly and knowledgeable staff is ready to help you. Call us now at 1-800-875-9145!
Body-Solid Interlocking Rubber Flooring RF4PMG
Interlocking Home Gym Flooring System
4 Pieces Interlocking Flooring - Black with Gray Specs (RF4PMG)
Each order includes Four pieces

No weight is too heavy for this is the heavy duty, interlocking rubber flooring system!

The SuperLock Flooring System is made from recycled rubber and bond with urethane binder which encapsulates each piece of rubber for long life and provides resistance to foreign substances. Each piece has a dimension of 19.5" square once tabs are trimmed and two pieces snapped together measure 39".

The Super Lock Flooring System offers an interlocking rubber floor system that consists of a single design piece that can be trimmed easily with a straight edge and carpenter's knive - making it easy to adjust the size of your workout area and still have a professional rubber floor system!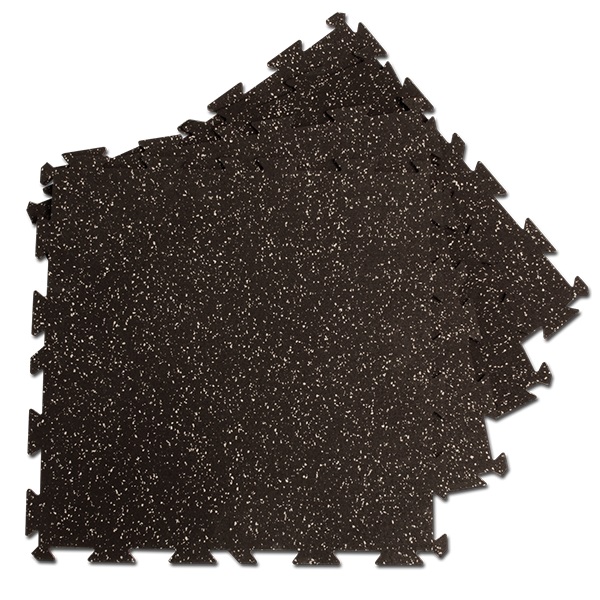 Body-Solid Interlocking Rubber Flooring RF4PMG Features
Exclusive Interlock System
Requires no adhesive
Easy to install
Reduces Noise
Insulates cold floors
Ideal for fitness rooms, home gyms, work rooms, dog kennels etc.
Each tile measures 19.5" x 19.5" x 3/8"
Color-Black
Order your Body-Solid Interlocking Rubber Flooring RF4PMG from FitnessZone.com today!
Customer Ratings & Reviews
Be the first to rate this item!