Body-Solid Premium Kettlebells 5-75lb
Body-Solid Premium Kettlebells 5-75lb
Product Code: body-solid-premium-kettlebells-5-75
Price:
$789.00
Need Expert Advice? Our friendly and knowledgeable staff is ready to help you. Call us now at 1-800-875-9145!
Body-Solid Premium Kettlebells 5-75lb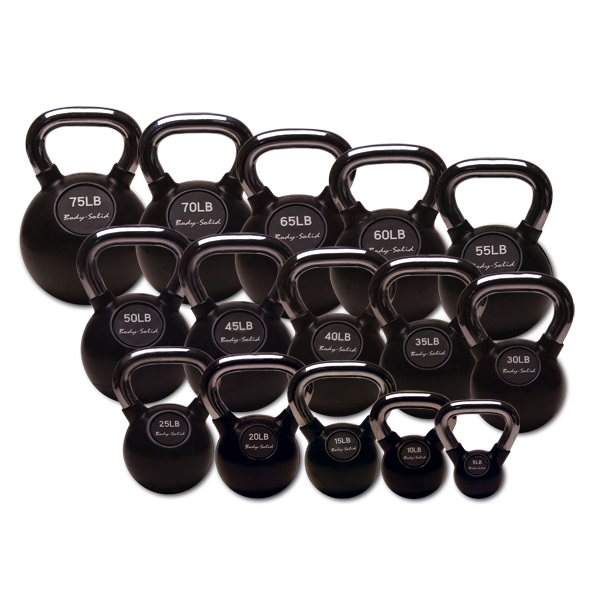 Body-Solid Premium Kettlebells are available in 5 lb. increments from 5lb. to 75 lbs. Purchase a complete set for variety and a steady progression to the intensity of your workouts.
Kettlebells resemble a cannonball with a handle. A legendary Russian exercise device, the kettle bell has long been a favorite for those seeking a special edge in strength and endurance. Kettlebell training develops strength, power, endurance and balance. Kettlebell workouts have long been a favorite of throwers, jumpers, sprinters and hurdlers. You can perform squats, pulls, overhead throws and rotational training plus much more.
Easy to read weight reference

Chrome handles easily slide in your hands

Handles on heavier kettlebells are large enough to accommodate both hands.
Exercises

Sit Ups
Push Ups
Pec Fly
Bench Press
Incline Press
Decline Press
Upright Row
Deltoid Raise
Shoulder Press
Standing Military Press
Bent Over Row
Shoulder Shrug
Biceps Curl (seated)
Biceps Curl (standing)
Tricep Extension
Tricep Kickback

Standing Calf Raise
Calf Press
Reverse Fly
Barbell Thruster
Dead Lift
Burpees
Kettlebell - Swing
Kettlebell - Sumo Deadlift
Reverse Lunge
Kettlebell - Alternating Floor Press
Kettlebell - Alternating Shoulder Press
Kettlebell - Alternating Upright Row
Kettlebell - Clean and Jerk
Kettlebell - Squat Press
Kettlebell - Goblet Squat
Kettlebell - One-Legged Deadlift

Body Focus

Biceps
Fat Burn
Forearms
Hamstrings
Obliques
Shoulders
Strength Interval Training
Triceps
Wrist
Order your Body-Solid Premium Kettlebells 5-75lb from FitnessZone.com today!

Customer Ratings & Reviews
Be the first to rate this item!