BodyCraft SpaceWalker Treadmill
BodyCraft SpaceWalker Treadmill
Product Code: bodycraft-spacewalker-treadmill
Price:
$849.00
Need Expert Advice? Our friendly and knowledgeable staff is ready to help you. Call us now at 1-800-875-9145!
BodyCraft SpaceWalker Treadmill
Fully Assembled
The BodyCraft SpaceWalker Treadmill is an all new ultra compact treadmill/workstation that easily folds into a great looking piece of furniture. The SpaceWalker can be used as a Standing Laptop Desk/Upright Table or lay it on its side to serve as a bench or table. Don't be fooled by it's size, this extremely solid and powerful walking machine has plenty of power to easily support a person up to 300 lbs. The SpaceWalker is fully assembled out of the box and locks in both the folded and open positions. A safety key is included to prevent unauthorized use when removed and will shut the unit off if you were to slip or fall. Features an easy to read bright red LED display providing speed, time, distance, and pulse.
Call 1-800-875-9145 to speak with one of our fitness advisors with any questions you may have about the BodyCraft SpaceWalker Treadmill.
BodyCraft SpaceWalker Compact WorkStation Treadmill Folds Into Table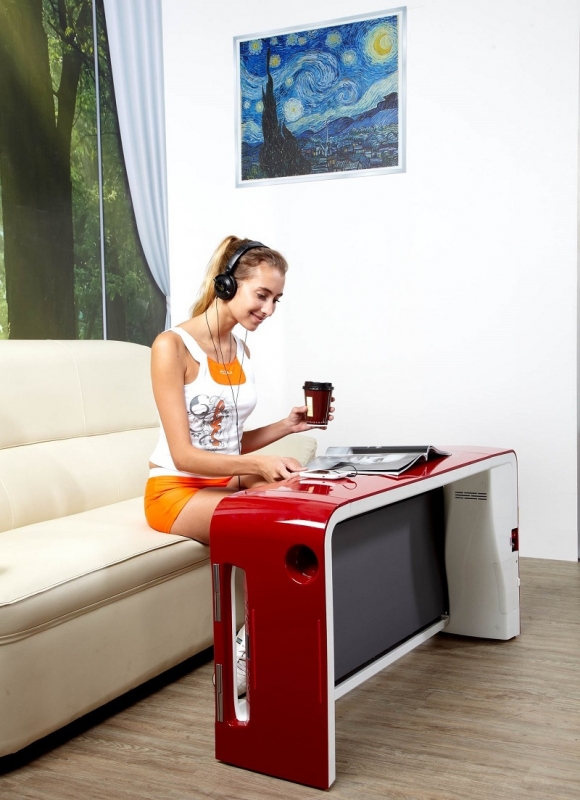 BodyCraft SpaceWalker Treadmill Features
Display: Easy to read bright red LED display
Readout: Time, Speed, Distance, Calories, Pulse
Button Type: Tactile Membrane (for extended life expectancy)
User-Friendly Buttons: Quick-access Start/Pause, Mode & Speed (+/-) & Hold-to-reset
BodyCraft SpaceWalker Treadmill Specifications
Speed Range - 0.5-4 mph
Running Surface - 14.6"W x 38.6"L
Roller - 1.5" Diameter Machine steel rollers
Deck - Steel reinforced Laminated Melamine 0.5" MDF running deck
Belt - 4-layer (1.4mm thick) Antistatic Running Belt
User Capacity - 300lbs / 136kgs
Assembled Weight / Dimensions - 82lbs - 48"L x 22"W x 45"H
Folded Size - 11"L x 22"W x 45"H
Shipping Info - 91lbs - 46"L x 23"W x 13"H
Deck Suspension System - Shock-Absorption Elastomer design for low-impact
Handlebar Features - Built-in hand pulse sensors for immediate pulse readout
Frame - Durable steel frame under the running deck for durability
Leveler - Adjustable floor levelers
Wheels - 2 piece transportation wheels
WARRANTY
Home

All Parts -3 years

Labor - 90 days
Order your BodyCraft SpaceWalker Treadmill from FitnessZone.com today!
Customer Ratings & Reviews
Be the first to rate this item!