Cybex 525AT E3 Total Body Arc Trainer with E3 Monitor
Cybex 525AT E3 Total Body Arc Trainer with E3 Monitor
Product Code: cybex-525at-total-body-arc-trainer-e3-monitor
Price:
$7,395.00
Need Expert Advice? Our friendly and knowledgeable staff is ready to help you. Call us now at 1-800-875-9145!
Cybex 525AT E3 Total Body Arc Trainer with E3 Monitor
The Cybex Arc Trainer 525AT is ideal for workout spaces where space is at a premium – like , Hotels, Corporate Wellness Centers and Multi-Family Housing . It delivers the legendary calorie burn, performance, and flexibility of all Arc Trainers, but in a streamlined package that delivers outstanding value.
Cross training refers to working various parts of the body by combining different exercises in a variety of ways. Typically one activity or sport trains certain parts of the body but not others. Cross training aims to eliminate this. Cross trainers are generally non-impact machines sometimes called ellipticals which refers to a specific motion.
All ellipticals are cross trainers but not all cross trainers are ellipticals.
Get the most ROI from your equipment spend.
The Ultimate Fitness Test is the first cross trainer review to go beyond the marketing hype, focusing on what truly matters to your facility and your members.
Look at the science behind the claims.

Understand how trends can impact members' machine requests and use.

Investigate comfort and pain prevention.
Color: Platinum Sparkle
Cybex 525AT Total Body Arc Trainer with E3 Monitor Features
Upgrade their Workout Experience
Take your Cybex 500 Cardio Series to the next level with Cybex FIT, an innovative iPad app that interacts directly with your equipment, transforming the console into an advanced touchscreen workout display. Users now have access to a full suite of digital features and controls that lets them personalize their workout experience.
525 Series Cardio from Cybex
The 500 Series offers the industry leading Cybex commercial-level quality fitness equipment you'd expect, the durability and reliability you require and a new easy-to-use, centralized, console designed to provide an intuitive, accessible layout for users in managed and unsupervised fitness environments.
Total Body Cross Trainer
A commercial-quality cross trainer with the patented Arc design that gives fast fitness results. Train for weight loss, strength and power on one machine. The Cybex 525AT Arc Trainer® offers broad incline and resistance ranges to do the work of three fitness machines in one. At the lower incline levels, the "glide" is a cross country skier. In the mid-range levels, the motion is a "stride" (like an elliptical except with proper positioning). At the high levels, it's the "climb" of a stepper or climber. Research shows that the Cybex Arc Trainer burns more calories than any other cross trainer or elliptical tested.
User-Friendly Fitness Technology
Cybex 525 cardio machines make innovative use of QR codes to provide users with easy access to equipment information and workouts via a mobile device. Guests, employees, and residents can select cardio workouts that best meet their fitness goals. The optional high definition 3 Cardio View high definition monitor offers three viewing modes on a 15.6" embedded display.
Cybex 525AT Total Body Arc Trainer with E3 Monitor Specifications
Product Number : 525AT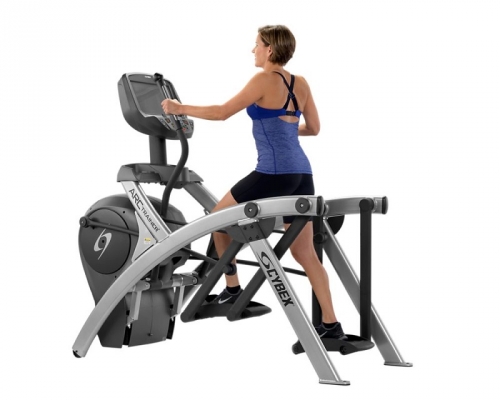 Incline Levels : 21
Stride Length : 24 (61 cm)
Resistance Range : up to 600 Watts
Drive type : Two-stage drive
Brake : Brushless Eddy current brake
Dimensions
(L x W x H) : 76" x 30" x 62.5"
193cm x 76cm x 159cm
Machine Weight : 364 lbs (165 kg)
Maximum User Weight : 400 lbs (181 kg)
Power : AC Powered: 115V, 208-220V, 230V
Display : Graphic display of workout profile via 8 × 5 LED; Numeric display of time, calories, strides per minute, calories per hour and heart rate including multi-color indication of heart rate range; Lower display shows incline and resistance level
Workouts : Quick Start (Manual mode), three weight loss, three cardio, two strength; Workouts have 10 levels and controls both incline and resistance.
Compliance : ETL listed to UL 1647, FCC Class B, ASTM, EN 957, CE Low Voltage Directive, EMC and RoHS
Convenience Features : Split level display with magazine rack. Centrally located water bottle holder and dual utility trays.
Heart Rate Monitoring : Contact Grips and Wireless
Color : Choice of seven standard frame colors (Black Chrome, Nightstorm Black, Cumulus White, Platinum Sparkle, Arctic White, Eclipse Black, Metaltone Gold), premium and exclusive colors, as well as over 180 custom colors.
Languages : English, French, German, Spanish, Swedish, Japanese, Russian, Danish, Dutch
AV/Ent. : Optional MYE wireless audio receiver
Optional E3 View embedded HD monitor
Optional iPod/iPhone integration with 30-pin connector. Users can easily charge an iPod or iPhone, listen to music, switch tracks, and control volume.
Connectivity : Made for iPod® Works with iPhone® (optional)
AC Adaptor : N/A
Warranty : Warranty Details:
10 yr - frame
3 yr - parts
1 yr - labor
Order your Cybex 525AT Total Body Arc Trainer with E3 Monitor from FitnessZone.com today!
Customer Ratings & Reviews
Be the first to rate this item!