Cybex 525C Upright Cycle
Product Code: cybex-525c-upright-cycle
Price:
$2,995.00
Need Expert Advice? Our friendly and knowledgeable staff is ready to help you. Call us now at 1-800-875-9145!
Cybex 525C Upright Cycle
The 525C upright bike keeps everyone pedaling in the right direction — whether they want to go full tilt at up to 600 watts resistance or sit back and enjoy the ride. The streamlined 525C features three-piece, forged steel mountainbike cranks for low maintenance. It includes a self tensioning powered drive for easier start-up and smoother operation. One-handed seat adjustment and pedal straps makes it more comfortable for users. The 525C also has traditional racing bars with dual heart rate contacts for heart rate monitoring.
Cybex FIT, an innovative iPad app that interacts directly with your equipment
Cybex quality, sized for your facility
Optional E3 View HD monitor with a 15.6" display
Cybex 525C Upright Cycle Features:
Upgrade their Experience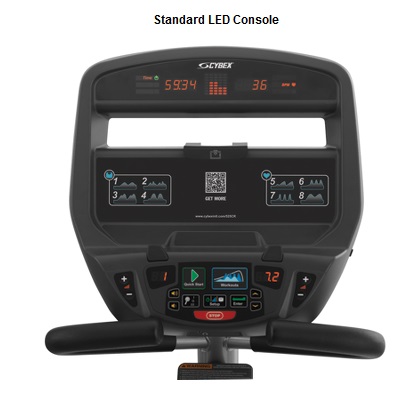 Take your 500 Cardio Series to the next level with Cybex FIT, an innovative iPad app that interacts directly with your equipment, transforming the console into an advanced touchscreen workout display. Users now have access to a full suite of digital features and controls that lets them personalize their workout experience.
User-Friendly Technology
Cybex 525 cardio machines make innovative use of QR codes to provide users with easy access to equipment information and workouts via a mobile device. Guests, employees, and residents can select cardio workouts that best meet their fitness goals. The optional high definition E3 View monitor offers three viewing modes on a 15.6" embedded display.
Pedal Design
Extra-wide double-sided pedal design accommodates any size foot. The easy-to-adjust pull-strap buckle closure gives users the comfort they seek.
Resistance Range
The 525C's wide range of resistance (from 20 to 600 watts) can create a challenging or modest exercise experience. 20 Watts is much lower than most other bikes on the market and is important for de-conditioned users.
Handlebars
Multi-position handlebars allow users to sit in a more upright position or be comfortable in a more aero position with dual-contact heart-rate grips conveniently located for either position.
Seat Engineering
A Cybex proprietary seat was designed by cyclists to provide comfort for the long ride. You need three things: as much surface area as possible for support in the proper areas - while allowing full range of leg motion - while being kind to between the legs.
Front wheels
Because bikes are more mobile than many other exercise machines, they don't stay in the same place all the time. The 525 cycles have wheels on the front for easy rolling so they can be moved around.
Single Stage Drive
The self-tensioning single-stage drive and hybrid eddy-current self-generating brake provides high-torque capabilities with exceptionally-low drag to provide an exceptionally broad resistance range of 20 to 600 watts with superbly smooth operation.
Optional E3 Cardio HDTV

Exercise. Entertainment. Escape.

Everyone approaches exercise differently. Some want every detail of their workout, some would like to add entertainment, and others simply want to escape. The Cybex E3 View embedded monitor with three distinct viewing modes delivers the precise content that you want on a 15.6" high definition screen.

15.6" high definition screen with three viewing modes.
Integrates with the CardioTouch (700 Series) command center eliminating the fumble for typical on-screen controls and allows the user to focus on their workout.
Available on 500, 600, and 700 Series Arc Trainers, treadmills, and exercise bikes.
Cybex 525C Upright Cycle Specifications:
Product Number : 525C
Resistance Range : Minimum - 20 Watts; Maximum - 600 Watts
Modes of Operation : Bike Mode, Constant Power
Resistance Type : Hybrid eddy current brake with brushless internal generator for low drag and high power capability
Drive Type : Single stage drive with self-tensioning idlers for minimal mechanical drag and low maintenance
Dimensions (L x W x H) : 48˝ × 22.5˝ × 65˝ (122 cm × 57 cm × 165 cm)
Machine Weight : 142 lbs. (64.5 kg)
Power : Self-powered
Max User Weight : 400 lbs. (181 kg)
Compliance : ETL Listed to UL1647, ASTM, EN 957, CE Low Voltage Directive, FCC Class B, RoHS
Display : Graphic display of workout profile via 8 × 5 LED; Numeric display of time, calories, revolutions per minute, calories per hour and heart rate including multi-color indication of heart rate range; Lower display shows road speed and resistance level
Connectivity : Optional: Made for iPod®, Works with iPhone®
iPod/iPhone integration with 30-pin connector. Users can easily charge an iPod or iPhone, listen to music, switch tracks, and control volume
Heart Rate Monitoring : Contact Grips and Wireless
Languages : 10 languages (English, French, German, Spanish, Swedish, Japanese, Russian, Danish, Chinese, Dutch)
Convenience features : Tablet / magazine rack, water bottle holder and utility tray
AV/Entertainment : MYE wireless audio receiver; E3 View embedded HD monitor; Cybex Fit app available on the iPad® on the App Store®
Integrated audio/visual controls : Yes
Programming : Quick Start (Manual mode), four weight loss, four cardio; Workouts have 21 levels
Cybex 525C Upright Cycle Warranty:
Residential: Parts - 5 Years, Labor - 3 Years, Frame - 10 Years
Commercial: Parts - 1 Years, Labor - 1 Year, Frame - 10 Years
Order your Cybex 525C Upright Cycle from FitnessZone.com today!
Customer Ratings & Reviews
Be the first to rate this item!