Cybex 770AT Total Body Arc Trainer
Cybex 770AT Total Body Arc Trainer
Product Code: cybex-770at-total-body-arc-trainer
Price:
$6,795.00
Need Expert Advice? Our friendly and knowledgeable staff is ready to help you. Call us now at 1-800-875-9145!
Cybex 770AT Total Body Arc Trainer
A Commercial High End cross trainer created for the most demanding fitness users in the most demanding gym environment. The versatility of the Cybex 770AT Total Body Arc Trainer also makes it the best workout of choice for beginning cross trainers – which allows the fitness center owner to purchase one unit to be used by all.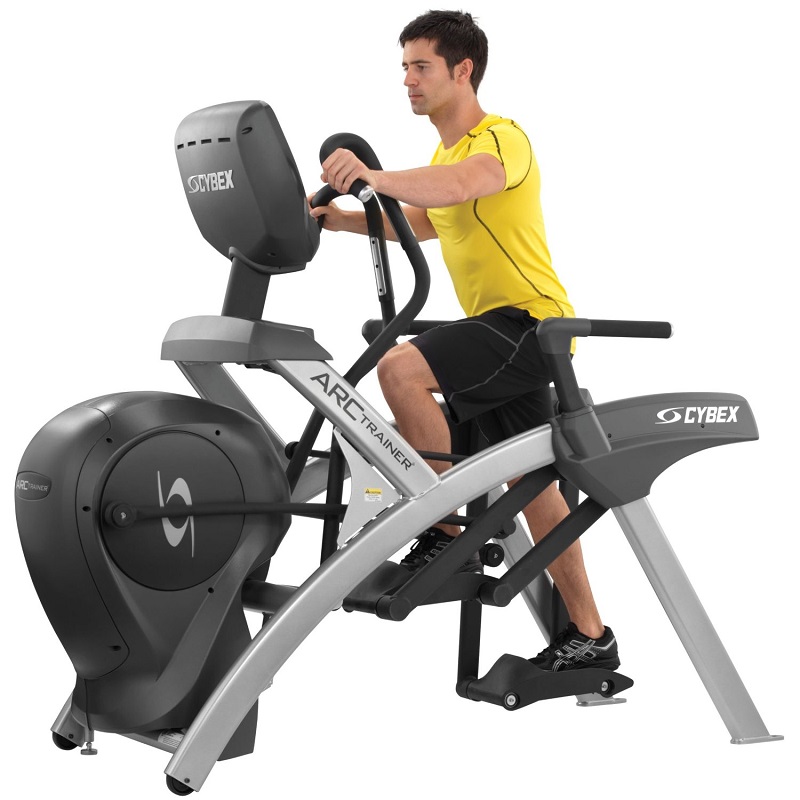 Burn 16% more calories with less kn

ee strain

Optional embedded HDTV entertainment & media with Cybex GO and E3 Cardio HDTV

Train for Power, Strength and Weight Loss on one superior fitness machine
Train for Power, Strength and Weight Loss on one machine.

Featuring Cybex Muscle Map visual motivator

Burn more calories Research shows that the Arc Trainer burns more calories than any other cross trainer or elliptical cross trainer tested.

400 lbs Maximum User Weight

Home Use Warranty: 10-year warranty on frame, 1 year on labor, 3 years on parts
The Total Access Arc Trainer is a three-in-one fitness machine. It can be used as a glider, strider or climber and takes up little space for a full-body trainer. In any mode it delivers rapid results by combining speedy calorie burn, impressive muscle sculpting and a low-impact design that promotes endurance. Heart rate control is included on its list of diverse preset programs.
the Cybex 770AT is a full body arc trainer for use in clubs and home gyms. This popular alternative to elliptical trainers outperforms the competition in terms of power, durability and its ability to torch calories. It can meet the needs of beginners as well as top-level cross trainers.
Compared with an elliptical trainer, a Cybex Arc Trainer can burn about 16% more calories. That's because it supports an arc or crescent-shaped motion instead of an oval motion. The arc motion works your glutes and hamstrings to a greater degree, which explains some of the higher calorie burn. The 770AT also has moving arm bars for added calorie burn and upper-body toning.
Low-impact design is another advantage. Arc Trainers put even less pressure on your knees.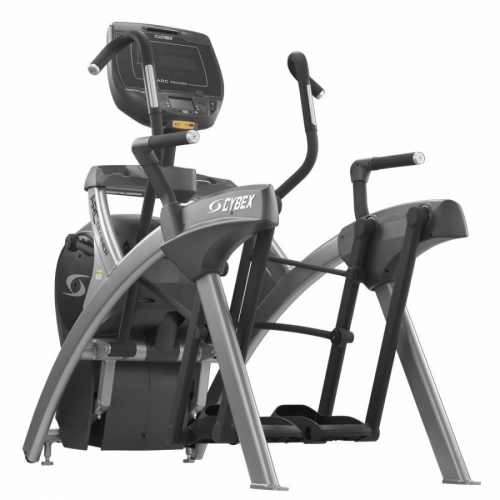 To help you focus on different muscle groups, the 770AT has a wide range of resistance levels and 21 incline choices. At the higher incline levels you can take a stepping motion that works the quads, and lower levels with strong resistance help firm the glutes. Cybex describes its three exercise zones as Glide, Stride and Climb.
Another neat feature is named "load dependent." This means that the Cybex automatically adjusts its resistance for the user's weight. Whether you weigh 100 pounds or 200 pounds, you'll get a perfect workout!
The Cybex 770AT has a 4.3" touchscreen control panel for setting up workouts and entertainment. Also available is a premium 15.6' monitor with three viewing modes: Exercise, Entertainment and Escape.
The touchscreen can be used to control an iPhone or iPad. It supports 10 languages including US English and Canadian English. Workout profiles are graphically displayed on an 8 x 15 LED. The feedback shown are time, distance, calories, calories per hour, METs, watts, strides per minute and heart rate. Heart rate data are shown with a multi-color indication of the range. Also shown are the incline and resistance level.
Preset workouts include the following: quick start, weight loss (3), cardio (2), shaping (2), strength (3), adaptive power, constant power and heart rate control. Heart rate can be monitored wirelessly or with contact grips. Additional workouts (and entertainment) are available with the optional Cybex GO digital platform.
The consoles have convenience features including a magazine rack, water bottle holder, utility tray and two-speed fan.
The 770AT is made in the USA with excellent quality control. It has a 10-year frame warranty, a three year parts warranty and a one year labor warranty.
Burn More Calories
More results in less time. Research shows that the Cybex Arc Trainer burns more calories than any other cross trainer or elliptical cross trainer tested. The science behind the Arc Trainers big calorie burn is the Arc motion. It engages the right muscles quads and glutes that demand lots of energy from the body when they are called upon to work. That means big calorie burn. And because the Arc is demanding of the muscles not the joints, it can be used longer without putting a strain on the knees, hip or back.
THREE MACHINES IN ONE
Train for strength, power, endurance, cardio, and weight loss. The Cybex Arc Trainer offers broad incline and resistance ranges which mean it is really 3 machines in one. At the lower incline levels, the glide is a cross country skier. In the mid-range levels, the motion is a stride (like an elliptical except with proper positioning). At the high levels, the climb of a stepper or climber. Glide, Stride, and Climb. And lots of programs make the Arc Trainer fun to use.
To sum it up versatile, powerful and low-impact, the Cybex 770AT is a top choice for fitness clubs and elite home gyms. It simultaneously trains the upper body and lower body with smooth arc-shaped motion. The adjustable stride supports everything from stairstepping to a 24" glide. This stride versatility combined with a wide range of resistance, 21 incline choices and diverse preset programs can efficiently train everyone from beginners through top athletes.
Call 1-800-875-9145 to speak with one of our fitness advisors with any questions you may have about the Cybex 770AT Total Body Trainer.
Cybex 770AT Total Body Arc Trainer Features
Standard LED Console
Display Features
CardioTouch display offers a touch screen command so users can easily set up a workout.

Innovative Muscle Map displays the intensity of the exercise for individual muscle groups based on the users selection of stride rate, resistance and incline to aid them in precisely targeted results.

Optional E3 View Monitor provides users selectable display of exercise data, TV or video, both or none.

Two speed fan with adjustable venting to keep the user cool.
Load dependent
The Arc is load dependent which means that resistance is scaled to the user's weight. Two exercisers, a man who weighs 230 lbs. and the other a woman who weighs 120 lbs., both get the same workout when they enter the same program levels and their own weight. The perfect workout, and only Cybex has it.
Reverse Arc Movement
This is what makes the Arc an Arc. The unique Reverse Arc motion, a patented advanced stride technology, never places the users toe behind the knee (when the toe moves behind the knee significantly more stress is applied to the knee joint). The Reverse Arc Motion moves legs in a biomechanically correct pathway - reducing stress at the knee while offering a complete range of motion for both the knee and hip.
Same Side Forward
With Same Side Forward (SSF), the arm and leg on the same side move together, so that the relationship with the arm handle and footplate remains the same regardless of incline. This allows the user to always maintain optimal posture during exercise which virtually eliminates stress on the back. Other cross trainers, with arms and legs moving in opposite directions, lack the ability to maintain correct body positioning throughout the incline range.
Muscle Targeting
The wide range of resistance and incline makes the Arc Trainer unique. From the deconditioned to professional athletes, it is right for everyone! Using this broad incline and resistance range, anyone using this product will notice they have the ability to emphasize specific muscle groups, whether at higher incline levels as a stepping motion to work the quads or lower levels of incline with increased resistance to firm up the butt!
Glide, Stride, and Climb Zones
The Arc offers three exercise zones for the ultimate in variety: Low position is for the Glide; Medium position called the Stride and High position for the Climb.
Long Input Arms
The Arc Trainer is equipped with long input arms with a more linear path versus the shorter handles found on other cross trainers. This near linear path minimizes painful wrist articulation allowing you to get a better upper body workout and maintain good posture. Additionally the arms feature forward outboard handles allowing you to push harder with your upper body while opposing lower body muscles are engaged resulting in more muscles working at once and therefore more calories being burned in less time.
Workouts
The 770 Arc Trainers unique workout selections allow the user to select their workout based specifically on their goals. Workouts include two Weight Loss, three Strength, two Shaping, and three Cardio including Heart Rate Control, a well as two Power workouts that include the Arc Trainers unique Adaptive Power mode.
Cybex 770AT Total Body Arc Trainer Specifications
Incline Levels : 21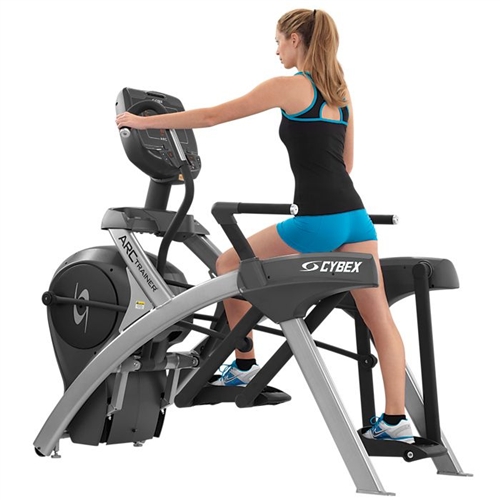 Stride Length : 24 (61 cm)
Resistance Range : up to 900 Watts
Drive type : Two-stage drive
Brake : Brushless Eddy current brake with generator
Dimensions
(L x W x H) : 76 x 37x 62.5 in
196 x 93 x 159 cm
Machine Weight : 404 lbs (183 kg)
Maximum User Weight : 400 lbs (181 kg)
Power : AC Powered: 115V, 208-220V, 230V
Display : 4.3" Touchscreen for Workout and entertainment setup and control
Graphic display of profile via 8 x 15 LED. Numeric display of time distance, calories, calories/hour, METs, watts, strides per minute and heart rate including multi-color indication of heart rate range. Lower display shows incline and resistance level.
Workouts : Quick Start, three Weight Loss, two Cardio, two Shaping, three Strength, as well as Adaptive Power, Constant Power, and Heart Rate Control.
Compliance : ETL listed to UL 1647, FCC Class B, ASTM, EN 957, CE Low Voltage Directive, EMC and ROHS
Convenience Features : Split level display with magazine rack. Water bottle holder, dual utility tray, and dual speed fan.
Heart Rate Monitoring : Contact and wireless. HR light indicator is multi colored with different color light for specific target heart rate zones
Languages : 10 languages (English, French, German, Spanish, Japanese, Russian, Swedish, Danish, Dutch, Canadian English)
Charging : USB port supports charging small, USB-chargeable devices.
AC Adaptor : AC adapted option provides full time display lighting.
Warranty :
10 yr - frame
3 yr - parts
1 yr - labor
Order your Cybex 770AT Total Body Arc Trainer from FitnessZone.com today!
Customer Ratings & Reviews
Be the first to rate this item!