Cybex 770R Recumbent Bike
Cybex 770R Recumbent Bike
Product Code: cybex-770r-recumbent-bike
Price:
$4,395.00
Need Expert Advice? Our friendly and knowledgeable staff is ready to help you. Call us now at 1-800-875-9145!
Cybex 770R Recumbent Bike
The Cybex 770R Recumbent Bike provides distinct and compelling ways to improve your members' fitness experience, whether they choose the 770C to train for a triathlon, or the 770R as they begin their journey to better fitness.
Optional Cybex GO Platform. ENTERTAIN. TRAIN. MAINTAIN.
Superior design. Outstanding quality
Exercise. Entertainment. Escape
One bike – Many workouts
OPTIONAL E3 VIEW HD/CYBEX GO DISPLAY
Optional technology features include embedded MYE wireless audio receiver, E3 View high definition monitor with three viewing modes on a 15.6" embedded display, or Cybex GO. From virtual workout environments to live HD TV, on-demand content, and music videos – Cybex GO has features everyone will enjoy and an intuitive, easy-to-use touchscreen they'll appreciate.
Forget everything you know about cardio equipment and remember the one thing that will keep members coming back – Cybex GO.

This unique platform is designed to give your members the best workout experience possible. From virtual workout environments to live HD TV, on-demand content, and music videos – Cybex GO has features everyone will enjoy and an intuitive, easy-to-use touchscreen they'll appreciate.

Plus, you can bring all these top technologies to their fingertips on the Cybex 700 Cardio Series – our premium line of cardio equipment that blends technology with power and reliability.
ENTERTAIN. TRAIN. MAINTAIN.
Optional Cybex Go Monitor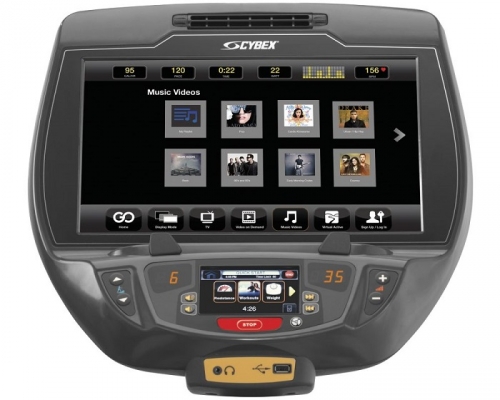 Deliver the ultimate workout experience to your members. From virtual workout environments to live HD TV, on-demand content, and music videos – Cybex GO has features everyone will enjoy and an intuitive, easy-to-use touchscreen they'll appreciate.
Available in North America
A personalized entertainment and exercise-tracking platform

Intuitive, easy-to-use dual touchscreen display

Available on the 700 Cardio Series

Built-in web browser with social media access
Cybex GO offers:
Live broadcast HD TV
On-demand TV shows
Preselected web videos (YouTube channel, Buzzfeed channel, and more)
Movie trailers
On-demand music videos with playlist customization
Virtual Active (no machine control)
Cardio workout tracking
Custom screen branding for the facility
Integration with the Netpulse One platform
Access to Netpulse mobile app* (does not connect directly to the cardio product)




ENTERTAINMENT AT THEIR FINGERTIPS


With hundreds of the latest and classic TV shows, movie trailers, music videos, sports and video game trailers on demand, your members will sail through their workouts with a smile on their face. Plus, to keep them entertained, they can use the touchscreen to quickly and easily create a playlist personalized with their favorite music videos.

TRAIN IN THE SWISS ALPS WITHOUT LEAVING TOWN.

Give your members the ability to train on iconic trails within pristine national parks, jog in some of the country's most beautiful cities or ride through the exotic landscapes of the Swiss Alps, Australia or Italy. Cybex GO's cinema-quality, first person videos will transport your members and transform their workout.
And while Virtual Active™ videos will appeal to their sense of imagination, our workout tracking feature is all about the numbers. Members can easily choose workout goals based on calories burned, duration, or distance covered using the CardioTouch™ display, which offers a single command center for exercise workout selection and equipment control.

Built-in Web Browser
All current Cybex GO customers in North America will receive an automatic update to their Cybex GO system at the beginning of 2016, free of charge. If you have any questions, please contact your Cybex sales representative.

Social Media Channels
A web browser button provides access to leading social media channels (YouTube, Facebook, Pinterest, Instagram, and Twitter) as well as the ability to surf the internet.

Cybex 770R Recumbent Bike Benefits:
SUPERIOR DESIGN. OUTSTANDING QUALITY
The Cybex 770 series bikes provide distinct and compelling ways to improve your members' fitness experience, whether they choose the 770C to train for a triathlon, or the 770R as they begin their journey to better fitness. For those who demand uncompromising performance and results, only the Cybex 770 Series Bikes will satisfy the need.
EXERCISE. ENTERTAINMENT. ESCAPE
Introducing the Cybex optional E3 View embedded monitor with three distinct viewing modes that deliver the precise content that you want on a 15.6" high definition screen. Exercise is more fun with the latest technology from Cybex.
ONE BIKE – MANY WORKOUTS
Ride outside or train for the Tour de France. This is the most unique bike in the industry, with three modes of operation and 9 workouts with 21 levels. Personal trainers love it in Constant Power mode. The Target-Speed bar helps drive the user to an effective training pace. Isokinetic mode is for serious athletic and rehabilitation training. Bike Mode is just like a Sunday afternoon bike ride.
BEGINNER TO OLYMPIAN
The lowest starting level and the highest resistance. For those who never rode a bike before and those who are preparing for the Olympics, the Cybex 770R is the perfect piece of equipment to train on. The most deconditioned user or rehab patient can use it safely because of the low power input requirement (20 Watts) and... it goes up to 900 Watts (to make a grown man cry). This is all possible because of the Cybex selftensioning drive. Belt tension is important because a lot of belt tension is needed to create a high power training tool. But... belt tension creates drag... and drag can drive up heart rate for beginning cyclists. The answer is the Cybex self-tensioning drive.
RUGGED DURABILITY
For low maintenance. With a welded frame made from forged steel, the Cybex 770 bikes have a three-piece heavy-duty mountain bike crank that makes them durable enough for rugged mountain terrain. In a gym setting, this construction translates to low maintenance. And... Cybex engineers even designed the enclosures so that sweat is directed away from the bike mechanism.
REDISCOVER WHAT MATTERS
The 700 Series exercise bikes are the most unique in the industry, offering features and functionality that truly matter.
Cybex 770R Recumbent Bike Features:
Stay Cool
An adjustable, dual-speed fan keeps users cool during the most heated workouts, and longer workouts mean better results. Better results = happier members.
Reaching Goals
The 770R's CardioTouch allows users to set a Time, Distance, or Calorie goal for their workout. Your members will enjoy reaching their goals and personal trainers will appreciate being able to constantly set new goals for clients.
Heart Rate Monitoring
Heart rate can be monitored from either the contact grips or hands free from a wireless heart rate transmitter. See it at a glance with a multi-colored LED that displays a different color for specific target heart rate zones.
Pedal Design
Extra wide double sided pedal design accommodates any size foot. The easy to adjust pull strap buckle closure gives users the comfort they seek.
Resistance Range
The self-tensioning single-stage drive and hybrid eddy-current self-generating brake provide high torque capabilities with exceptionally low drag to provide an exceptionally broad resistance range of 20 to 900 watts with superbly smooth operation. 20 watts is much lower than most other bikes on the market and is important for de-conditioned users. 900 watts "can make a grown man cry" - quote from a veteran cyclist.
Handlebars
Multi-positioned handlebars promote a comfortable hand position along with conveniently placed heart rate grips.
Custom Colors
Why stick with silver grey when you can choose from any of our five standard colors (white, black, platinum sparkle, metaltone gold, black chrome)? Or ... select from over 180 custom colors to match any decor. Only Cybex offers color customization for cardiovascular and strength equipment.
Seat Engineering
A Cybex proprietary seat was designed to maximize surface area and provide comfort for the long ride. The angle between the seat and seat back places the user in the optimal body position for their workout. On a Cybex bike, riders can really work up a sweat so the seat back is designed with holes for optimized ventilation to keep you cool on any length of ride.
Portability
Because bikes are more mobile than many other exercise machines, they don't stay in the same place all the time. The 770 cycles have wheels on the front for easy rolling so they can be moved around.
Cybex 770R Recumbent Bike Specifications:
Product Number : 770R
Resistance Range : Minimum - 20 Watts; Maximum - 900 Watts
Modes of Operation : Modes of operation include Constant Power, Bike Mode and Speed Control (isokinetic)
Resistance Type : Hybrid Eddy current brake with brushless internal generator for low drag and high power capability
Drive Type : Single stage drive with self-tensioning idlers for minimal mechanical drag and low maintenance
Dimensions (L x W x H) : 65" x 25" x 52" (165 x 63.5 x 132 cm)
Machine Weight : 183 lb. (83 kg)
Power : Self-powered, optional AC adapter for full time display
Max User Weight : 400 lbs. (181 kg)
Compliance : FCC Class B, ETL listed to UL 1647, ASTM, CSA, EN 957, CE - Low Voltage, EMC and RoHS Directives
Display : 4.3" Touchscreen for Workout and entertainment setup and control; Graphic display of profile via 8 x 15 LED; Target-Speed display via 2 x 15 LED; Numeric display of time, distance, calories, calories/hour, METs, watts, RPM, and heart rate including multi-color indication of heart rate range. Lower display shows road speed and resistance level.
Connectivity : CSAFE (Fitlinxx® Level 1)
Heart Rate Monitoring : Includes Contact and Wireless capability (chest strap not included). Multi-color heart shaped LED provides color coded feedback of heart rate.
Colors : Choice of seven standard frame colors (Black Chrome, Nightstorm Black, Cumulus White, Platinum Sparkle, Arctic White, Eclipse Black, Metaltone Gold), premium and exclusive colors, as well as over 180 custom colors.
Languages : 9 languages (English, French, German, Spanish, Japanese, Russian, Swedish, Danish, Dutch)
Convenience features : Magazine rack, water bottle and utility tray
AV/Entertainment : Cybex E3 View embedded monitor option, MYE Wireless Entertainment System option
Cybex Go HDTV entertainment system
Charging : USB port supports charging small, USB-chargeable devices
Integrated audio/visual controls : Yes
Programming : Quick Start, four Weight Loss, four Cardio, and Heart Rate Control as well as two Power; Quick Start is facility selectable as "Bike" mode, Constant Power or Speed Control; Weight Loss and Cardio workouts are constant power; Quick Start and Workouts have 21 levels; one Fitness Test
Warranty :
10 yr - frame; 3 yr – parts (including CardioTouch screen); 1 yr - labor; 120 days - cords, inlets, plastic parts, pedal straps, seats, grips; 90 days – Headphone jack
Order your Cybex 770R Recumbent Bike from FitnessZone.com today!
Customer Ratings & Reviews
Be the first to rate this item!