Cybex R Series 70T Total Body Arc Trainer
Call 1-800-875-9145
For Today's Lowest Price!
FREE On Site Assembly!
Cybex R Series 70T Total Body Arc Trainer
Product Code: cybex-r-series-70t-total-body-arc-trainer
Price:
$13,659.00
Need Expert Advice? Our friendly and knowledgeable staff is ready to help you. Call us now at 1-800-875-9145!
Cybex R Series 70T Total Body Arc Trainer
Cybex R Series 70T Total Body Arc Trainer
FitnessZone Is An Authorized Dealer For Cybex Products Nationwide!
The popular alternative motion cardio unit offers extreme efficiency and effectiveness backed by exercise science.
It is ideal for general exercisers, those looking for a challenging HIIT workout, and everything in between.
Moving arms with curved multigrip handles provide a total body workout and added versatility.

21 incline levels allow for a wide range of workouts and the ability to work different muscle groups.

‭Standard internet connection provides detailed equipment use information, exerciser insights and preventive maintenance alerts

. Connection also enables remote equipment monitoring, which allows our knowledgeable technicians

to alert you in the rare case of a problem, often before you know one exists.‬

Two console options. The 70T Console includes integrated TV, touch screen functionality, and an enhanced exerciser experience.

The 50L Console offers simplified interaction and a bright LED display.
The 70T console has a vivid 16" touch screen, integrated TV and exerciser connection through Bluetooth® and NFC. It keeps exercisers entertained and engaged.
Cybex R Series 70T Total Body Arc Trainer FEATURES
INCLINE LEVELS
Incline adjustments allow for workout versatility. Low incline replicates a cross-country skiing type of motion.
Middle inclines have a natural-feeling running motion.
High inclines are similar to stair or hill climbing.
LEVEL PEDALS, LESS STRESS
Both pedals remain level throughout the stride, which minimizes knee stress and ankle motion.
The result is less joint stress than walking.
DOWN AND BACK MOTION
The simple movement of the Arc Trainer makes it easy for exercisers to focus on their pace and power, instead of their leg motion.
DIGITAL FACILITY MANAGEMENT
Halo Fitness Cloud offers one centralized location where fitness facilities can easily manage business operations,
communicate with members, plan and schedule fitness programming and more.
Choose from three plans and three enhancements, depending upon your facility needs.
WORKOUT VARIETY
In addition to Quick Start, users have easy access to six Cybex legacy workouts including Speed Bump, Rollers, and Hill Interval 2
ASSET MANGEMENT
Standard wireless connectivity for asset management through LFconnect.com and LFconnect Protect remote equipment monitoring
WORKOUT TRACKING
QR code enables workout tracking through the LFconnect app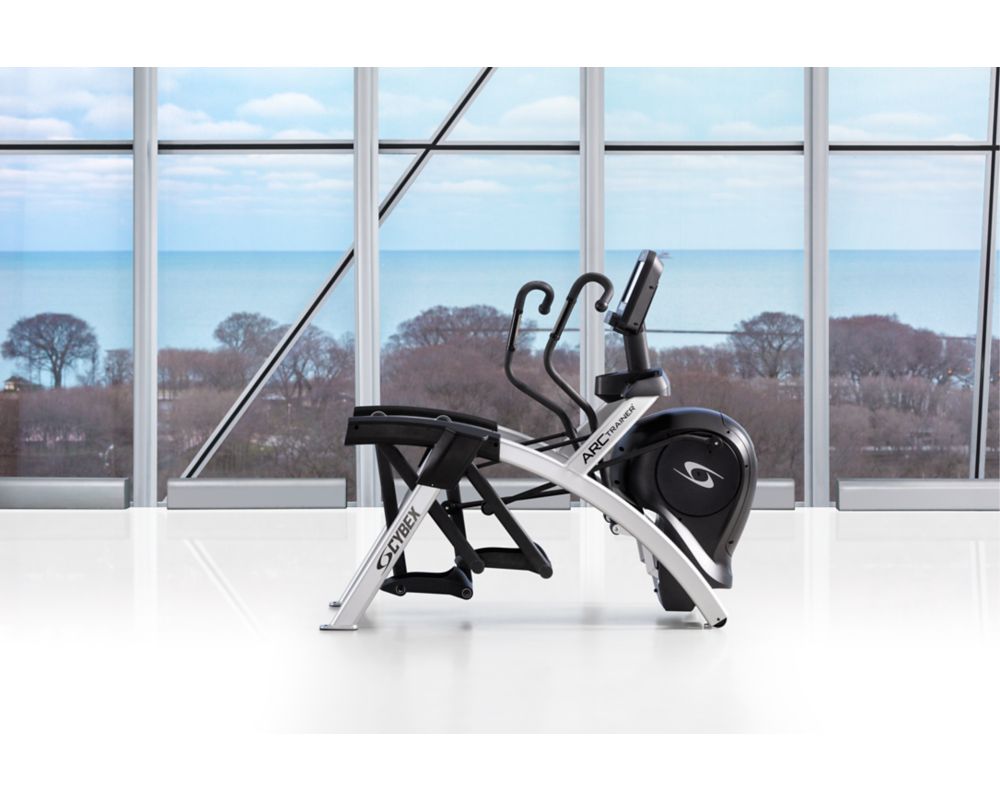 Cybex R Series 70T Total Body Arc Trainer SPECIFICATIONS
Base Options :
Lower body with stationary arms
Upper body with moving arms
Color : Platinum Sparkle
Compliance : TUV CUE certificate to UL1647, CSA C22.2-60335-1, IEC60335-1; EN ISO 20957-1, EN 957-6, FCC Class A (domestic), CE General Product Safety, Low Voltage, EMC and RoHS Directives, ASTM
Dimensions : Length: 77" (195.5cm)
Width: 36.5" (92.5cm)
Height: 60.5" (153.5cm)
Heart Rate Monitoring : Contact handles
Max User Weight : 400 lbs (181 kg)
Power : 120V, 20A or 230V, 10A (varies by country) outlet with dedicated line, neutral, ground wires and dedicated circuit breaker
Cybex R Series 70T Total Body Arc Trainer Warranty :
Mechanical: 3 years
Electrical: 2 years
Labor: 1 year
Customer Ratings & Reviews
Be the first to rate this item!
Related Products