Cybex Total Access 625R Recumbent Bike
Cybex Total Access 625R Recumbent Bike
Product Code: cybex-total-access-625r-recumbent-bike
Price:
$4,895.00
Need Expert Advice? Our friendly and knowledgeable staff is ready to help you. Call us now at 1-800-875-9145!
Cybex Total Access 625R Recumbent Bike
INCLUSIVE FITNESS
Total Access IFI Standards
The 12-piece Total Access line not only meets, but exceeds Inclusive Fitness Initiative (IFI) standards. Providing fitness facilities with a complete cardio and strength solution that accommodates exercisers of all abilities to train in a safe, controlled environment.
Ability over disability.
Accommodates people of all abilities on the same gym floor.
Meet the needs of exercise enthusiasts who have cognitive, sensory or physical impairments.
Cybex Total Access 625R Recumbent Bike Features:
Raised Console Iconography and Color allows easy identification of the main controls both by color, large buttons and text for older users, plus raised iconography for visually impaired users.
Central Height Adjustment for Saddle allows users to adjust saddle height with either hand.
Easy Access Side Handles below seat height for ease of transfer.
Unicam Pedals with Heel Straps prevents users' feet from slipping off pedals.
Raised Iconography on Seat Adjustments. Seat carriage positions have large text and raised iconography numbers for easy and quick seat positioning.
Color Contrasted Handlebar Grips offer ease of identification and support when mounting and dismounting.
Easy Start Up of 20 Watts provides appropriate resistance for any user.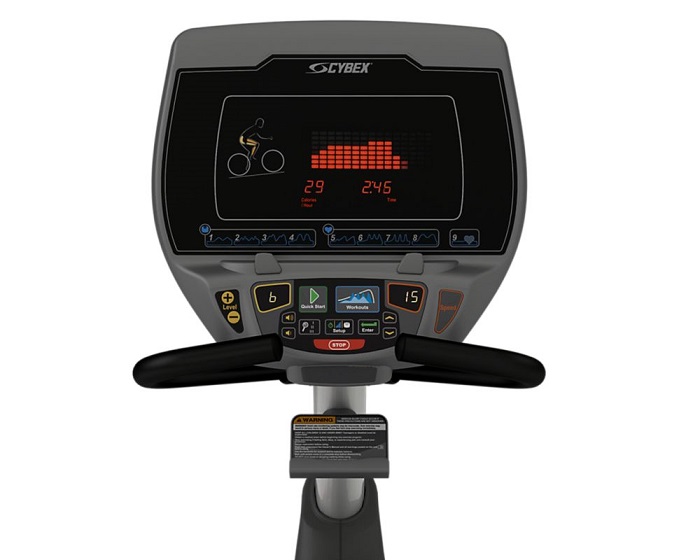 Cybex Total Access 625R Recumbent Bike Specifications:
Product Number : 625R IFI
Resistance Range : 20 900 Watts
Modes of Operation : Constant Power, Bike Mode
Seat Adjustment : Single handed adjustment from seated position.
Dimensions (L × W × H) : 65" × 25" × 52" / 165 cm × 63.5 cm × 132 cm
Display : Graphic display of profile via 8 × 15 LED; Numeric display of time, distance, calories, calories/hour, METs, watts, RPM, and heart rate including multi-color indication of heart rate range. Lower display shows road speed and resistance level.
Workouts : Quick Start (Manual Mode), four Weight Loss, four Cardio, and Heart Rate Control; Quick Start is facility selectable as Bike mode or Constant Power; Weight Loss and Cardio workouts are constant power; Quick Start and Workouts have 21 levels.
Heart Rate Monitoring : Contact Grips and Wireless
Max User Weight : 400 lbs /182 kg
Order your Cybex Total Access 625R Recumbent Bike from FitnessZone.com today!
Customer Ratings & Reviews
Be the first to rate this item!