Cybex Total Access Arc Trainer 625AT
Cybex Total Access Arc Trainer 625AT
Product Code: cybex-total-access-arc-trainer
Price:
$8,195.00
Financing Solutions from

Once Approved Call Us To Place The Order!
Need Expert Advice? Our friendly and knowledgeable staff is ready to help you. Call us now at 1-800-875-9145!
Cybex Total Access Arc Trainer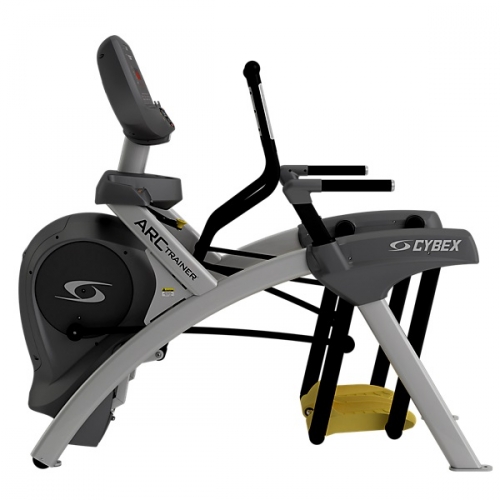 625AT
Cross training refers to working various parts of the body by combining different exercises in a variety of ways. Typically one activity or sport trains certain parts of the body but not others. Cross training aims to eliminate this. Cross trainers are generally non-impact machines sometimes called ellipticals which refers to a specific motion.
Cybex Total Access Arc Trainer Features:
Locking Mechanism for Foot Pedals provides complete stability for users when stepping on and off the equipment.
Static Side Handles offer added stability when mounting, dismounting and exercising.
Raised Console Iconography and Color allows easy identification of the main controls both by color, large buttons and text for older users, plus raised iconography for visually impaired users.
Large Color Contrasted Foot Pedals ensure easy identification when mounting and dismounting.
Easy Start Up of 15 Watts provides appropriate resistance for any user.
Cybex Total Access Arc Trainer Specifications:
Product Number : 625AT IFI
Resistance Range : Up to 900 Watts
Incline Levels : 21
Stride Length : 24˝ / 61 cm
Dimensions (L × W × H) : 76˝ × 32˝ × 62.5˝ / 193 cm × 81 cm × 159 cm
Display : Graphic display of profile via 8 × 15 LED; Numeric display of time distance, calories, calories/hour, METs, watts, strides/minute and heart rate including multi-color indication of heartrate range; Lower display shows incline and resistance level
Workouts : Quick Start (Manual Mode), three Weight Loss, three Cardio, two Strength and Heart Rate Control; workouts have 10 levels and control both incline and resistance
Heart Rate Monitoring : Wireless and Contact Grips
Max User Weight : 400 lbs / 182 kg
Power : Self powered, optional AC adapter for full time display
Compliance : ETL listed to UL1647, ASTM, EN 957, and CSA; FCC Class B,CE Low Voltage Directive, EMC and ROHS Directives
Order your Cybex Total Access Arc Trainer from FitnessZone.com today!
Customer Ratings & Reviews
Be the first to rate this item!