Cybex VR1 Arm Curl Cable-Based
Cybex VR1 Arm Curl Cable-Based
Product Code: cybex-vr1-arm-curl-cable-based
Price:
$2,925.00
Need Expert Advice? Our friendly and knowledgeable staff is ready to help you. Call us now at 1-800-875-9145!
Cybex VR1 Arm Curl Cable-Based
VALUE COMMERCIAL
VR1 Arm Curl Cable-Based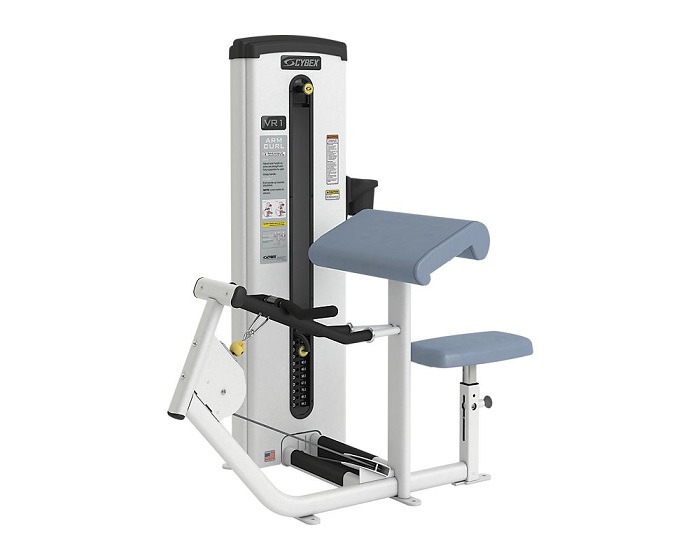 Cybex VR1 Arm Curl Cable-Based is a value-engineered line designed for the things you need most. With its extraordinarily small foot print, elegant and inviting design that is exceptionally easy to use, VR1 is the ideal solution for your facility and member needs.
Brawny … with a slim silouette.
Sit & Go easy adjustments make strength training as simple as it can be.
Fits the space and budget of a wide range of facilities.
The Cybex VR1 Arm Curl Cable-Based is engineered for value. With its streamlined, space-saving design, this sturdy Cybex VR1 Arm Curl Traditional machine offers a comprehensive strength training solution regardless of your facility's size.
Auto adjusting: The input arm adjusts automatically to accommodate varying forearm lengths.
Reduced wrist stress: The hand grips are optimally positioned to minimize wrist stress.
Ideal for begginers and de-conditioned users: The VR1 Arm Curl offers a machine-defined path of motion which makes it ideal for beginners, seniors and for use in express circuits.
Lighten the load: The counter-balanced take-off weight is a Cybex engineered feature that counter-balances the additional weight of the pressing arm assembly so that the user is lifting only the actual weight selected.
Cybex VR1 Arm Curl Cable-Based Features:
EASY TO USE
The intuitive design of the VR1 cable-based arm curl makes it an easy machine to use — sit down, reach over the arm pad, grab the bar, and pull. Because it is cable-based, it requires no axis of rotation alignment.
MORE VARIETY
A rotating cambered handle provides barbell and reverse grip positions which allows users to add an extra dimension to bicep and forearm training.
STABILIZATION
Stabilization is enhanced with the large angled pad that supports the full length of the upper arm to eliminate unwanted shoulder movement. The seat height is adjustable which puts the shoulder in the proper position relative to the pad for proper and safe lifting.
Cybex VR1 Arm Curl Cable-Based Specifications:
Product Number : 13070
Dimensions : 54" L x 39" W x 62" H
138 cm L x 100 cm W x 157 cm H
Machine Weight w/ Standard Stack : 344 lbs. (156 kg)
Standard Stack : 145 lbs. (66 kg)
Machine Weight w/ Light Stack : 299 lbs. (136 kg)
Light Stack : 100 lbs. (45 kg)
Order your Cybex VR1 Arm Curl Cable-Based from FitnessZone.com today!
Customer Ratings & Reviews
Be the first to rate this item!