Cybex VR1 Glute
Product Code: cybex-vr1-glute
Price:
$3,795.00
Need Expert Advice? Our friendly and knowledgeable staff is ready to help you. Call us now at 1-800-875-9145!
Cybex VR1 Glute
VALUE COMMERCIAL
VR1 Glute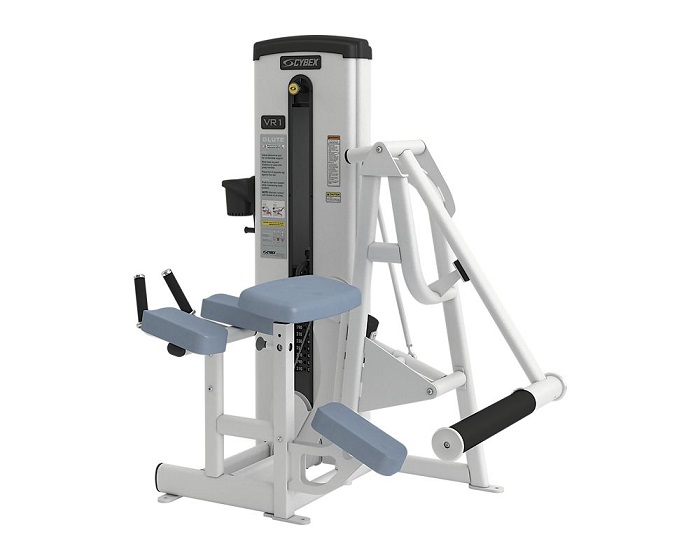 Cybex VR1 Glute is a value-engineered line designed for the things you need most. With its extraordinarily small foot print, elegant and inviting design that is exceptionally easy to use, VR1 is the ideal solution for your facility and member needs.
Brawny … with a slim silouette.
Sit & Go easy adjustments make strength training as simple as it can be.
Fits the space and budget of a wide range of facilities.
Cybex VR1 Glute Features:
CONCENTRATES ON THE BUTT
The curvilinear movement encourages gluteal involvement without requiring the user to align the hip joint. It also provides knee extension which is required to eliminate hamstring cramping and allow full gluteal training.
REDUCED STRESS ON THE BACK
The adjustable abdominal support pad ensures that the user maintains correct posture and does not put undue stress on the back.
It is also available with a gas spring assist for easy adjustment.
EASY ON—EASY OFF
The foot bar is pre-positioned to minimize set-up time for easy-on – easy-off. It also accommodates a broad array of user heights.
SMALLER FOOTPRINT
VR1 has a unique counterweight design which minimizes the footprint while providing an uncluttered look.
Cybex VR1 Glute Specifications:
Product Number : 13170
Dimensions : 50" L x 40" W x 62" H
127 cm L x 101 cm W x 157 cm H
Machine Weight w/ Standard Stack : 508 lbs. (231 kg)
Standard Stack : 220 lbs (100 KG)
Machine Weight w/ Light Stack : 438 lbs. (199 kg)
Light Stack : 150 lbs (68 KG)
Order your Cybex VR1 Glute from FitnessZone.com today!
Customer Ratings & Reviews
Be the first to rate this item!