Cybex VR1 Lat Pull
Product Code: cybex-vr1-lat-pull
Price:
$3,395.00
Need Expert Advice? Our friendly and knowledgeable staff is ready to help you. Call us now at 1-800-875-9145!
Cybex VR1 Lat Pull
VALUE COMMERCIAL
VR1 Lat Pull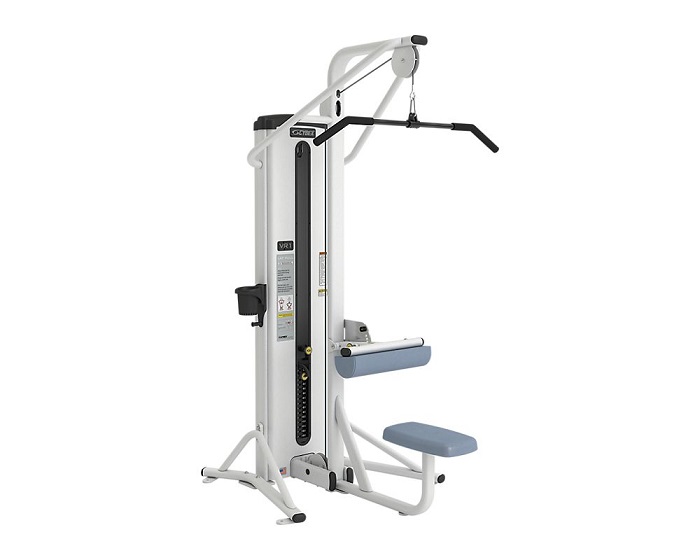 Cybex VR1 Lat Pull is a value-engineered line designed for the things you need most. With its extraordinarily small foot print, elegant and inviting design that is exceptionally easy to use, VR1 is the ideal solution for your facility and member needs.
Brawny … with a slim silouette.
Sit & Go easy adjustments make strength training as simple as it can be.
Fits the space and budget of a wide range of facilities.
Cybex VR1 Lat Pull Features:
CYBEX COMPLEMENTARY
The VR1 lat pull is the traditional lat pull that most facilities want to offer their users. It offers exercise variety and appeals to those who favor a more familiar movement. It is designed to serve as a middle ground between the Pulldown and the Jungle Gym.
IMPROVES FORM
The pulley has been carefully located at the front of the machine which encourages correct form for the lat pulldown movement.
FOR HEAVY LIFTING
Thigh pads are what keeps you in the seat when using more weight in the lat pull exercise. The adjustability of the thigh pads in VR1 means that users with varying leg lengths are accommodated and the machine works for veteran strength trainers as well as beginners.
Cybex VR1 Lat Pull Specifications:
Product Number : 13130
Dimensions : 60" L x 43" W x 89" H
153 cm L x 110 cm W x 226 cm H
Machine Weight w/ Standard Stack : 497 lbs. (226 kg)
Standard Stack : 220 lbs. (100 kg)
Machine Weight w/ Light Stack : 427 lbs. (194 kg)
Light Stack : 150 lbs. (68 kg)
Order your Cybex VR1 Lat Pull from FitnessZone.com today!
Customer Ratings & Reviews
Be the first to rate this item!