FreeMotion c 11.4 Exercise Bike
FreeMotion c 11.4 Exercise Bike
Product Code: freemotion-c-11-4-exercise-bike
Price:
$3,200.00

Need Expert Advice? Our friendly and knowledgeable staff is ready to help you. Call us now at 1-800-875-9145!
FreeMotion c 11.4 Exercise Bike
Enjoy advanced comfort technology and a powerful cardio workout with the FreeMotion c11.4, FMEX82410, exercise bike. Featuring a 10" full-color touch screen and web browser, this exercise bike delivers incredible motivation. And, with iFit Live™ Technology built-in, you can enjoy workouts Powered by Google Maps™, training with Jillian Michaels, competitions with friends and family and easy, online tracking–all from the convenience of your living room! Plus, customize your workout with 9 built-in workouts. With the FreeMotion c11.4, FMEX82410, exercise bike, you'll get a comfortable, powerful workout for incredible results.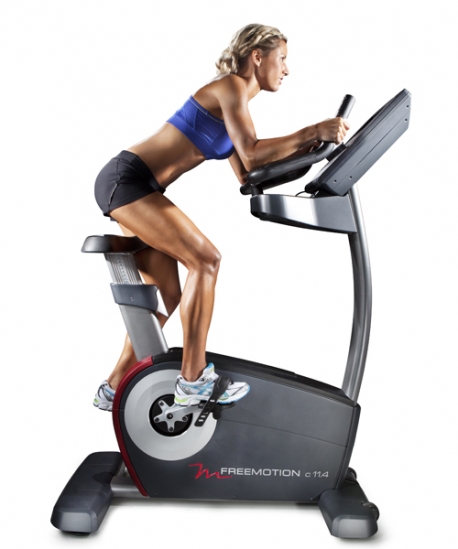 Don't wait to get on the road to stronger and healthier body, Call 1-800-875-9145 to chat with one of our friendly agents at FitnessZone to order the FreeMotion c11.4, FMEX82410, or Order your FreeMotion c11.4, FMEX82410, from FitnessZone.com today and take your workout to new heights!
FreeMotion c 11.4 Exercise Bike
SKU: FMEX82410
FreeMotion c11.4 Exercise Bike Features
SKU:

FMEX82410
+ 1-Step™ Resistance Controls
Transform your workouts into progressive training with 20 digital resistance levels. A quick adjustment adds intensity to your workout for faster results! Plus, each adjustment is smooth and natural with SMR™ Silent Magnetic Resistance.
+ Large, Self-Leveling Pedals
These articulating pedals keep your feet level, reducing ankle rotation and making your workout more comfortable. Plus you can adjust the fitting to make sure your feet stay securely on the pedals while exercising, letting you focus on working out!
+ QuickLift™ Seat
For easy, secure seat adjustments, users simply lift the lever and the telescoping seat rises automatically to meet the desired height. To lower the seat, simply lift the lever and press down. Twenty-six positions are available to customize a workout experience for users of all shapes and sizes.
+ Quiet Belt Drive System
Featuring a self-tensioning, precision Flexonic® belt, the drive system requires no idler pulley. There's less maintenance, a smoother pedal motion and a dramatic noise reduction.
+ 10"" Full-Color Touch Screen with Browser Powered by Android™
Your entertainment options are virtually limitless with this luxurious, 10" touch screen. Connect to your home's wireless network to research the latest in fitness, read news, catch up on email, watch sports highlights, get on Facebook® and more.
+ iFit Live® Technology Built-In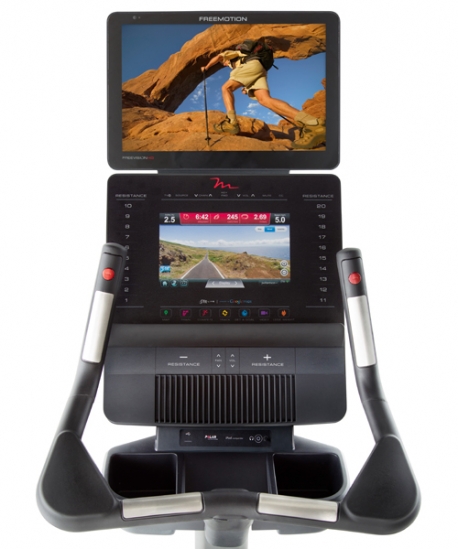 Incredible training and technology combine with iFit Live™ Technology built-in to the c 11.4 Exercise Bike. Featuring workouts Powered by Google Maps™, training with Jillian Michaels and personalized, goal-specific programs, this wireless technology is the ultimate workout experience! Resistance controls automatically adjust to match terrain and maximize results. Now, users can customize their own fitness program, receive automatic workout downloads and manage their profile online.
Google and Google Maps are registered trademarks of Google, Inc.
+ 3-Piece Crank
Enjoy a smoother, more comfortable ride. Separating the spindle from the crank creates a stronger, more durable design and a more realistic biking experience.
+ Dual-Grip Heart Rate Monitor Compatible with Polar® Wireless Chest Strap*
Forever change the way you work out with heart rate training! Two hand-grip heart rate sensors are conveniently built-in to the bike's handlebars so you stay in the right training zone for maximum results. Plus, the c 11.4 Exercise Bike is compatible with the Polar® Wireless Chest Strap so you can get a continuous reading throughout your workout.
*Wireless chest strap not included.
+ Built-In Wireless Controls
Connect each machine wirelessly to Cardio Theater and Broadcastvision™ Entertainment. Built-in compatibility eliminates the need for other hardware or wires.
+ 9 Workout Apps
Enjoy health club-quality training at home with 9 built-in workout apps. Designed by a Certified Personal Trainer, each app has a preset time, distance and resistance so all you have to do is press start! You'll target your quads, calves and core for maximum calorie burn and increased performance.
+ Set-a-Goal Workout Center
In addition to the pre-programmed workouts, this exercise bike helps you set your own goals. Use the console controls to set your desired workout time, distance and calorie burn goal. The program will automatically calculate a workout just for you!
+ Entertainment Charging Station
Charge an iPod®**, MP3 Player or phone during any workout with this convenient charging station.
**iPod is a trademark of Apple, Inc., registered in the US and other countries. iPod® not included.
+ CoolAire™ Workout Fan
Keep cool during your workout with a sophisticated fan built right into the console. Just like the AC in your car, this fan allows you to quickly adjust the settings so you stay comfortable and refreshed.
FreeMotion c 11.4 Exercise Bike Specifications: Model# FMEX82410
| | |
| --- | --- |
| Transport Wheels | Adapted for home use, the commercial-quality c 11.4 Exercise Bike moves easily from room to room with convenient, built-in transport wheels. |
| 400 lb. Weight Capacity | Accommodating up to 400 lbs., this commercial-grade exercise bike is built for strength and durability. |
| | |
FreeMotion c 11.4 Warranty:
The c 11.4 Exercise Bike is backed by a Lifetime Frame Warranty and a 3-Year Parts & Labor Warranty.
Order your FreeMotion c 11.4, FMEX82410, Exercise Bike from FitnessZone.com today!
Customer Ratings & Reviews
Be the first to rate this item!