FreeMotion Gensis DS Ab/Bicep F501
FreeMotion Gensis DS Ab/Bicep F501
Product Code: freemotion-gensis-ds-ab-bicep-f501
Price:
$3,995.00

Need Expert Advice? Our friendly and knowledgeable staff is ready to help you. Call us now at 1-800-875-9145!
FreeMotion Gensis DS Ab/Bicep F501
The FreeMotion Gensis DS Ab/Bicep F501 combines the strength training benefits of bicep training and abdominal training in one dynamic machine. The Ab-Bicep utilizes cable-based training with
aluminum swivel pulleys to target different muscles in the core, upper, lower and oblique abdominal, arm and shoulder regions.
The new sturdy and stable design of the FreeMotion Gensis DS Ab/Bicep F501 lets you exercise virtually every major muscle group in your body. Interchangeable cable handles provide an unlimited number of possibilities for all experience levels, and the extra wide and tall mainframe provides you with easy access to an endless array of high and low pulley exercises.
When it's time to extend yourself and stretch the limits of your optimum workout, the FreeMotion Gensis DS Ab/Bicep F501 will be pulling for you to achieve your goals.
Core stability training can lead to improved balance, coordination and stability. By efficiently working your body's stabilizer muscles though a limitless number of exercises, the F500 offers strength-building results to users of all sizes.

Unrestricted multiple planes of motion approximate the muscle activity required for many of the activities you do in everyday life. The F501 features ergonomically designed adjustments and interchangeable cable handles engineered to put hundreds of strength-building exercises within your grasp.

With a space-saving footprint the FreeMotion Gensis DS Ab/Bicep F501 isolates an unbeatable value in today's advanced fitness market.
This machine provides the ultimate fitness experience that will take you to a new level of workout motivation. The FreeMotion Gensis DS Ab/Bicep F501 will allow you to strengthen every part of your body for the way you want to live. All you have to do is call 1-800-875-9145 to chat with one of our agents with any questions you may have. Get Motivated go to FitnessZone.com to order your Gensis DS Ab/Bicep F501 and get where you want to be Faster, Bigger and Stronger!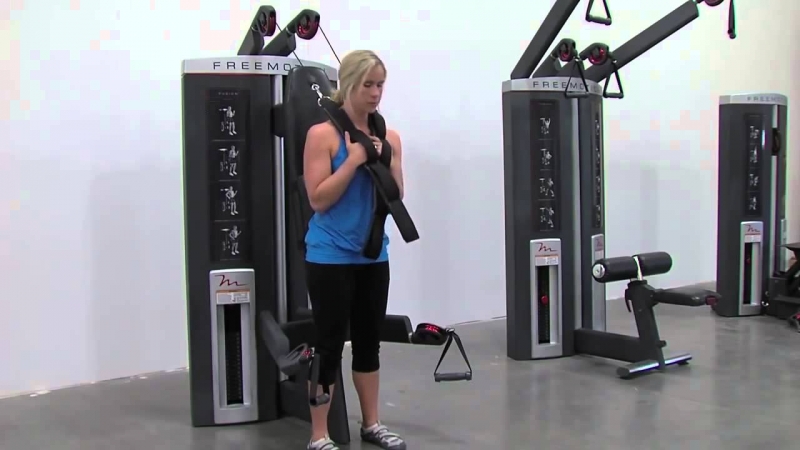 FreeMotion Gensis DS Ab/Bicep F501 Specifications
Length:

48"

(122 cm)
Width:

36"

(91 cm)
Height:

73"

(185 cm)
Weight:

540lbs

(245 kgs)
FreeMotion Gensis DS Ab/Bicep F501 Features

+ Multiple Abdominal Crunch/Bicep Curl Options

Engage your abdominals and biceps in a variety of workout options including basic and oblique crunches, core rotation, and pronated, supinated and hammer bicep curls.
+ Aluminum Swivel Pulleys

Because the pulleys swivel, it allows the user to target specific muscles and recruit the muscles being used to stabilize and balance the body.
+ Independent Arm Movement

Handles move independently for a wide variety of exercises that target your abdominal and bicep muscles.
+ Cable Travel

Extensive cable travel allows for a full exercise flexion of 72 inches per arm (183 cm).
+ Two Enclosed 180 lb. Weight Stacks

Limits access to moving parts for user safety.
+ Industrial Construction

Equipment is built with 11- and 7-gauge steel tubing and is electrostatically powder-coated with paint that has undergone 2,000 hours of salt spray testing.
+ ADA Compliant

Compliant with the Americans with Disabilities Act for wheelchair accessibility.
+ Weight Capacity

Built to last, the FreeMotion Ab-Bicep press can accommodate up to 400 lbs.
FreeMotion Gensis DS Ab/Bicep F501 Warranty

10-Year Frame, 3-Year Parts, 1-Year Cables and Labor, 120-Day Other
Order your FreeMotion Gensis DS Ab/Bicep F501 from FitnessZone.com today!
Customer Ratings & Reviews
Be the first to rate this item!