Golden Designs 3-Person Dynamic Far Infrared Sauna -DYN-6315-01
Golden Designs 3-Person Dynamic Far Infrared Sauna -DYN-6315-01
Product Code: golden-designs-3-person-dynamic-sauna-dyn-6315-01
Price:
$2,499.00
Need Expert Advice? Our friendly and knowledgeable staff is ready to help you. Call us now at 1-800-875-9145!
Golden Designs 3-Person Dynamic Far Infrared Sauna - Florence Edition

Model# DYN-6315-01 - LOW EMF
The Golden Designs Dynamic Low EMF Far Infrared Sauna, DYN-6315-01, creates an environment that allows radiant heat energy to be absorbed into the human body. And in doing so, it promotes a host of revolutionary benefits that heal the body in a way unlike the traditional sauna.
There are a number of remarkable health benefits attributed to radiant heat. The deep tissue warmth relaxes sore muscles, reduces stiffness, and relieves joint pain, specifically the kind of chronic pain associated with arthritis. In addition, the infrared radiant heat promotes a variety of health remedies including weight loss and improving skin conditions such as eczema, psoriasis, cellulite, and acne. Furthermore, this type of dry heat stimulates detoxification by allowing your body to discharge acid and waste residues like toxins, sodium, alcohol, nicotine, cholesterol, and potentially carcinogenic heavy metals, especially zinc, lead, nickel, and cadmium through the natural cooling process of perspiring.
These health benefits are obtained within a tranquil environment that does not hinder those with respiratory issues or physical limitations. With infrared saunas, the temperatures are lower and more tolerable than the traditional sauna, adding to the comfort and relaxation.
Call 1-800-875-9145 to speak with one of our fitness advisors with any questions you may have about our Golden Designs Dynamic Far Infrared Sauna DYN-6315-01.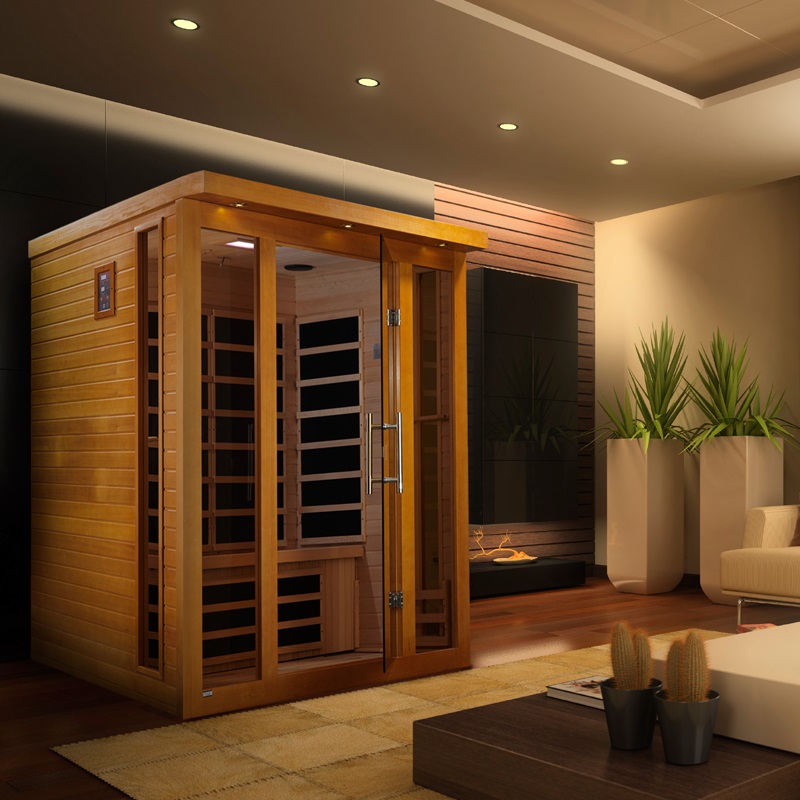 Golden Designs 3-Person Dynamic Far Infrared Sauna -DYN-6315-01 Features
3 Person capacity
Exterior dimensions (WDH): 63″ x 45″ x 75″ (roof overhang: add 5.2″)
Interior dimensions (WDH): 58″ x 41″ x 71″
MP3 auxiliary connection
Interior and exterior LED control panel
Natural hemlock wood construction
Electrical service: 120V/20amp (consult a certified electrician)
Clasp together assembly
8 Carbon heating elements
Tempered glass door
Interior reading/chromotherapy lighting system
Exterior accent lighting
Roof vent
Sauna weight: 400 lbs.
Shipping weight: 505 lbs.
Ships in 3 boxes
Order your Golden Designs 3-Person Dynamic Far Infrared Sauna -DYN-6315-01 from FitnessZone.com today!
Customer Ratings & Reviews
Be the first to rate this item!