Golden Designs 2-Person Dynamic Far Infrared Sauna -DYN-6106-01
Golden Designs 2-Person Dynamic Far Infrared Sauna -DYN-6106-01
Product Code: golden-designs-dynamic-infrared-sauna-dyn-6106-01
Price:
$1,999.00
Need Expert Advice? Our friendly and knowledgeable staff is ready to help you. Call us now at 1-800-875-9145!
Golden Designs 2-Person Dynamic Far Infrared Sauna - Barcelona Edition
Model# DYN-6106-01 - LOW EMF

The Golden Designs Dynamic Low EMF Far Infrared Sauna, DYN-6106-01, creates an environment that allows radiant heat energy to be absorbed into the human body. And in doing so, it promotes a host of revolutionary benefits that heal the body in a way unlike the traditional sauna.
There are a number of remarkable health benefits attributed to radiant heat. The deep tissue warmth relaxes sore muscles, reduces stiffness, and relieves joint pain, specifically the kind of chronic pain associated with arthritis. In addition, the infrared radiant heat promotes a variety of health remedies including weight loss and improving skin conditions such as eczema, psoriasis, cellulite, and acne. Furthermore, this type of dry heat stimulates detoxification by allowing your body to discharge acid and waste residues like toxins, sodium, alcohol, nicotine, cholesterol, and potentially carcinogenic heavy metals, especially zinc, lead, nickel, and cadmium through the natural cooling process of perspiring.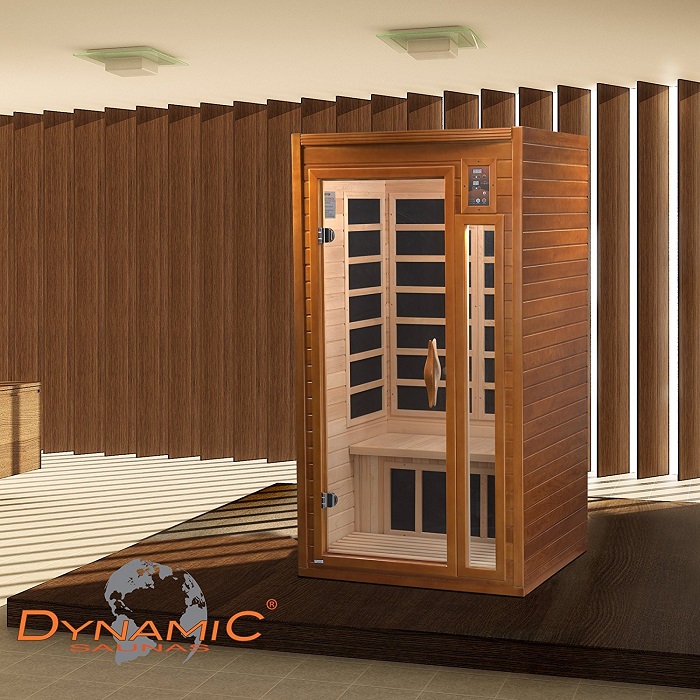 These health benefits are obtained within a tranquil environment that does not hinder those with respiratory issues or physical limitations. With infrared saunas, the temperatures are lower and more tolerable than the traditional sauna, adding to the comfort and relaxation.
Using the DYN-6106-01 model infrared sauna is easier than you think. There are simple guidelines you can follow to increase overall beneficial results from your sauna sessions. As you become more familiar and comfortable with your infrared sauna, you can adjust these guidelines to fit your personal needs. Always remember to drink plenty of fluids prior to, during, and after your sauna session. Begin by preheating your infrared sauna to a desired temperature. This can take anywhere from 20 to 30 minutes depending on the size of your sauna and the ambient temperature. The most common temperatures for beginners will be in the range of 110° F to 118° F. Experiment within this range to find what is comfortable for you.
While you are waiting for your sauna to preheat, there are a few ways you can prepare for your sauna session. Taking a warm bath/shower or doing some light physical exercises will prepare your body for the sauna session. These activities will shorten the amount of time it will take for your body to begin perspiring once you enter the sauna.
Now you are ready to begin your session. Start with one or two sauna session(s) per week. When entering the sauna, wear as little clothing as possible. Infrared rays have difficulty penetrating clothing. Take at least two towels inside the sauna with you, one to sit on and the other to wipe away perspiration. Adjust the timer to reflect a 15 to 20 minute session. Gradually, you can increase this time with future sessions.
Use your session to relax, meditate, and escape from your everyday stress. Enjoy the benefits of your infrared sauna as you detox your body through perspiration. Massage areas of the body that ache to relieve sore and tense muscles. From time to time, wipe off the excess perspiration to allow for more intense sweating. If at any time you feel dizzy, sleepy, or any discomfort, exit the sauna immediately.
After your sauna session is over, turn the power off and sit in the sauna with the door opened slightly for about 10 minutes and let your body cool down. Although the sauna heat emitters are turned off, your body will still continue to perspire. Once your body has cooled down, you can exit the sauna. Wait at least 20 minutes before taking a warm shower to rinse the perspiration from your body.
Dynamic Saunas brings longevity and healthy living to the privacy of your home. Dynamic Saunas modern technology and energy efficiency in Bio-Ceramic heaters allow beneficial penetrating infrared waves to penetrate your skin to help your body remove toxins, increase blood circulation, ease pain from sore muscles or aching joints, burn calories and improve skin tone. Imagine life without having to join expensive clubs to receive the same benefits in the privacy of your own home.Dynamic Saunas are constructed with the environment in mind which accounts for our efforts in using Reforested Canadian Hemlock wood. Our sauna walls are double paneled constructed with the thickest interior and exterior wood planks compared to others in the same industry. This all translates to a quality sauna that retains heat more efficiently, heats up faster and wastes less energy. The Dynamic Saunas 1-2 Person model offers 4 modern infrared Bio-Ceramic heaters that produce a more direct distribution of heat. Allowing the most beneficial and direct infrared therapy. Unlike the traditional rock and water saunas which heat at or over 200F and does not penetrate your skin. Dynamic Saunas operates at a much lower and safer 130F. In fact the Dynamic Saunas is most effective at 120F. This allows you to enjoy the sauna longer and increase sauna enjoyment as well as maximize all the health benefits. Dynamic Saunas 1-2 person sauna is designed for ease of use and is an outstanding value. Assembly is a snap and takes about 45 minutes. Enjoy the convenience of operating a Dynamic Saunas with our dual control panel and LED display. The sauna plugs into any dedicated 15 amp 110 volt outlet so no special wiring is required. Enjoy your sauna session with your favorite music through the sauna's MP3 aux connection with speakers. The sauna may be installed on carpet. In fact you can locate your Dynamic Sauna at any indoor location including basements, the garage, master bath or walk in closet.
Benefits of using the Golden Designs DYN-6106-01 Dynamic Far Infrared Sauna are:
Detoxification. One of the ways the body flushes out toxins is by expelling sweat. ...

Improving Circulation. When heat comes into contact with muscle fibers, it increases blood flow to the muscles. ...

Stronger Immune System. ...

Weight Loss. ...

Stress Relief. ...

Better Sleep. ...

Pain Relief. ...

Skin Cleansing.
Call 1-800-875-9145 to speak with one of our fitness advisors with any questions you may have about our Golden Designs Dynamic Far Infrared Sauna DYN-6106-01
Golden Designs 2-Person Dynamic Far Infrared Sauna

Barcelona Edition

Model# DYN-6106-01 - LOW EMF
Golden Designs 2-Person Dynamic Far Infrared Sauna -DYN-6106-01 Features
1-2 Person capacity
Exterior dimensions (WDH): 39″ x 36″ x 73″ (roof overhang: add 2″)
Interior dimensions (WDH): 36″ x 32″ x 67″
MP3 auxiliary connection
Interior and exterior LED control panel
Natural hemlock wood construction
Electrical service: 120V/15amp
Clasp together assembly
6 Carbon heating elements
Tempered glass door
Interior reading/chromotherapy lighting system
Roof vent
Sauna weight: 250 lbs.
Shipping weight: 295 lbs.
Ships in 1 box
Order your Golden Designs 2-PersonDynamic Far Infrared Sauna -DYN-6106-01 from FitnessZone.com today!
Customer Ratings & Reviews
Be the first to rate this item!