Horizon Elite U7 Upright Cycle with ViaFit
Horizon Elite U7 Upright Cycle with ViaFit
Product Code: horizon-elite-u7-upright-cycle-viafit
Price:
$829.00

Need Expert Advice? Our friendly and knowledgeable staff is ready to help you. Call us now at 1-800-875-9145!
Horizon Elite U7 Upright Cycle with ViaFit
The Horizon Elite U7 Upright Stationary Bike is a smooth-running fitness machine with a good warranty. Its most appealing feature is compatibility with Passport Player, which costs extra, but the bike is a good value nonetheless. Its built-in programs can guide riders through weight loss and weight maintenance, cardio training and sculpting the lower body.
You can ride hard and smart when you have a sturdy bike with performance features. The Elite U7 upright exercise bike has a heavy-duty frame that remains stable at any speed, and the heavy flywheel keeps your pedal stroke smooth.
The smooth, quiet pedal stroke comes from the magnetic resistance brake system and heavy flywheel

Find a perfect fit with the highly adjustable seat

Meet your calorie goals with ViaFit, which automatically feeds your workouts into popular tracking and fitness apps

Get the results you want by training smarter, not harder, with the wireless heart rate receiver and contact grips

Passport compatibility expands entertainment options
Contact heart rate grips and Polar wireless receiver help you maintain your effort level and get the results you desire

Smooth, quiet pedal stroke due to magnetic resistance brake system

ViaFit connectivity simplifies workout tracking

Adjustable seat helps you find a comfortable riding position
The Elite U7 is loaded with features that makes workouts both comfortable and a lot of fun. Having a multi-speed fan right on the console and a sturdy water bottle holder within easy reach was pretty posh and the MP3 input allowed me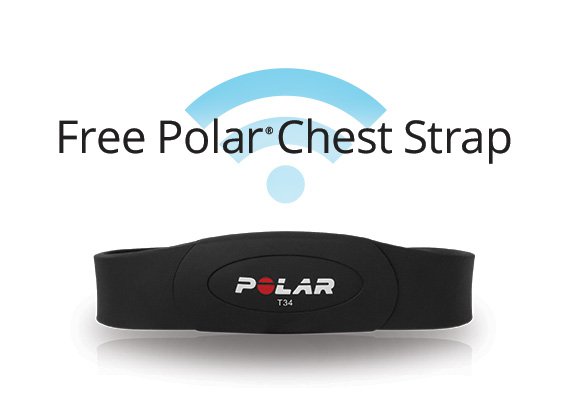 to work easily with the playlist on my phone. It also directed the sound to me, without driving the rest of the family out of our shared living/work space. The console is quickly responsive to changes in resistance, while the running visual of my cadence, total miles, and calories burned was great feedback. The machine also comes with a Polar® heart rate monitor that tracked my workout more accurately than my wrist worn device. The ViaFit feature automatically uploades workouts, including the calorie count, into the online database. This is great for creating extra motivation and letting you join on-line community challenges.
One final, very enjoyable, feature of this bike is the integration with the Passport technology system. This player allowed me to enjoy incredible rides through New Zealand, Vancouver, and the French Riviera while displaying my ride stats on the screen of my television. The Passport system comes with a soundtrack for each ride and allows you to provide some details of your ride plan to create a motivating and interactive experience.
Hardcore indoor and outdoor cyclists will find that the position on the Elite U7 is different from a road bike or indoor cycle (though Horizon does offer the IC7 as well). As the name suggests, the positioning of this bike is pretty upright. This makes it easier to find a position that is forgiving of the low back, knees, and shoulders and takes some of the guesswork out of setting up your bike. Basically find the right seat height for you and you're good to go. For most riders, by varying the speed and resistance, your workouts can range from aerobic conditioning to high-end race work; however if you are looking for a ride that feels just like your road bike, you probably want to look into the Elite IC7. The flywheel on the bike can offer substantial resistance, both in and out of the seat, which allowed me to mimic my indoor cycling classes fairly well during my home training sessions.
The Elite U7 is really going to meet the needs of those who are looking for a convenient and comfortable option for cardiovascular training and cross training. It's a good fit both for athletes who need a low impact form of active recovery, as well as those who are getting started on a workout program. The adjustable and forgiving positioning of the seat makes it a safe and forgiving low impact workout, while the wide range of features and technology integration keep workouts interesting and fun.
Horizon Elite U7 Upright Cycle with ViaFit Features:
Passport ready

Stay in the comfort of your own home while biking through different destinations. Passport displays on your home TV. (sold separately)

ViaFit Connected Technology

ViaFit sends your productivity from the exercise bike to your fitness apps and tools. Track your progress and share with your friends.

25 Programs on Console

Heart rate training delivers better results in less time. Wireless heart rate receiver and contact grips makes monitoring easy. Large display enhances feedback visibility. 25 programs including: manual, calories, distance, performance and custom.

Extras

Self balancing pedals with adjustable straps keep your feet from slipping. 20 levels of electronic resistance. Extra wide, gel seat and multi-position handlebars make this exercise bike comfortable to use. Also included is a free Polar chest strap, Energy Saver Mode, built-in speakers, reading rack, bottle holder, & fan.
The Elite U7 Upright Stationary Bike is part of Horizon's series designed for "intense workouts and lofty goals." Its most exciting feature is compatibility with Passport Player, which is an interactive video workout system. Passport Player can work with a home TV to display video workouts that automatically adjust to the speed and intensity of a workout! Riders enjoy scenic views that help time fly by.
The more you know about your progress, the better you can keep pace with your goals. Thus the Elite U7 stationary bike also facilitates advanced data management. Its ViaFit connectivity can send data from home workouts to websites and fitness apps that you might already be using. Seamlessly sharing and charting data, ViaFit can create a useful overview of your athletic activity.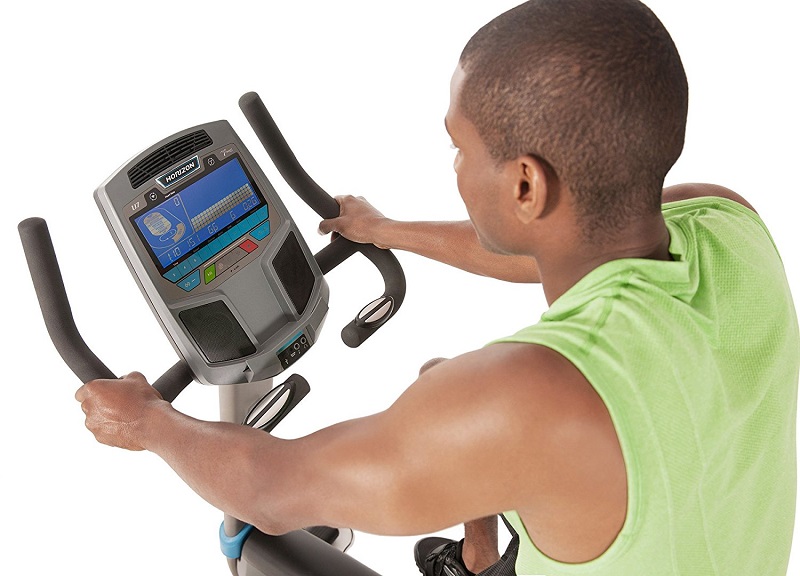 The Horizon Elite U7 Upright Cycle with ViaFit has a lifetime frame warranty and three-year parts warranty.
Built-In Programs: Riders get workout guidance with more than 20 quick-start programs that target goals for calorie burn, distance and performance. There's also manual mode and room to save a custom workout.
Passport Player: Passport Player is an optional feature with the Elite U7 Stationary Bike and some other Horizon Fitness bikes. It lets the trainee virtually bike through beautiful urban and rural settings such as a Parisian boulevard, a Californian desert, and dormant volcanoes in New Zealand. Passport's high-definition videos automatically adjust in response to the rider's speed and intensity for a realistic immersive experience.
Data and ViaFit: The Horizon Elite shows distance, time, speed, RPM, watts and pulse along with resistance level and an estimate of calories burned. These data are shown on a wide 8.5″ LCD with soft blue lighting. Furthermore, for advanced yet easy to use data tracking, riders can use this stationary bike with ViaFit. ViaFit can integrate and chart fitness information from throughout your day — not just on the bike — to build an overall picture of fitness progress.
Smooth Resistance: An 18-pound flywheel spins and brakes virtually silently thanks to frictionless magnetic resistance. Tension is adjusted electronically (not with a knob).
Steel Frame: This bike has a steel frame that's under lifetime warranty.
Interchangeable Pedals: The pedals feel just like those on a regular bicycle, but they have pedal cages. Owners can exchange these pedals for SPD pedals or others if desired.
Heart Rate Monitoring: Horizon Elite bikes have Polar wireless receivers and contact grips. The required chest strap for the wireless system is sold separately.
Adjustable: The Elite U7 has an extra wide gel seat. It is vertically adjustable. The handlebars are multiposition too. These features help most riders find a comfortable position.
Audio: Speakers are included for an MP3 player.
Water Bottle Holder: A water bottle holder is included.
High Capacity: The maximum user weight capacity is 300 pounds. The machine itself weighs 93 pounds.
Compact Size: Apartment friendly, the Horizon Elite U7 measures just 44″ long x 21″ wide x 58″ high.
Generous Warranty: The warranty is a good deal with the bike's $829 sale price. It includes lifetime frame protection, three years on parts and one year of labor.

| | | |
| --- | --- | --- |
| | Comfort U | Elite U7 |
| Electrical Requirements | 110 - 120 Volt circuit | n/a |
| Resistance Range | 16 Levels | 20 levels, electronic |
| Max User Weight (lbs) | 300 | 300 |
| Assembled Dimensions (L x W x H) | 47" x 22" x 53" | 44"x 21" x 58" |
| Flywheel Weight | × | × |
| Frame Type | Upright | Upright |
| Pedal Type | Self-Balancing Pedals | Self-Balancing Pedals |
| Seat Type | Gel Comfort Seat | Extra-Wide Gel |
| Lumbar Support | × | × |
| Resistance System | ECB magnetic brake | Magnetic |
| Home Warranty - Frame | Lifetime | Lifetime |
| Home Warranty - Brake | NA | NA |
| Home Warranty - Generator | × | × |
| Home Warranty - Parts | 1 year | 3 years |
| Home Warranty - Labor | 1 year | 1 year |
| Commercial Warranty - Frame | × | × |
| Commercial Warranty - Parts | × | × |
| Commercial Warranty - Labor | × | × |
| Adjustable Pedal Straps | × | × |
| Weight | 77lbs. | 1lb. |
| Seat Adjustment | Horizontal, Vertical | Vertical |
| Extras | Built-in Speakers, Energy Saver™ Mode, Tablet Rack, Water Bottle Holder | Built-in Speakers, Energy Saver™ Mode, Fan, Passport Ready, Tablet Rack, Water Bottle Holder |
| Heart Rate | Hand Grips, Polar Wireless Receiver | Chest Strap, Hand Grips, Polar Wireless Receiver |
| Johnson Exclusive Technologies | × | Passport Ready |
| | | |
| --- | --- | --- |
| Console Specs | Comfort U | Elite U7 |
| Console | × | × |
| ViaFit Connectivity | No | Yes |
| Passport Ready | No | Yes |
| Virtual Active Integrated | No | No |
| Sprint 8 | No | No |
| Touchscreen | No | No |
| Workout Tracking | No | No |
| Wi-Fi Enabled | No | ViaFit Connectivitiy |
| Bluetooth Enabled | No | No |
| Speakers | Yes | Yes |
| Smartphone Compatible | No | No |
| USB Port | No | No |
| Home Warranty (Console) - Parts | × | × |
| Home Warranty (Console) - Labor | × | × |
| Display | 5.5 in. Non-backlit LCD | 8.5 extra-wide blue LCD |
| Entertainment | × | × |
| Programs | 10 Programs | 25 Programs |
| Workout Feedback | Calories, Cardio Compass, Distance, Profile Display, Resistance Level, RPM, Speed, Time, Watts | Calories, Distance, Heart Rate, Resistance Level, RPM, Speed, Time, Watts |
Order your Horizon Elite U7 Upright Cycle from FitnessZone.com today!
Customer Ratings & Reviews
Be the first to rate this item!