Inspire Fitness FTX Functional Trainer
Lead Time 8 to 10 Weeks-Reserve One Today!
Inspire Fitness FTX Functional Trainer
Product Code: inspire-fitness-ftx-functional-trainer
Price:
$1,899.00
Ratings Snapshot
Would recommend this product.
Financing Solutions from

Once Approved Call Us To Place The Order!
Need Expert Advice? Our friendly and knowledgeable staff is ready to help you. Call us now at 1-800-875-9145!
Inspire Fitness FTX Functional Trainer
FitnessZone Is An Authorized Dealer For Inspire Fitness Products Nationwide!
Bench is not included at the $1899.00 price
Residential: Limited Lifetime
The all new Inspire FTX Functional Trainer is taking the word "simple" to a whole new level. The FTX is full of versatility,
but is one of the industry's smallest footprints in a full functional trainer.
Constructed of heavy-duty steel and finished with a matte black powder coat, it's beautiful and durable.
It comes standard with two, 165 lb. weight stacks and thirty swivel pulley positions to allow for complete freedom in any direction and unrestricted exercises.
You'll be able to get creative with a full set of accessories, including; a Tricep Rope, a pair of Deluxe D Handles, a Chin/Dip Belt and a Curl Bar.
Just like its award winning fraternal FT1 twin, it's everything you need in your home gym.
It's a one-stop-shop for functional training and critics are calling it simply perfect!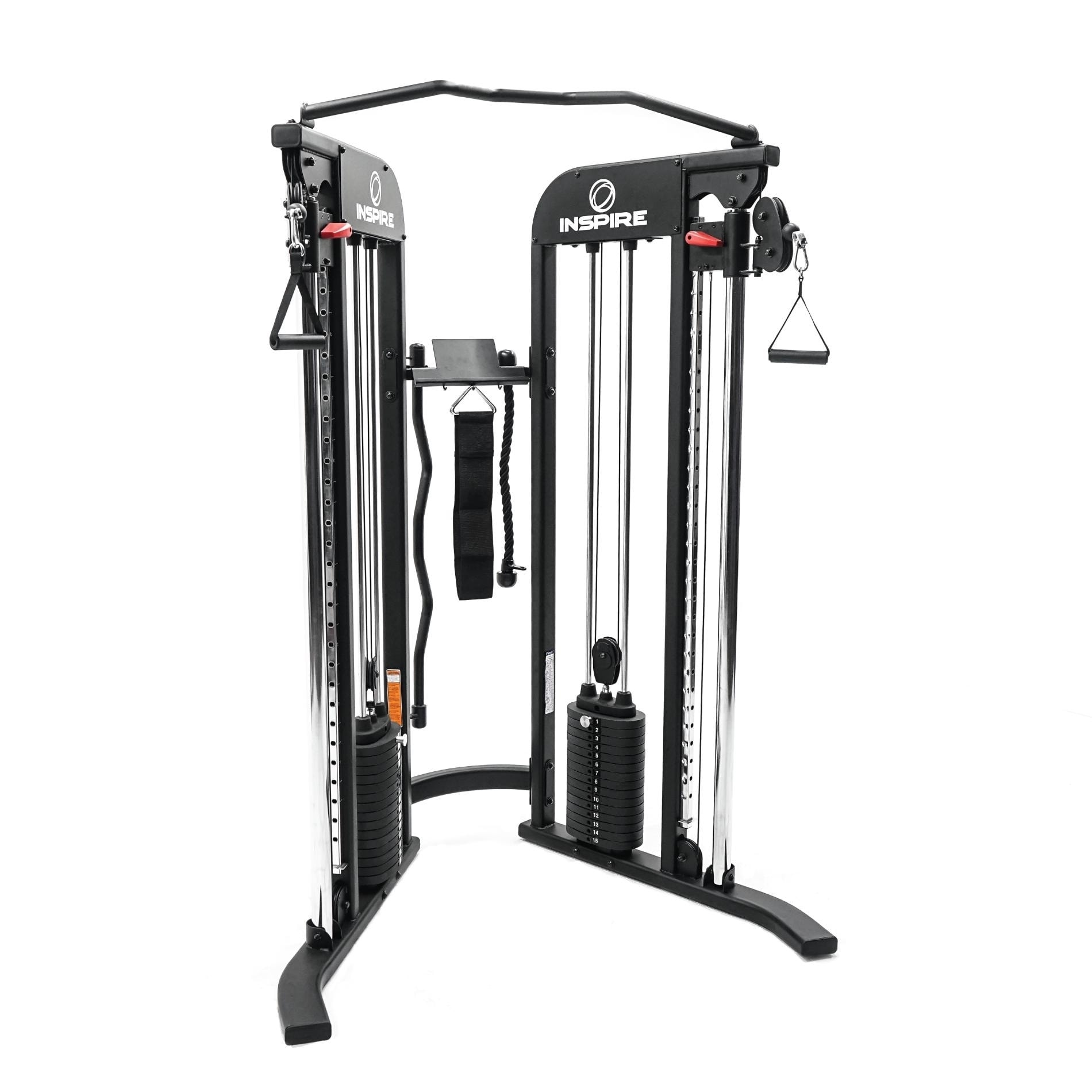 Dimensions: 40" x 54" x 85"
Order your Inspire Fitness FTX Functional Trainer from FitnessZone.com Today!
Customer Ratings & Reviews
Ratings Snapshot
Would recommend this product.
Would recommend this product.
Great Machine!
Kevin
Location: New Jersey
Date: May 8, 2020
okay i cant lie as upset as i was i love my new home gym and wanted to thank you guys for getting it out to me during this whole shut down! i highly recommend this equipment and your website thank you again
Mr
Axel
Location: Massachusetts
Date: Apr18l 20, 2020
I placed my order on 3/30/20. I was told that 40 machines were ordered and were due to arrive in 10 day. I was assured that once he receives the shipment, delivery would be within a few days via FedEx Freight. I obviously wasn't confident of this but made the purchase with high hopes. EXACTLY 10 days later, I received a call from FedEx to schedule delivery. 5 days later it arrived on 2 neatly arranged and wrapped pallets. Assembly was simple, but you will need 1 person to help (45 mins). The FTX is both solid and smooth (no shake whatsoever). Plenty of weight (150 on each side). Everything about this machine and frame is solid, including ALL attachments. I'm a workout freak and I've done it all over the years. The FTX has all you need in a cable machine. AXESOME!
Quality Home Cable Machine
Erik
Location: Alexandria VA
Date: Apr0l 16, 2020
Was impressed with the quality for a home price system, sturdy and works well. Assembly is easy, but takes 2 people and about an hour. Easley get 20-25 good exercises and a full body workout.
great functional trainer-does not take up much room!
Nick
Location: CT
Date: March 27, 2020
The Inspire FTX Trainer works great, easy to assemble, fit in my room good, & FitnessZone shipped it fast!