Inspire Fitness FTX Functional Trainer
In Stock-FREE Shipping Now!
Order One Today!
Inspire Fitness FTX Functional Trainer
Product Code: inspire-fitness-ftx-functional-trainer
Price:
$1,899.00
Ratings Snapshot
Would recommend this product.
Need Expert Advice? Our friendly and knowledgeable staff is ready to help you. Call us now at 1-800-875-9145!
Inspire Fitness FTX Functional Trainer
FREE SHIPPING & NO SALES TAX!
FitnessZone Is An Authorized Dealer For Inspire Fitness Products Nationwide!
Warranty
Residential: Limited Lifetime
The all new Inspire FTX Functional Trainer is taking the word "simple" to a whole new level. The FTX is full of versatility,
but is one of the industry's smallest footprints in a full functional trainer.
Constructed of heavy-duty steel and finished with a matte black powder coat, it's beautiful and durable.
It comes standard with two, 165 lb. weight stacks and thirty swivel pulley positions to allow for complete freedom in any direction and unrestricted exercises.
You'll be able to get creative with a full set of accessories, including; a Tricep Rope, a pair of Deluxe D Handles, a Chin/Dip Belt and a Curl Bar.
Just like its award winning fraternal FT1 twin, it's everything you need in your home gym.
It's a one-stop-shop for functional training and critics are calling it simply perfect!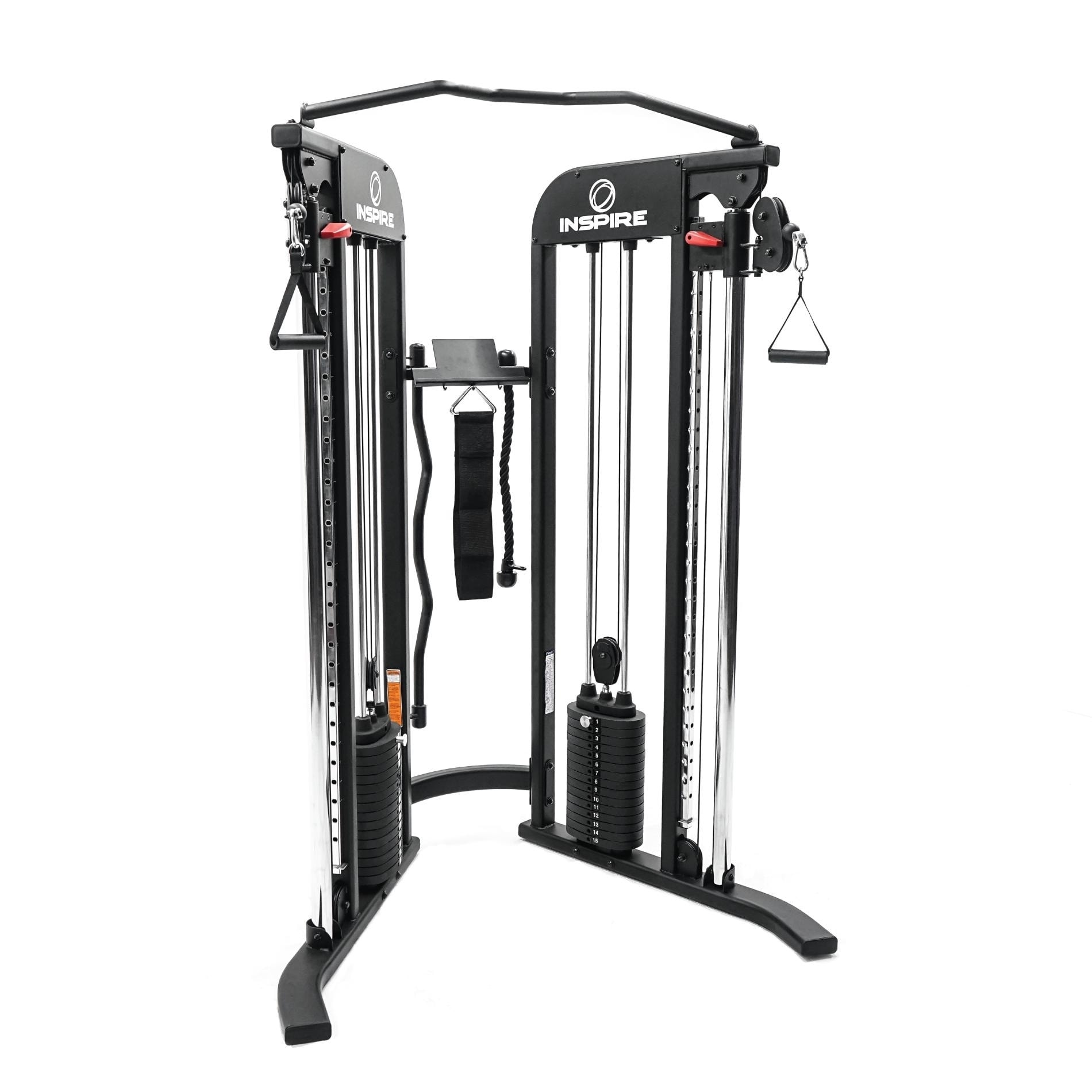 Inspire FTX Functional Trainer TECHNICAL SPECIFICATIONS
Heavy-duty steel round and rectangular steel
Electrostatic Powder Coat
2 x 165 lbs (75 kgs) (1:2 ratio for 82.5 lbs per pulley)
Tricep Rope, 2 x Deluxe D Handles, Dual Hook Curl Bar, Chin/Dip Belt
Bench, Ab Bar, Straight Bar, Ankle Strap, 5 lbs Add-On Weights, Rubber D Handles
Residential: Limited Lifetime
Order your Inspire Fitness FTX Functional Trainer from FitnessZone.com Today!
Customer Ratings & Reviews
Ratings Snapshot
Would recommend this product.
Would recommend this product.
Fast Shipping-Great Company!
Roger Casey
Location: ME
Date: August 11, 2022
Received my functional trainer today and have set it up, I want to tell you that my unit looks great and is better than I had hoped. I will be working with this soon but for now I am very pleased with the service the salesman and the way I was treated here thank you all for the great service and the wonderful help that you have been to me, your doing a great job. Roger
Best purchase!
Fitlife40s
Location: Idaho
Date: January 27, 2022
I absolutely love this functional trainer. This is the icing on the cake for our home gym it definitely makes it complete. The possibilities are endless and it's one of the best purchases we've made so far.
Fast Shippng!
Ryan Boyd
Location: Ohio
Date: December 30, 2021
Kyle, Just wanted to thank you and your team for helping and getting this shipped so quickly. Very impressive and prompted our purchase. Happy holidays brother!
Gret Product and Service
Eric
Location: Spotsylvania, Va
Date: October 19, 2021
I purchased the FTX without the bench, I already had a bench I thought would work well. Very satisfied! I had originally purchased a competitor's product and cancelled it after a month of waiting and no updates so I was pleasantly surprised with the ordering and delivery process. Due to the complications of the original attempt, I called and talked to a real person and got real answers. The delivery was via FedEx; fast and efficient. I opted for self setup after some great guidance from the Seller. One larger heavy box was delivered with multiple smaller boxes, I was able to break these up and carry the smaller 50 pound boxes in many trips down to the basement gym area. Then, just 3 larger pieces and a very easy setup with 2 people. One would have been awkward to load the plates on. All of the attachments shown arrived also. Clearance was not a problem either. The pulleys move very smoothly and there is no wobble at all, very sturdy even when using the full stacks. The adjusters move very easlisy along the rails as intended. There is even enough clearance in my basement to do full pull ups withthe bar. Very satisfied, and sore from great work outs so far, highly recommended. .
Everything you need!
Nick
Location: Dallas, TX
Date: Apr47l 27, 2021
I purchased the Inspire FTX system from Fitness Zone last fall and it has been a big part of our family's new home gym. This "entry level" unit has everything you would ever need to get a great functional cable workout without spending $1000s more on more advanced and significantly more expensive units that offer very little more utility. This unit works for me, my 110 lbs wife and 2 sons who are playing high school football and lifting a huge amount of weight. It's great to find such a versatile piece of equipment at such a reasonable price. The assembly was fairly easy. It takes 2 people and a ratchet set but can be done in 60 to 90 minutes, and I'm not "handy". The customer service was great as well. I needed another cable and Fitness Zone had it out to me in a few days so that I never missed a work out. I highly recommend this unit.
Amazing!
Ken
Location: Kentucky
Date: January 27, 2021
I highly recommend this gym!
Nice machine
Harley
Location: Sunnyvale, CA
Date: January 24, 2021
I've used cables for years - quick to set up, you can do anything you can do with bars or bells. This rig is top-notch, smooth action, nice ranges of motion, and plenty of weight if that's your thing. I was used to Freemotion Cable Cross at the gym. This is every bit as good.
Fast Same Day Shipping!
Grant
Location: USA
Date: July 2, 2020
Hey, The FTX arrived today FedEx. I won't be able to assemble it until one of my son comes home (later this month), but I wanted to let you know the FedEx delivery guy, Patrick, was fantastic. Called me on the morning of the delivery, made arrangements to do a "contact-less delivery," and was kind enough to wheel the pallets up to my garage (his truck couldn't come down my driveway due to some low-hanging trees and telephone wires). He was great. Can't wait to set up the FTX and begin using it.
great functional trainer
Christopher Burrows.
Location: MD
Date: June 24, 2020
Just wanted to thank you guys for selling me the FTX Functional Trainer. Other potential suppliers were pretty unhelpful, often abrupt and rude. You guys were very friendly and helpful, and the process went really smooth. Use it everyday, replaces almost everything I do at the gym. Not sure if I'll fell comfortable going back to a crowded gym anytime soon, so having this equipment is awesome. Thanks again. You have a great business. Regards Chris Burrows MD
In love with my FTX
Jason
Location: 92595
Date: June 2, 2020
I've been looking for something for the whole family for a while. This is perfect! Enough weight for anyone, no matter what level. Safe and extremely effective. I'm just sad I didn't find it sooner. In love with this head to toe core shredding machine.
In love with my FTX
Jason
Location: 92595
Date: June 2, 2020
I've been looking for something for the whole family for a while. This is perfect! Enough weight for anyone, no matter what level. Safe and extremely effective. I'm just sad I didn't find it sooner. In love with this head to toe core shredding machine.
Great Machine!
Kevin
Location: New Jersey
Date: May 8, 2020
okay i cant lie as upset as i was i love my new home gym and wanted to thank you guys for getting it out to me during this whole shut down! i highly recommend this equipment and your website thank you again
Mr
Axel
Location: Massachusetts
Date: Apr18l 20, 2020
I placed my order on 3/30/20. I was told that 40 machines were ordered and were due to arrive in 10 day. I was assured that once he receives the shipment, delivery would be within a few days via FedEx Freight. I obviously wasn't confident of this but made the purchase with high hopes. EXACTLY 10 days later, I received a call from FedEx to schedule delivery. 5 days later it arrived on 2 neatly arranged and wrapped pallets. Assembly was simple, but you will need 1 person to help (45 mins). The FTX is both solid and smooth (no shake whatsoever). Plenty of weight (150 on each side). Everything about this machine and frame is solid, including ALL attachments. I'm a workout freak and I've done it all over the years. The FTX has all you need in a cable machine. AXESOME!
Quality Home Cable Machine
Erik
Location: Alexandria VA
Date: Apr0l 16, 2020
Was impressed with the quality for a home price system, sturdy and works well. Assembly is easy, but takes 2 people and about an hour. Easley get 20-25 good exercises and a full body workout.
great functional trainer-does not take up much room!
Nick
Location: CT
Date: March 27, 2020
The Inspire FTX Trainer works great, easy to assemble, fit in my room good, & FitnessZone shipped it fast!
Related Products